Jadeveon Clowney might not win Heisman, but he's still a Freak
Jadeveon Clowney's Heisman campaign might be over after a so-so performance, but don't even think of writing him off, Dennis Dodd says.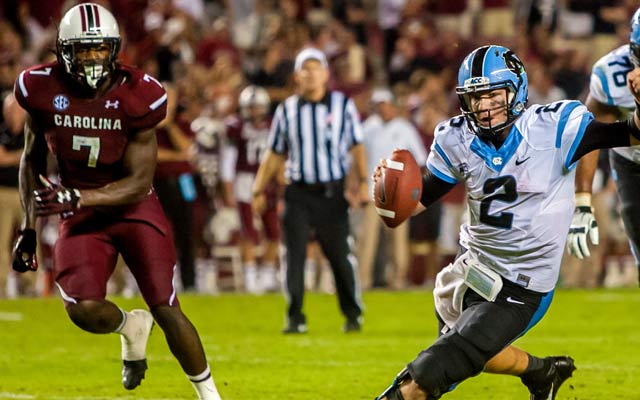 COLUMBIA, S.C. -- A defensive end wasn't going to win the Heisman anyway.
Not Thursday in the first game of the season and certainly not with a stomach virus. That's as close as it came to an excuse for South Carolina's Jadeveon Clowney on a night when a lot could be questioned in the debut of his Heisman quest.
His conditioning, his effort, his future.
But there it was in the postgame interview room following South Carolina's 27-10 win over North Carolina. Following  a 1 hour, 44-minute weather delay, after facing North Carolina's ultra up-tempo offense, 5½ hours after the game began, Clowney finally relented.
"The night before I had a stomach virus," he said. "All night long, to this morning. I didn't want to talk about that."
He certainly didn't want to talk about his pregame meal of "a banana and a couple of grapes." That sounds too much like that excuse but it does begin to explain a lot on a night when the 6-foot-6, 274-pound freak was equal parts dogging it, lollygagging and -- during brief flashes – brilliant.
"The quickest player I ever played against," North Carolina left tackle James Hurst said.
Just don't hand him the Heisman. Not Thursday and maybe not this year. Sure, Clowney showed that sprinter's speed (4.45 in the 40 during camp) and enough potential for 30 NFL scouts to be in the press box. He also was flagged for jumping offsides, then stopped while the Tar Heels picked up the first down anyway.
The Great Clowney was not great -- three tackles, three quarterback hurries -- but he doesn't have to be. Defensive ends usually aren't all the time.
You have to balance those modest numbers against potential damage on any play. Hurst, beaten badly, tackled him on one first-half play. (The officials missed it.) Right tackle Kiaro Holts was flagged for clipping. (It looked like he rolled up on the back of Clowney's legs after a play. Holts was unavailable immediately after the game. We could not ask about his intent.)
"A couple of those sacks he [Clowney] got tonight is because I didn't step up in the pocket enough," Tar Heels quarterback Bryn Renner said.
Except that Clowney didn't have any sacks. That's what he does to people, puts bad thoughts in their minds. There were four sackless games last year, including the one that gave him his Heisman moment.
The lasting image of the first game of the rest of Clowney's college career: On consecutive plays in the final two minutes, he got his hands on Renner, pressuring him twice on passing plays. The second time he barely missed a sack. Shortly thereafter, he signaled to come out. For the final minute, Clowney sat on a chair barely acknowledging teammates. When the gun sounded he was the last Gamecock off the bench looking dead tired.
"Ah man, pretty tired," he said afterward. "You got to play through that ... They [North Carolina] were telling me during the game, 'We were tired.' It's just one of those games. You just have to push yourself through the break."
Yeah, but after a 1-hour, 44-minute [weather] break?
"Basically, we were just cramping up in the locker room getting tight," Clowney said. "We come out and here comes that tempo again."
On a 95-degree night, North Carolina snapped it 79 times. Combine that with a stomach virus and the heat and Clowney gets a pass. If he did little in the game, he also did little to affect his standing as the No. 1 player to be taken in the NFL Draft next spring. For now, all we know is there is a huge difference in deciding the best college player in America and perhaps the best player available in the draft months from now.
The Heisman Clowney has to post outlandish defensive numbers, be somewhat photogenic and have that TV "moment" to seal his campaign. As you know, he's got the last of those. The Potentially Great NFL Clowney – at this stage – has to stay healthy and off the police blotter. For all the hope and hype we're putting on him, the biggest day of his young life could be the NFL combine.
And that's OK. He's a defensive end. They can be neutralized. Teams run away from them. Clowney came darn close to taking a few plays off on Thursday, it seemed, in that heat before a massive thunderstorm struck in the fourth quarter. Those NFL scouts (also one from the CFL) in the press box apparently were looking at something more nuanced because not one of them scratched him off their draft board.
But nuanced doesn't win the Heisman. Notre Dame's Manti Te'o seemingly paved the way for Clowney's Heisman candidacy by finishing runner-up to Johnny Football last season. The usually less-than-free-thinking Heisman voting bloc had broken through some sort of thought barrier.
But that was for a guy who had 113 tackles and a perpetual hype machine behind him (see: all those Notre Dame Heisman winners). And that was before Te'o was catfished. Clowney? His own coach sort of called him out in the preseason for what seemed sort of like malingering. On Thursday, Clowney was subbed for several times against North Carolina's hurry-up.
And that was OK, too.
"I think it wasn't just [Jadeveon]," defensive coordinator Lorenzo Ward said. "I think the entire defense got winded. We knew coming into the ballgame that they were going to hurry up. We tried to simulate it in practice, but that was the fastest team I've ever seen."
Clowney's stat line wasn't worth the price of admission. His future could be priceless. Just wait until the heat lets up, he gets in better shape and starts eating again.
LSU at Florida has been picked as the SEC on CBS Game of the Week

The Michigan coach had quite a few things to say on Monday after their visit to West Lafay...

Injuries are ravaging an LSU team that is searching for an identity
Jones started answering an injury question and then went off about 'fake news'

The full ranking of all 130 college football teams includes TCU up and a major drop for Florida...

The charges all stem from an investigation into improper debit card charges