Jameis Winston already a pro at handling defenses, adversity
A BCS title, a repeat Heisman, going No. 1 in the draft ... and a career in the big leagues. It's all there for Jameis Winston.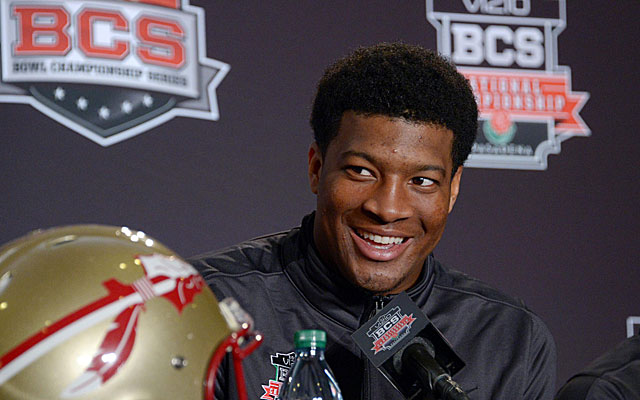 NEWPORT BEACH, Calif. -- Jameis Winston is trapped.
By NFL and major league draft rules, by public opinion surrounding a sexual assault allegation, by the media surrounding his podium Friday at his BCS title game presser.
"I've got to get better," said perhaps the central figure of the 2013 season, "at everything."
Winston is trapped but only for a while. His charm talks his way through any question. His talents get him through almost any on-field situation. Certainly he isn't trapped by such trifles as age or defenses.
In a year, Major League Baseball and the NFL will be able to get their hands on a kid who unabashedly wants to be the next Bo Jackson -- playing both sports professionally.
Until then, consider a 19-year old Heisman Trophy winner with the talent to be in the NFL, having to stick around to defend a national championship next season. Not necessarily by choice. The draft rules would keep him there.
"He remains the best quarterback I've ever graded," said CBSSports.com draft expert Rob Rang. "It still wasn't the obvious athletic talents. It's hyperbole at this point, but he's like Magic Johnson at the moment."
A goofy college Pied Piper of a kid with a grin, an arm, a mind and incredible upside turned the game upside down. In 13 college games, he established himself as the best player in the country -- and an NFL-quality quarterback -- if there weren't such things as those NFL Draft rules.
"Absolutely," Rang said. "His dual threat capabilities and size absolutely project to the NFL."
And when was the last time anyone said anything like that about a teenage quarterback? Johnny Manziel was older (20) when he won the Heisman. Their games hardly compare. Manziel is Fran Tarkenton at a rave. Winston is a skyscraper with a howitzer.
"History said, 'We'll we'll never see another freshman win the [Heisman],' and I did it this year. So history," Jameis said, "is history."
To call him 2014's version of Jadeveon Clowney -- a wasting-his-time-in-college guy -- ignores the fact Winston plays the most important position in the sport. Not only is he ready, he's past ready.
He's also willing to wait until after the 2014 season. Not that he has a choice.
"It's just the way things are. I can't really say anything because a lot of people have waited that long …" Winston said. "When I talk to our players, 'Guys, would ya'll just rather go into the league that first year and just get killed and hurt your confidence?'"
FSU receivers coach Lawrence Dawsey played seven years in the NFL.
"You go in and start making plays, you gain respect of your teammates," he said.
"Whether he is 19 or 22, age is a number."
Back to that Magic Johnson reference. Everyone seems to follow him: After winning the starting job in the offseason, Winston urged his teammates, "Where in the rulebook does it say that we can't blow out everybody that we play?"
So they did, beating all but two opponents by at least four touchdowns.
The incredible 25-of-27 performance against Pittsburgh in the opener started it. Winston's debut blew up Twitter and the Panthers at the same time. Winston never let up.
"That's when I realized FSU's going to bring that swag back," he said. "We went out there and showed the world, 'Hey, look at us. Were here. We're here to make a statement.'"
His coaches have had to balance Winston's goofiness with his incredible leadership.
"Has his life changed? He's changed mine," said FSU's quarterbacks coach Randy Sanders, who arrived this season from Kentucky. "Last year I was 2-10 and out of a job."
Texas should have followed him, or at least taken his call. Winston confirmed a story broken by CBSSports.com's Bruce Feldman in September. FSU's quarterback was more than interested in being a Longhorn.
"Texas is my favorite team," he said. "Through my whole recruiting process I told my coach we've got to get Texas on the phone. When I was young I looked up to Vince Young. I always wanted to go to Texas."
The media has followed him because it's impossible not to this season. The unpleasant sexual assault accusations that didn't result in charges, weren't exacerbated by Winston. He calmly answered questions at every turn about the situation. That, despite FSU handlers yanking him out of interviews. Thankfully for the whole process, they didn't become part of the story.
"My teammates know I did nothing wrong," Winston said.
Avoiding tacklers, then, is easy.
"I feel like he has everything to be an NFL quarterback," said Seminole tight end Nick O'Leary. "He throws the ball 80 yards. His leadership is unbelievable … He's definitely a first rounder whenever he's able to get out."
Maybe it's best for everyone that he stays -- media, teammates, Florida State, the NFL. Personnel guru Gil Brandt of NFL.com offered this caution flag.
"He probably could," play in the NFL right now, Brandt said. "The right word [for him] is not immature. They're a 19-year old trying to do a 25-year old man's job. What they do now in the NFL is so complicated."
But not impossible. The teenaged Jameis Winston turns all of 20 on Monday, the same day he gets under center trying to get that FSU swag all the way back.
Find out which of your favorite team's players are among the nation's best entering the 2017...

Rosen, a junior, will be eligible for the upcoming NFL draft

Texas A&M has to be better defensively to stand a chance in the SEC West
A letter indicated that there is a growing awareness of the persistent problem in college...

The series will follow the Navy football program throughout the 2017 season

Should college football players still be tested and punished for using marijuana?