Jameis Winston comes through when it matters most for Noles
FSU Heisman winner Jameis Winston may have had his roughest game of the season, but it was also the sweetest as he led the Noles on a last-minute, come-from-behind TD drive.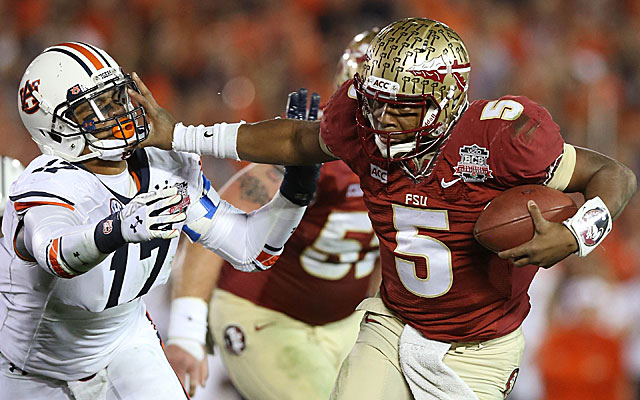 PASADENA, Calif. -- For 58 minutes and 41 seconds Jameis Winston was being dissected. Not just by the Auburn defense, but by amateur and professional QB gurus all over the country as they watched a potentially huge upset unfolding on a grand stage.
The 6-5, 230-pound Heisman winner looked rusty and sluggish and confused, and his throwing motion now just seemed too much of a windup and slow. And then, Winston trotted out onto the field with his team down 31-27, the ball spotted on the Noles' 20-yard line and the Rose Bowl crowd on its feet.
Winston, the redshirt freshman of the unbeaten Noles who had blown out all 13 of their previous opponents, had a simple message to his teammates before the first play of the biggest drive of his life: "This is what we came here for."
Winston's first pass went for 8 yards to Rashad Greene. The next play, a slant, where Greene beat his man and raced down the sideline for a 49-yard gain, moved the ball to the Auburn 23. Then, Winston dumped a pass off to Devonta Freeman for 6 more yards before the Noles called a timeout with 47 seconds remaining. Six plays later, Winston found Kelvin Benjamin, FSU's super-sized wideout, across the middle for the game-winning touchdown. It capped the biggest comeback in BCS history, rallying FSU from a 21-3 deficit.
"I was ready," Winston said. "I wanted to be in that situation because that's what great players do. That's what great quarterbacks do. "That's what the Tom Bradys, Peyton Mannings, Drew Brees, that's what they do. Any quarterback can go out there and perform when they're up 5-0 in the second quarter. That's what you're judged by, especially by your teammates. I'm pretty sure I got more respect from my teammates and the people around me on that last drive than I got the whole year."
He's probably right. For the past week, Winston had displayed an uncanny knack for being so at ease in front of the bright lights on a big media stage with dozens of mics and cameras crowding him. The QB from Alabama, a budding star for the Noles baseball team, looked almost as comfy late Monday night after the Tigers took the lead on Tre Mason's 37-yard TD run, punctuated by the Auburn star breaking into two Heisman Trophy poses for the cameras as he made his way to greet his exuberant teammates.
"[Jameis] showed his heart on that last drive," Greene said. "I never had a doubt [we were going to win that game]. Honest to God."
Winston's numbers on the day were unspectacular by his standards: 20 of 35, 237 yards, two TDs, one fumble, four sacks. But on the money drive with those 79 seconds left, he was 6 of 7 for 80 yards and the biggest TD pass the Noles have had in over a decade. Maybe ever, considering this gave FSU the last national title in BCS history and finally ended the SEC's dominant run of seven national titles in a row.
"It's the best football game he has played all year, and I'll tell you why, because for three quarters he was up and down and he fought," coach Jimbo Fisher said. "And, just like any great player, some nights you don't have it.
"When you can go back like the great ones do, it's not my night but we've got a chance to win this ballgame, it's in the fourth quarter, I've got one or two touches left and you can take your team down the field and lead them to victory, that's what a great player is to me. Very few can do it when it's not their night. And to pull it out in the atmosphere and environment and with what was on the line tonight, to me, if that's not a great player, then I don't know what one is."
Just how much Winston struggled Monday night was evidenced by his dreadful first-half stat line: 6 of 15, 62 yards against the nation's 102nd-ranked pass defense. The way Winston and the Noles looked for much of the night against a double-digit underdog had some folks bringing up the old Heisman Curse. But in truth, the previous four Heisman Trophy winners had won their bowl games, and Winston made it five in a row. The seemingly unflappable Winston, who came into the game with the best completion percentage of any QB in the country against the blitz, struggled plenty with the Auburn heat.
Florida State QB coach Randy Sanders said that had to do with a combination of factors: a little bit of rust from being off a month, Auburn mixing up their looks and playing more press man coverage than they had showed in the regular season, and the Noles' receivers dropping some passes, too. "If you hit 'em a few times on it, you run them right out of it," Sanders said.
Winston said he was never rattled by anything Auburn was doing but admitted that throughout the game he was "uncomfortable."
"But," he continued, "Auburn wasn't the cause of that. It was myself. It was me wanting to do too much instead of doing what I needed to do. And when I focused and locked in and said, 'Jameis, you need to do what you need to do instead of what they want you to do. You need to do what your team wants you to do,' and if Auburn had me rattled, I don't think we would've won the game.
"I never heard of a young quarterback to be rattled and then come back at the game-winning drive. If I was rattled, I think I would've flipped out or something. Only thing is, we're victorious and glad to say Florida State is the national champion again, and I guarantee you we're bringing that swag back. You'd better believe it."
A new names joins Saquon Barkley, Baker Mayfield and JT Barrett in the race

Anderson didn't hold back when taking a shot across the state

Arizona State will wear military-themed uniforms against Colorado on Nov. 4
The Gators are off to their worst start since 2014

Just in case you wanted another reason to watch this game

Irvin's son is a sophomore tight end for the Hurricanes