Jameis Winston reportedly purchased $8M-$10M insurance policy
Florida State quarterback Jameis Winston reportedly purchased an disability and loss of value policy.
• 1 min read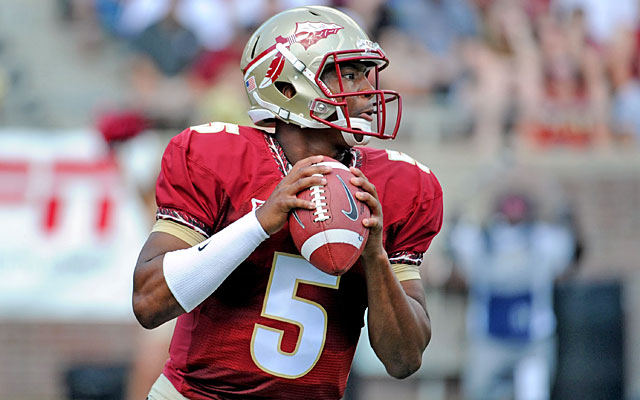 Florida State quarterback Jameis Winston reportedly purchased a disability and loss of value insurance policy that will provide $8 million to $10 million in coverage.
Yahoo! Sports first reported the news Monday night, which has since been confirmed by ESPN.com. Neither Winston's family nor Florida State have commented on the subject at this time. 
According to the Yahoo! report, Winston's policy has conditions tied to the 2015 NFL Draft. Winston's father and Seminoles coach Jimbo Fisher have previously told reporters they expect Winston to play two more seasons at Florida State before entering the draft in 2016.
According to the source, Winston is the first returning Heisman Trophy winner since former Oklahoma quarterback Sam Bradford to purchase preseason loss of value coverage, though other returning winners have purchased "total permanent disability" coverage during that time frame. Winston's policy is based on a projection that he will be selected in the top 10 of the 2015 NFL draft and would theoretically pay out if he fell out of the first round due to injury or illness.
While the amount of coverage will raise eyebrows, no one will question the thinking behind purchasing a policy after Winston's wildly successful 2013 season. Winston was the ACC Player of the Year, ACC Rookie of the Year, a consensus All-American and named the Offensive MVP of the BCS title game after Florida State's 34-31 win over Auburn. In addition to becoming the youngest Heisman winner, Winston also set new national freshman records for passing touchdowns (40) and passing yards (4,057).
A concert is a nice way to break up preseason camp

Mills was arguably Georgia Tech's most important player coming into the season

Hugh Freeze's phone records reportedly show another troubling pattern for Ole Miss
They aren't necessarily great teams, but they're teams I'm really interested in following this...

The Irish will wear them on Nov. 18 against Navy

The fourth-year coach of the Nittany Lions led the program to the 2016 Big Ten Championshi...