James Franklin Era at Penn State starts with a win
Penn State beat UCF 26-24 with a field goal as time expired to give James Franklin his first win in Happy Valley.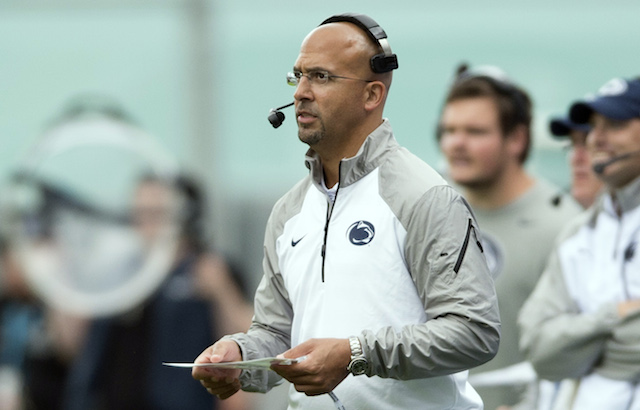 It wasn't very pretty, but when Sam Ficken's field goal as time expired sailed through the uprights to give Penn State a 26-24 win over UCF, James Franklin probably didn't care what it looked like. He was officially undefeated as head coach at Penn State.
Franklin ran up and down the sideline hugging his coaches, and then picked Ficken up off the ground as he hugged him and Penn State players celebrated around him, but even in victory it was pretty clear that Franklin and the Nittany Lions have plenty of work to do in order to get back to the top of the Big Ten.
Christian Hackenberg finished with a nice stat line of 457 yards passing with a touchdown, but he also had two interceptions and spent a lot of the day with happy feet as Penn State's offensive line struggled with the UCF pass rush. It also struggled to open lanes for Penn State's running backs, as the Nittany Lions rushed for only 57 yards on the day, averaging 2.0 yards per carry.
And then there were some odd coaching decisions as well. In the first half, facing a third and goal, Penn State called a play that sent Hackenberg out wide as a receiver and had Zach Zwinak take a direct snap. He was swallowed up quickly and Penn State had to settle for a field goal.
On the final drive of the game, after losing the lead for the first time, Penn State found itself with three timeouts and a 1:13 to work with. Yet when the Nittany Lions picked up a first down at midfield and had 44 seconds remaining, instead of using one of those timeouts the Lions decided to "hurry up" and found themselves at the UCF 46 with only 17 seconds remaining one play later.
It was the kind of clock management that could cost you a win, but luckily for Penn State and Franklin, the Nittany Lions were able to set up Ficken's game-winner with three seconds left. 
All in all, it wasn't the best performance from Franklin and his coaching staff in their first game, but it was a win, and I'm sure Penn State fans won't care what the wins look like, just so long as they keep coming.
It may have been impossible for Sumlin to meet the expectations set for him in College Sta...

Some players are more easily replaced than others

The 2017 season is in the books, and several big-name stars are jumping early to the NFL
Love was second in the nation in rushing with 2,118 yards in 2017

It looks like Jennings is slowly making his way back to the Vols after being dismissed last...

Offensive coordinator Brian Daboll's departure to the NFL has left a void at Alabama