More on Franklin: Doyel: Perfect choice | Dodd: Don't do it | Recruiting
Vanderbilt coach James Franklin will be the new head coach at Penn State, as CBSSports.com first reported Thursday morning. The deal was approved by Penn State Saturday morning. Franklin's contract with Penn State is a six-year deal slated at more than $4.5 million per year, according to a source.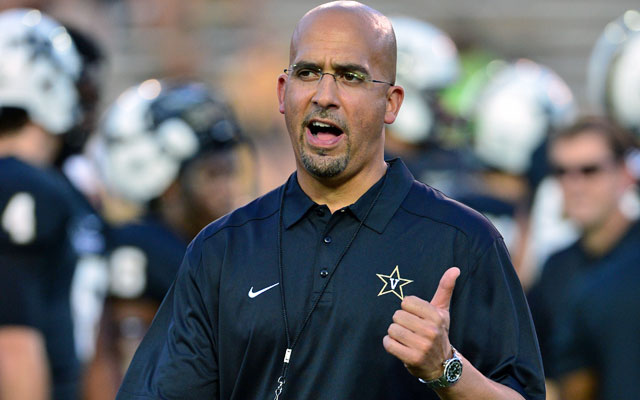 Penn State confirmed the hiring in a brief news release but gave no details of the contract. A press conference is scheduled on campus at 4:15 p.m. ET Saturday.
The 41-year-old Franklin, a Pennsylvania native, worked wonders in his three seasons at Vandy. Franklin, known for being very organized, a dogged recruiter and energetic, walked into the toughest conference in college football three years ago and transformed a program that won just 13 SEC games in the previous 10 seasons into one that has now had back-to-back Top 25 finishes.
After a 6-7 debut season in Nashville, the charismatic Franklin coached the Commodores to an 18-8 record the last two seasons and a 9-5 mark in their past 14 SEC games. He also beat No. 15 Georgia this past season as part of the Commodores pulling off an unlikely SEC trifecta with wins over UGA, Florida and Tennessee -- the three traditional powerhouses of the SEC East. In 2013, Vandy's offense surpassed its record-setting pace of 2012 by averaging a school-best 30.1 points per game in 2013 after averaging 30.0 in 2012. The Commodores led the SEC in Red Zone offense and scored touchdowns on 66 percent of their trips inside the 20.
Prior to taking over at Vandy, Franklin spent five seasons as the offensive coordinator at the University of Maryland and Kansas State University. He began his coaching career in 1995 as the wide receivers coach at Kutztown (Pa.) University after starring at quarterback for Pennsylvania's East Stroudsburg, where he was a two-time Pennsylvania State Athletic Conference selection.
Franklin replaces Bill O'Brien, who spent two seasons in State College and went 15-9 with the Nittany Lions despite taking over a program in chaos. The new coach inherits a roster without much depth, but does have a blue-chip QB in Christian Hackenberg who is coming off a terrific freshman season. Penn State, which was hit with crippling NCAA sanctions after O'Brien took over the program, got some scholarship relief and sources says it is optimistic the NCAA also might opt to reduce the bowl ban placed on the program.
Penn State also considered Miami head coach Al Golden and former Tennessee Titans head coach Mike Munchak, both former Nittany Lions players. PSU also interviewed San Francisco 49ers assistant Greg Roman for the job Monday.