James Franklin has Vanderbilt bowl eligible for 3rd straight year
Vanderbilt had never played in two straight bowl games before last season. Now they'll play in a third straight. How good is James Franklin?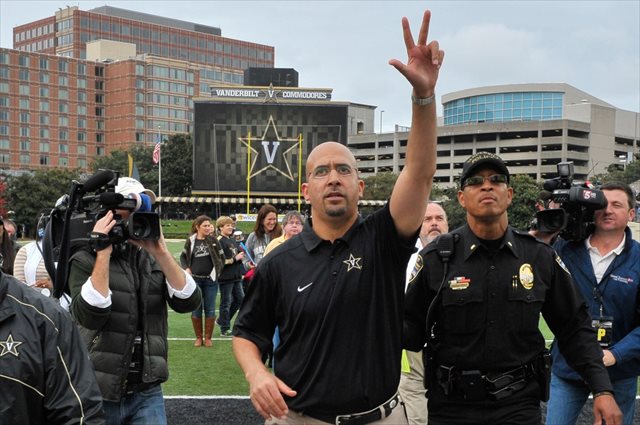 James Franklin hasn't yet been named SEC Coach of the Year. In 2011, the honor went to Les Miles. In 2012, Kevin Sumlin. And it's highly, highly doubtful Franklin will get the nod in 2013, either, thanks to Gus Malzahn's work at Auburn and Gary Pinkel's at Missouri. Above-.500 consistency doesn't win awards the way dramatically exceeding expectations does.
The catch, though, is that there's no program in the SEC -- and arguably no program in any BCS program -- where "above-.500 consistency" also qualifies as "dramatically exceeding expectations" more than it does at Vanderbilt . And after beating Kentucky 22-6 Saturday, Franklin has reached that consistency again. His Commodores are 6-4, with games still to play against Tennessee and Wake Forest. Win one of those, and Franklin will have guided Vandy to its first consecutive winning seasons since 1974-1975.
Of course, the Kentucky win represents a more immediate milestone as well: with its sixth win, Vandy will go bowling for a third straight season. Until last season, the Commodores had never been to two straight bowls.
And there's an argument to be made that this has been Franklin's finest coaching job yet. The Commodores were rocked just before the season by the arrests of four players on rape charges, a scandal that would eventually lead to second-leading receiver Chris Boyd's dismissal from the team. Stars like cornerback Casey Hayward, quarterback Jordan Rodgers and tailback Zac Stacy had all graduated. New starting quarterback Austyn Carta-Samuels was injured midseason. The 'Dores began the season with a crushing come-from-ahead, last-minute loss to Ole Miss. 
No matter: the Commodores upset Georgia with a furious second-half comeback, thumped Florida on the road, and swept their three nonconference games with ease to reach five wins, with Kentucky now making six. Vandy went from 1915 to 2012 without winning nine games in a season -- and with the bowl, it's possible they'll win nine two years in a row.
Does that actually make this Franklin's best coaching job? The vote here would go to his 2011 performance, when he took over a miserable 2-10 team and not only went to the Liberty Bowl, but could have easily won seven or eight games that season, too, with a break or two vs. the likes of Arkansas or Tennessee. The 2013 version has arguably had to work a little too hard vs. the likes of UMass and Kentucky.
But that's the point: Franklin has been enjoying the same success for three seasons now, at Vanderbilt, a place where one bowl season is a minor miracle and three in a row would have been flat unthinkable right up until the moment Franklin arrived. It won't win him the SEC Coach of the Year award. But it might make him a coach at a much larger program, with a much fatter salary, just as soon as one of those programs realizes that everything he's done so far suggests he's worth every penny of that salary. 
Many NFL-eligible juniors ignore advice provided by the league and risk going undrafted each...

Snyder died in Manhattan, Kansas, on Wednesday

Locksley joined Alabama's staff in 2016
Saban reportedly wants to hire Freeze, but there may be things keeping that from happening

Florida State-Miami will be on Oct. 6, and the Seminoles will play Clemson on Oct. 27

Weis Jr. was an offensive assistant for the Atlanta Falcons in 2017