Jayhawks lose top two RBs to season-ending injuries
Seniors Brandon Bourbon and Taylor Cox, the top two tailbacks on the Jayhawks' depth chart, will both miss the 2014 season after major injuries.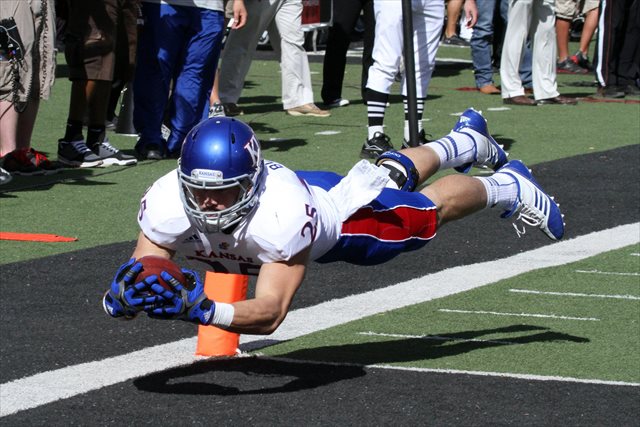 More college football: Jon Solomon | Dennis Dodd | Jeremy Fowler | Latest news
It's a well-known fact that Mark Mangino liked to curse as coach of the Kansas Jayhawks. Turns out he also may have liked to, you know, curse --  in the "gypsy" or "of the Bambino" sense.
That's the best explanation we've got for the ongoing struggles in Lawrence since then, anyway. Those struggles continued Tuesday when beleagured coach Charlie Weis announced that both the top two running backs on the Jayhawks' depth chart would miss the 2014 season due to injury.
Per the Associated Press, Weis said senior Brandon Bourbon tore his ACL during the Jayhawks' Sunday scrimmage, and fellow senior Taylor Cox tore his Achilles tendon in a non-contact drill Monday.
"I feel bad for both Brandon and Taylor as they were looking forward to the opportunity to be the replacement for James Sims," Weis said. "I sat down with each of them individually and talked through their options and was happy that they chose to further their education, while attempting to play again next year if things work out."
If there's any silver lining for Weis and the Jayhawks, it's that despite their senior status, neither Bourbon nor Cox was an established star, at least; the injury-plagued Bourbon rushed for 191 yards on 41 carries in 2013 (though his three rushing touchdowns were, remarkably, the second-most on the team), while Cox carried only six times.
But that's not of much consolation considering that 1,000-yard rusher Sims has graduated and second-leading rusher Darian Miller transferred to Northern Iowa amid off-field issues. With senior Tony Pierson deployed at wideout, Bourbon and Cox were still the two leading returning tailback rushers.
In their place, Weis will likely turn to JUCO transfer De'Andre Mann and freshman Corey Avery. But for the sake of the program, in these desperate times we'd suggest the Jayhawks also turn to the following desperate measures:
Exorcism
Team trip to Sedona, Arizona for holistic karma cleansing exercise, also hiking
Broken mirror repair seminar
that Ghanaian World Cup witch doctor seemed like he knew he was doing
Mark Mangino
A concert is a nice way to break up preseason camp

Mills was arguably Georgia Tech's most important player coming into the season

Hugh Freeze's phone records reportedly show another troubling pattern for Ole Miss
They aren't necessarily great teams, but they're teams I'm really interested in following this...

The Irish will wear them on Nov. 18 against Navy

The fourth-year coach of the Nittany Lions led the program to the 2016 Big Ten Championshi...