Jeff Tedford fired at Cal after 11 seasons
After 11 seasons as Cal's head coach that included nine winning seasons, Jeff Tedford is out as the Bears head coach, a source told CBS Sports on Tuesday morning.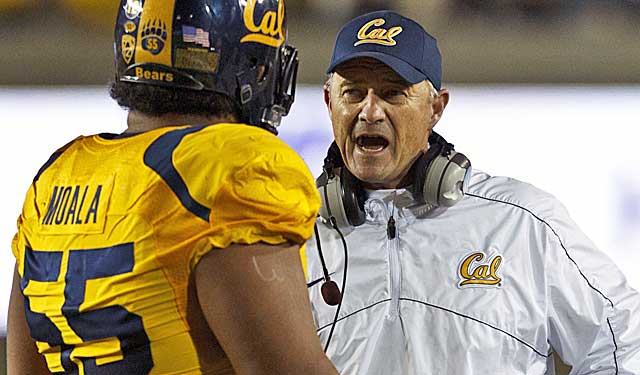 Jeff Tedford had nine winning seasons for the Golden Bears. (Getty Images)
After 11 seasons as California's head coach that included nine winning seasons, Jeff Tedford is out as the Bears head coach, a source told CBS Sports on Tuesday.
Tedford worked wonders with a Cal program that was coming off its worst season in school history, a 1-10 record in 2001 and the Bears hadn't had a winning season in almost a decade. Tedford promptly went 7-5 in his debut season. In his third season, his team went 10-2 and finished No. 9 in the country.
Tedford gained a reputation as a QB guru, and developed many NFL quarterbacks. He not only discovered Aaron Rodgers, but helped turn him into an NFL star. Ironically, it was the program's inability to develop a quarterback since Rodgers moved on seven years ago that ultimately led to Tedford being forced out.
His firing was later announced by the school.
Cal is only 9-18 in conference play play the past three seasons. This fall, Cal (3-9, 2-7 Pac-12) finished the season on a five-game losing streak and lost its final two games by a combined score of 121-31 to the two Oregon schools.
Despite the Bears' recent struggles, this is still seen as one of the country's better coaching jobs. There is a lot of young talent in the program, starting with freshman QB Zach Kline, a former elite prospect. Explosive sophomore RB Brendan Bigelow teams with a promising group of receivers to give Cal plenty of skill position firepower. The defense also has a bunch of good, young talent. The school also can tout one of the best educational opportunities for any recruit, but it also has some flexibility in terms of admissions. And, it doesn't hurt that in recent years Cal has produced more than its share of marquee NFL talent too.
Potential candidates the school might consider include: Boise State's Chris Petersen; San Jose State's Mike MacIntyre; former Stanford assistant Greg Roman; Cincinnati Bengal assistant Hue Jackson; Louisiana Tech's Sonny Dykes; Utah State's Gary Andersen; Western Kentucky's Willie Taggart and Fresno State's Tim DeRuyter.
Jackson, the one-time Oakland Raiders head coach, is getting a strong push by many Cal insiders, according to multiple sources. The 47-year-old former Cal offensive coordinator also coached at USC and ASU but his last season in college football was in 2000 when he was an assistant with the Trojans.
Roman, one of Jim Harbaugh's top assistants with the San Francisco 49ers, also is seen as a strong contender for the Cal job. The New Jersey native impressed many in the Bay Area helping Harbaugh crank up the toughness of the Cardinal program. He has been Harbaugh's right-hand guy from the moment he arrived in Palo Alto and has done wonders with Alex Smith and the 49ers offense. Two years ago, Roman almost landed the Vanderbilt head coaching job.
Roman, MacIntyre, Dykes, Andersen and Taggart, another Harbaugh disciple, are also in the mix for several other coaching openings in addition to this one.
Not far from Berkeley, MacIntyre has turned a San Jose State program that went 1-12 in his debut season in 2010 into an 9-2 squad this fall. Dykes, who had impressive success in the Pac-10 as Arizona's offensive coordinator a few years ago, has transformed a struggling La. Tech program into one that cracked the top 25 and is 9-2 this season. DeRuyter, a California native, has had a strong first season at Fresno State, and also will get consideration for this job, according to a source.
Petersen, 82-8 in seven seasons at Boise State, is the most intriguing name on that list. He has been pursued by several schools in recent years but has turned them all down to remain at Boise. A source close to the coach said there are two jobs the UC Davis grad would be tempted by Oregon and Cal. The source, though, added that since Petersen and Tedford are close, the thought of replacing his friend might steer him away from an opportunity to coach the Bears.
Florida's roster got a boost on Tuesday with the return of several key members of the prog...

Tom Hutton joins the ranks of former Aussie rules footballers joining the college football...

The freshman is already on Heisman lists after throwing the walk-off score in the national...
These seven teams should make the most noise down the homestretch towards signing day

Air Force was forced to cancel 11 athletic events because of the 69-hour government shutdo...

Olson has a lot of the tools offensive coordinators want in a quarterback