Jerry Kill: 'I'll be on the sideline' for Minnesota games this fall
After moving to the press box for the second half of the 2013 season, Jerry Kill says he'll be back on the field in 2014.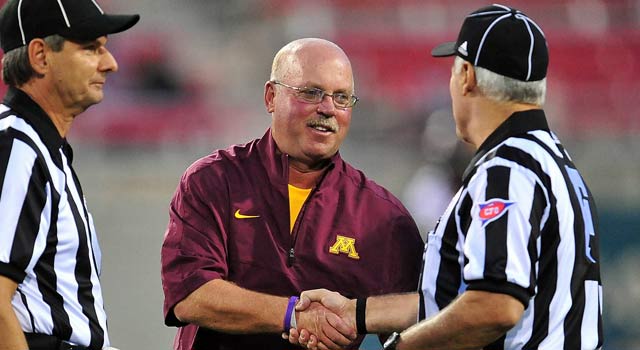 More Jerry Kill: Celebrates with locker room boogie | Player punishment: horse stall duty
Minnesota's Jerry Kill will do his coaching on the field this fall, he told fans at a "Gopher Road Trip" meet-and-greet Tuesday.
"I'll be on the sideline," Kill said, according to the Minneapolis Star-Tribune. "That's who I am, and I think that's best for our team. However, if we need to adjust something, [our coaches have] all been together a long time."
The 52-year-old Kill was disagnosed with epilepsy in 2005 and missed two 2013 games after suffering a seizure in early October. He coached the Gophers' remaining seven games from the press box.
But Kill also said Tuesday he is "feeling pretty good," has not suffered a seizure since the October incident, and has been driving himself to work. 
Kill has been a prominent advocate of epilepsy-related causes, recently donating $100,000 to the new "Chasing Dreams" initiative of the Epilepsy Foundation of Minnesota.
Rhoads led Iowa State to three bowl games in seven years as head coach

The Georgia middle linebacker is one of the most valuable players in college football

Explaining my 2017 Heisman Trophy ballot and Jackson's tremendous season
Mayfield is the sixth Oklahoma player to win the Heisman since its inception

The Heisman Trophy will be presented to the best college football player this season

Army topped Navy for the second straight year in an absolute thriller in Philadelphia