Jerry Kill manages his own conflicts as Minnesota keeps on winning
Minnesota has been the surprise of the Big Ten even as it's run by committee while head coach Jerry Kill recovers from health problems.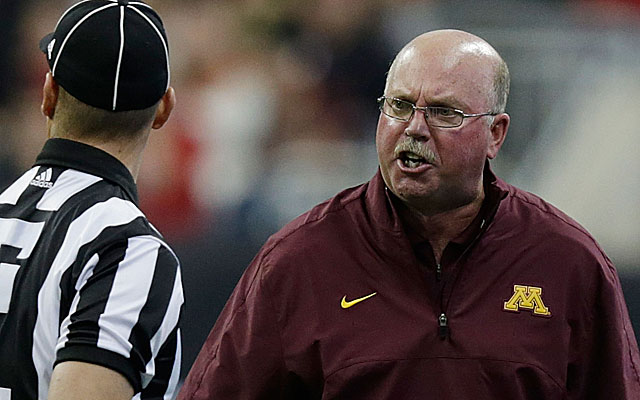 MINNEAPOLIS -- Jerry Kill is going to drive. In his mind, he already has a Ford F-150 picked out. One day soon Minnesota's coach is going to cruise around, sitting high and proud, blasting country music the whole way.
"Like the Willie Nelson song," Kill said gleefully, "One Day at a Time.' "
He can't drive, of course. That's what the law mandates for the 52-year old Minnesota coach who once estimated he'd had 20 seizures the last two years. Six and a half weeks ago the coach suffered his fifth known seizure since becoming the Gophers' coach in 2011.
It caused him to miss the Oct. 5 Michigan game. That fact seems to have bothered him more than his actual affliction.
"To be honest, it was one of the hardest things ever to happen in my entire life," Kill said. "I had no idea I missed the Michigan game. I wouldn't have missed it if I was conscious."
"It crushed me. It felt like I let everybody down -- players, school. I was told I had cancer [in 2005] but I think this one was worse."
Worse than cancer? Now you start to get an idea why Kill will drive again, why his affliction and his Gophers' resilience have become parallel national stories.
Kill's a ball coach, first, foremost and always. On the day he was diagnosed with kidney cancer eight years ago he put off a consultation to meet some recruits.
But, incredibly -- without him at full strength -- Minnesota has forged an unprecedented turnaround. The Gophers, 8-2, have won four Big Ten games in a row for the first time in four decades. They will host Wisconsin this week with the program's first 10-win season in a decade on the line.
Kill will be there, but only as an observer in the coach's box. That has been his professional life recently. The last of those seizures came about 36 days ago the coach estimates. Since Oct. 5 he has stepped away and allowed the everyday running of the program to his staff.
They are maintaining -- quite amazingly -- a major-college college football program by committee.
Meanwhile, the lyrics from Nelson's 48-year old song play out metaphorically all over the Bierman Field Athletic Building.  
One day at a time.
"I've done things [the same] for 30 years," Kill said. "It basically caught up to me."
Minnesota already has achieved an eight-win season for only the third time since 1967.  The women's hockey team may have just had a 62-game winning streak end, the men may be ranked No. 1, but on this campus they've had to pay attention to long-languishing Gopher football.
Not only is a bowl assured, a New Year's Day bowl is a possibility. That would be the first such occurrence here since the 1962 Rose Bowl.
"I feel like we've kind of gone unnoticed," quarterback Philip Nelson said. "We never get any respect from anybody. Everybody thinks of the Big Ten, they think of Ohio State and Michigan.
"We're just that team is underneath everybody. That's something that fuels our fire."
These Gophers, then, have taken on the personality of their coach, a self-described "determined sumbitch."
After the Michigan episode that preceded a 29-point loss, they won at Northwestern. They fell behind at home to Nebraska 10-0 before beating the Huskers by 11. They stopped Indiana late inside the 10 to win a 42-39 shootout.
Before the latest bye week, they held Penn State scoreless in the final 33 minutes of a 24-10 win.
With two regular-season games left there are no indications when Kill is going to be back on the field. Nor is there a rush. Why ruin the mojo or Willie's vibe?
The mood is in written in Nelson's lyrics of that song Kill one day wants to blast out of his pick up.
"Yesterday is dead. Tomorrow is blind."
• • •
Spread out on Kill's desk are reminders of his condition. Marquette coach Buzz Williams has sent an inspirational letter. Indianapolis Colts coach Chuck Pagano, a fellow cancer survivor, has reached out.
"That little girl here passed away about 2½ months ago from a seizure," Kill says shuffling a picture out of a pile. "Some people stop breathing or fall down a set of stairs."
Kill knows he is incredibly lucky with access to high-level medical care. They wouldn't have found stage 4 kidney cancer if he hadn't collapsed from a seizure during an SIU game eight years ago.
"Football has saved a lot of people's lives," he said. "I believe it saved mine."
This time the driven coach has finally decided to listen, adapt -- take advantage of the help being offered.
"I can't afford to have any more seizures," he said. "I've had to adjust. I can be like this -- even-keeled -- instead of push, push, push, push, push, push."
In the space of six weeks, Kill has stepped aside, changed his medication, changed his doctors and returned in a limited capacity to become a calmer, smarter coach.  
Doctors have told him and he fully believes, "There's a lot of people who can be seizure free for the rest of their lives, or you might get one every once in a while."
Kill just had take time to pay attention more to his body than his headset. Causes of seizures are many and sometimes mysterious.
The awareness of his condition has given Kill a cause. He admits to being driven by a local columnist who suggested in September the coach "is not healthy enough to lead."
"Kiss my ass," Kill said, growing agitated behind his desk. "I'm going to show you. I'm a Division I coach, OK? I've got epilepsy. I've been doing this [expletive] and winning for a long time. I'll show you."
Everyone inside Bierman insists the routine has changed little. Kill has returned to his office. He was more than generous with his time recently to a reporter.
He still has a lot of his native Cheney, Kan., in him. It was there he grew up baling hay and working in a wheat field. His father told him, "When a guy gives you a job don't shortchange him."
"I ain't going to steal from anybody," Kill said. "If I couldn't do the job, they wouldn't have to fire me. But with that being said I've given every inch and every bit of time to every school."
That's the conflict: The best thing about Jerry Kill perhaps isn't the healthiest thing. His fiercest trait -- his competitive drive -- could be the most damaging.
He threw cancer aside like a blitzing linebacker. Seizures have continued to send the house.
"Life is great and a wondrous mystery," Kill told his team after a recent practice. "The only thing we know for sure is what is right here, right now."
One day at a time.
These days the coach quietly oversees practices and watches games from the press box. Several Minnesota coaches say he doesn't call plays, merely listens on the headphones and perhaps provides a suggestion.
Defensive coordinator Tracy Claeys has the title acting coach. The former Kansas student assistant is running the show on the sidelines on game days.
The larger truth: A Big Ten program in a BCS conference enjoying its best season in decade is almost running itself.
"What amazes us," said quarterbacks coach Jim Zebrowski, "is on the outside people are utterly amazed that a group of coaches and players can perform at a high level when their coach wasn't there."
Amid unprecedented change, Kill knows he is ultimately the one who has to change. For years -- the coach told CBSSports.com -- he existed on 2½ hours sleep per night. He didn't turn down a speaking engagement. Sometimes dinner was a bag of peanuts and a Diet Coke. Even for the everyday human rank and file, that's a routine for disaster.
But to Kill the routine "worked."  He's known as a turnaround artist. Three years, tops, it' has taken him at places like Southern Illinois, Northern Illinois and, now, amazingly, Minnesota.
The career arc has been ever upward. What incentive was there to change? His Brick By Brick philosophy had as its foundation the game's foremost mason.
"I never said no," Kill said. "When you're trying to turn around a program you're married to it. I've been married to every one of them I've been to."
That is not news to Rebecca Kill, the coach's actual life partner and the program's maternal force. She's the one who nurtures not only a husband and two daughters but the families of the staff.
The coach noticed the other day when Rebecca passed through the office with what he calls a new "hair cut."
"God dang," he chided, "you're reaching that age. You must be out looking for a new man."
"No," she said. "I've got a new man. I've got my man back."
"That's the best answer I received," Kill said.
The coach now walks regularly. Doctors have mandated he eat three square meals a day. Minnesota's head coach is starting to realize that the competitiveness that made him so effective on the field was slowly wearing him down off of it.
Change is coming, brick by brick. Jerry Kill is sleeping more now -- by his estimate, 5 to 5½ hours per night.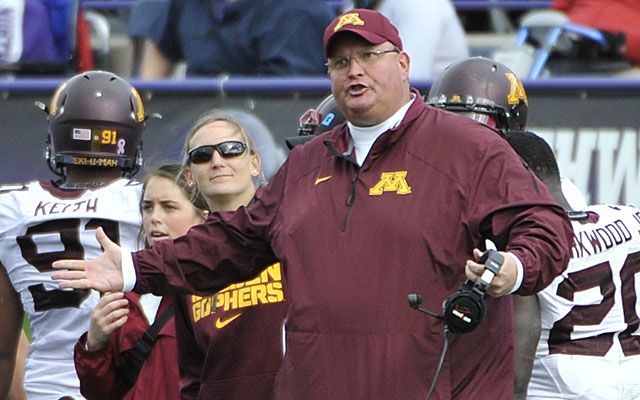 Kill has almost ceased to be the No. 1 story as the Gophers prepare for Wisconsin this week. No one wants to say it out loud but the turnaround trend has occurred without his full input.
Whether it's a fluke, fate or Minnesota manifest destiny, there is a message here about working smarter, not necessarily harder. When Kill returned to meetings, nothing was mentioned about his affliction.
"He's not a guy who wants sympathy," Zebrowksi said. "He would hate us if we did that."
Claeys, who will turn 45 on Christmas, is reminded that recent events qualify him for some national coach of the year honors.
"That's a weird thought, I guess," said Claeys one of a handful of FBS coaches leading programs who never played college football. "I've had very little to do with it. I'm very uncomfortable with the situation. Jerry's in charge and always will be."
Those inside the program insist nothing has changed. But since Michigan, the staff has gone into a well-known -- to them -- seizure protocol. Claeys is on the sidelines on game days. Kill watches from the coaches' box providing little more than suggestions.
During practice, Claeys sometimes stands 100 yards away quietly watching the action. It's hard to notice Kill is even there. A program that runs itself takes over.
Minnesota's assistants have a combined 124 years of experience with Kill. Nationally, there's not a close second. Seven of Kill's 10 coaches have been with him at least 13 years. Strength coach Eric Klein has been at Kill's side for two decades.
Claeys, with Kill since 1995, is reminded that this story being played out on a national stage has to raise his profile.
"I've never applied for a job in 19 years," he said. "I love what I do and who I work for.
"There are some coaches and coordinators who hire agents. I just don't feel comfortable doing that."
The Midwest work ethic that infuses the program is everywhere. It wasn't until three years ago that Claeys paid off the $21,000 in student loans he owed (plus interest) from Kansas. It was there under coach Bob Valesente in the late 1980s that he took one look at the walk-on situation and figured there was no place for a lineman from tiny Clay Center, Kan.
"Everybody was big and I just wasn't that good," Claeys said. "I knew I wanted to coach so I went and saw Lynn Bott."
Kansas' legendary former trainer let Claeys help out, knowing that the kid had no interest in athletic training. He wanted to be a coach. Glen Mason arrived in 1988 and allowed Claeys to become a student assistant.
In those days, the kid got the first look at the remaking of a beaten-down program. That first year Mason and his new staff slept in tents near the practice fields for weeks at a time to show solidarity with the players.
Claeys also draws some of his inspiration from Lawrence Frank, a former NBA head coach (now a Brooklyn assistant) who was once a student manager for Bobby Knight.
He is reminded again about those parallels and humble beginnings and his name being circulated in national circles.
"It will get people sitting around the table in Clay Center something to talk about," he said.
The Gophers may go into their final two games as underdogs (Wisconsin, Michigan State). But the fact anyone is even whispering about a 10-win season has the program jacked.
"It definitely could have gone either way," said Nelson, from nearby Mankato. "It just shows the character of this team. It is what makes us relentless."
Amazingly, Kill beat kidney cancer without missing a game at SIU.  Now he's determined to beat the seizures. His medication has changed since missing Michigan. So have his doctors. The coach is reluctant to give up information on either, trying to keep the routine is normal as possible.
That snazzy F-150 has become the carrot. Kill can't drive yet, but the law says he can if he is seizure-free for three months.
Willie is waiting.
Yesterday is dead, tomorrow is blind.
One day at a time.
The alliance includes including scheduling, training, development, recruitment, retention and...

Power Five home-and-homes have been a priority for UCF AD Danny White

Greg Byrne and Danny White had some words about what it means to be national champions
The team at TheMichiganInsider.com have an exclusive look at Michigan's spring practice

The 'Conference of Champions' won't be in the Round of 32 for the time since 1986

Everything you need to know about Colorado's spring game