Jerry Sandusky, the monster no one wanted to see
It is the defining tragedy of the case: Not only that Jerry Sandusky repeatedly, systematically violated children, but that he was allowed to get away with it for so long.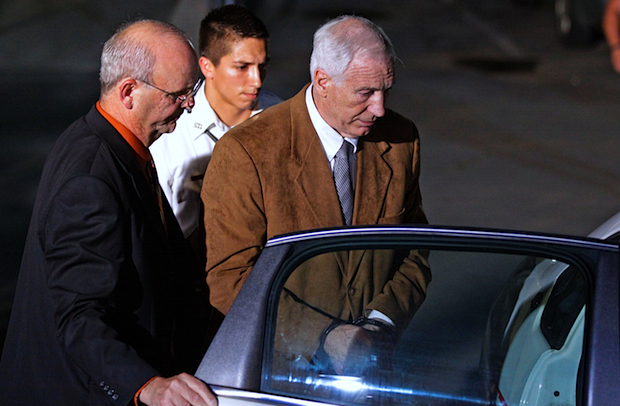 Jerry Sandusky has been judged guilty on 45 counts of sexually abusing young boys over a period of more than a decade, a result so inevitable after two weeks of testimony that Sandusky's own attorney told reporters Friday he would "probably die of a heart attack" if the jury let his client walk. Twenty-five of the convictions were on felony counts, and the longtime Penn State defensive coordinator faces a maximum sentence of 442 years in prison. He almost certainly will spend the rest of his life there.
It would require a truly ashen heart to argue for anything less. Eight victims described for jurors in agonizing detail the physical and emotional abuse Sandusky inflicted after recruiting them from his charity, the Second Mile, along with two eyewitnesses who testified that they saw other, unidentified victims being assaulted in Penn State's locker room. Sandusky was convicted on multiple counts involving all ten victims, and there are other accusers whose cases were not a part of the trial.
Still, as appalling as those accounts were, the truly shocking aspect of the case from the outset is the number of times that Sandusky's crimes were overlooked, dismissed or shoved under the rug by people who could not or would not indulge their worst suspicions about a respected member of the community, and could not be bothered to learn more. It is the defining tragedy of the case: Not only that Jerry Sandusky repeatedly, systematically violated children, but that he was allowed to get away with it for so long.
On at least nine different occasions over almost as many years, an adult had the opportunity to intervene, report or reasonably suspect Sandusky of posing a threat to a child, and either did nothing or failed to follow up when he remained at large:
1. The most obvious, infamous opportunity to turn Sandusky over to authorities – and ultimately the most consequential for Penn State – came following a late-night episode involving former quarterback turned assistant coach Mike McQueary, who said he personally witnessed Sandusky sexually assaulting a young boy in a Penn State shower in 2001. Fending off the defense's questions about discrepancies in his earlier testimony, McQueary testified last week that he has "no doubts at all" about what he heard and saw:
"Very much skin-on-skin smacking sound," he said. "I immediately became alert and was kind of embarrassed that I was walking in on something."

He said that he turned and glanced over his right shoulder at a mirror that had a 45-degree angle and saw Sandusky "standing behind a boy who was propped up against a wall." He estimated the boy to be 10 to 12 years old.

He said that the "boy's hands [were] up on the wall. The glance would have taken only one or two seconds. I immediately turned back to my locker to make sure I saw what I saw."

McQueary said he looked directly into the shower and saw Sandusky "standing right up against the back of a young boy" with his arms around his midsection -- "the closest proximity that I think you can be in."

When asked what he saw, McQueary said "the defendant's midsection was moving" subtly.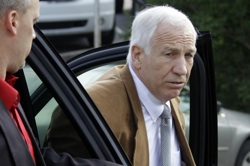 At that point, McQueary said, he slammed a locker door shut "in an attempt to say 'Someone's here! Break it up!'" then stepped closer to entrance of the shower to confirm that Sandusky had separated from the boy. "We looked directly in each other's eyes and at that time I left the locker room," he said.
McQueary subsequently phoned his father, and met with head coach Joe Paterno the following morning at Paterno's house, where he described what he had seen in less-than-explicit terms. The following week, McQueary met with athletic director Tim Curley and another administrator, Gary Schultz, who then oversaw campus police; Curley later called to tell McQueary the university had looked into it, though Sandusky's status and access to campus facilities remained essentially unchanged.
In its summary of the initial charges against Sandusky last November, the AG's office wrote that "there is no indication that anyone from the university ever attempted to learn the identity of the child who was sexually assaulted on their campus or made any follow-up effort to obtain more information," and "there was no effective change in Sandusky's status with the school and no limits on his access to the campus." Sandusky maintained an office in the Lasch Football Building and (according to the attorney general) had "unlimited access to all football facilities" for the better part of a decade, including the locker room. He also kept a parking pass, a university Internet account and a listing in the faculty directory.
As recently as 2009, he was still running an overnight football camp for children as young as 9 on a Penn State campus. He was still working out in football facilities as recently as last October — months after university officials (including Paterno) had been called to testify in the investigation that ultimately led to his arrest on more than 40 counts of sexual abuse against at least eight victims over more than a decade. Sandusky told the New York Times in December, more than a month after his arrest, that he still had his keys.
In a preliminary hearing last December, Curley's attorneys argued that McQueary failed to convey the seriousness of what he'd seen to Paterno, that the allegations subsequently came across as "not that serious" to Curley, and that it seemed to amount to a case of "he said, she said." Curley and Schultz were both indicted along with Sandusky last November for failure to report and perjury in their grand jury testimony, and Paterno was fired as head coach a few days later.
2. Three year earlier, a 1998 allegation involving a victim known in court documents as "Victim 6" was investigated by Penn State campus police and local law enforcement, and resulted in a 95-page police report – but no charges against Sandusky. At that time, according to the attorney general's indictment, "Sandusky admitted showering naked with Victim 6, admitted to hugging Victim 6 while in the shower and admitted that it was wrong." According to the mother of Victim 6, who reported Sandusky to authorities when her then 11-year-old son told her they had showered together, the coach told her during the investigation, "I understand. I was wrong. I wish I could get forgiveness. I know I won't get it from I you. I wish I were dead," while detectives secretly listened to the conversation in another room.
Still, the case was dropped without prosecution and no significant action taken against Sandusky, who maintained "emeritus" status and regular access to university facilities after his abrupt retirement the following year. During the trial, former Penn State investigator Ronald Schreffler testified that he had been surprised when that investigation closed without charges being brought against Sandusky, and thought dropping the case was a mistake. The district attorney who made the decision not to pursue charges in 1998, Ray Gicar, later disappeared under still-mysterious circumstances in 2005 and was declared legally dead last July.
3. During the prosecution Judge John Cleland allowed hearsay testimony from a Penn State janitor, Ronald Petrosky, who described a 2000 incident in which he saw "two pairs of legs" in a shower during his nightly cleaning, and later saw Sandusky leave with a boy (Victim 8), both of whom had wet hair. He also told the jury he was approached later the same night by another janitor, Jim Calhoun, who was visibly upset.
"[Calhoun's] face was white and his hands was trembling. I thought he had a medical condition," Petrosky said. "He said, 'Buck' – that's my nickname – 'I just witnessed something in there I'll never forget the rest of my life. The man who just left, he had the boy up against the shower wall licking on his privates.' … I asked Jim if he wanted to call somebody. He didn't. He was afraid, I guess."
Calhoun was reportedly unable to talky to investigators or testify himself because he is hospitalized with dementia.
4. The first victim to testify for the prosecution, identified as "Victim 4," told the jury that, following tours and workouts in Penn State facilities, post-workout showers included naked bear hugs and wrestling matches that quickly escalated into sexual contact. Sandusky would move the boy's hands over his body, including his genitals, and coerced him into oral sex on at least 40 occasions. Once, he said, they were nearly caught by assistant coach Tom Bradley, who entered the shower and stayed until both Sandusky and the alleged victim had left. ("I thought he was suspicious," Victim 4 said.)
On another occasion, Victim 4 said Sandusky's wife, Dottie, nearly interrupted an encounter in a hotel bathroom when he accompanied the team to San Antonio for the 1999 Alamo Bowl.
5. The last victim to take the stand for the prosecution, known as "Victim 9," testified that he was regularly forced to perform oral sex on Sandusky and on several occasions was raped in the coach's basement when Dottie Sandusky was upstairs. His cries for help went unheard or unheeded, leading him to speculate that the basement may have been soundproofed. (Dottie Sandusky later testified that it was not, and that she had never heard anything unusual.)
6. A former wrestling coach in another victim's hometown, Joe Miller, testified that he once walked in on the boy and Sandusky lying face to face in a weight room. Surprised, Sandusky reportedly said he was demonstrating a wrestling move, and Miller left. "I thought it was peculiar at first," Miller said, especially considering a much larger room usually used for wrestling was right next door. "But then I thought, 'Well, it's Jerry Sandusky. He's a saint, and what he's doing with these kids is fantastic.' So I didn't think anything more of it."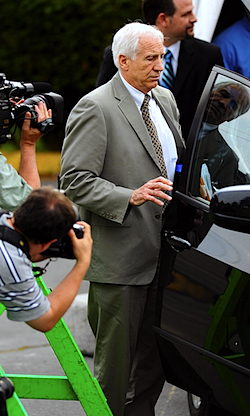 7. The mother of the same victim, known as "Victim 1," referred her son to a school guidance counselor after he asked her if Sandusky was on a website of registered sex offenders. "[School officials] said we needed to think about [reporting the allegation]," Victim 1 testified. "That he has a heart of gold and wouldn't do something like that. So ... they didn't believe me."
8. After Victim 1 offered social workers detailed accounts of sexual abuse in 2008, the Second Mile reportedly ended Sandusky's contact with children when he disclosed he was under investigation for possible sex crimes involving a child. (Though he admitted the accusation, he told the organization the charge was false.) At the same time, though, an executive for the Second Mile told investigators that the organization had already had its suspicions about Sandusky and certain boys before Victim 1, and had been made aware of the previous investigations in 1998 and 2001 – years before it finally severed ties.
9. On Thursday, just after attorneys had delivered closing arguments and the jury had been sequestered for deliberation, an attorney for Sandusky's adopted son, Matt, told reporters that his client had been prepared to come forward as a victim and testify if called. His birth mother almost immediately expressed concerns about Sandusky after Matt was placed in foster care in the Sandusky home in 1995 – her son reportedly attempted suicide about four months after moving in, along with a girl who was also living there – and has saved letters she wrote at that time to local officials.
After the suicide attempt, a school-based probation officer recommended to a Centre Court judge that Matt be moved to a different foster family, writing, "The probation department has some serious concerns about the juvenile's safety and his current progress in placement with the Sandusky family." But Matt requested to remain with the Sanduskys and eventually took the name for himself.
- - -
Despite the triumphant cheers that greeted the guilty verdicts outside the courthouse, there is no victory in watching yet another life consumed by Sandusky's serial malice, even if this time it's his own. Four hundred forty-two years in prison may represent justice. For some of the victims who testified, and possibly some who didn't, the long-awaited acknowledgement of the sins perpetrated against them as children may represent some measure of closure as they mature into adulthood with children of their own.
But it cannot erase the physical and psychological trauma that has coursed through dozens of shattered lives, all of which bear permanent scars, or mend legacies shattered in their wake, or close the wound in a community ripped open by the realization that it tolerated – celebrated, in fact – a monster in its midst. It cannot diminish the scope of that suffering. It cannot change the fact that so much of it could have been prevented.
The only conceivable positive in the tragic rise and fall of Jerry Sandusky is as a cautionary tale: A high-profile, it-could-happen-here alert to the dangers of power, insularity and the instinct to cover one's own hide. Sandusky is a warning that the secret power of evil often lies in its banality. Neither the community that venerated him nor the institutional hierarchies that sheltered him saw a monster: They saw one of their own. Based on his reputation, one of the best of their own.
Over time, of course, a few of them began to hear the rumors, too, and worse. But for everyone who suspected Sandusky of being what he was – even for those who witnessed it with their own eyes – the implications of toppling a pillar of Penn State and Happy Valley were too destructive too acknowledge. It was much easier to let it go as none of their business. Our university? Our town? Our friend? It can't be true. This is not who we are. And if it is true, about a man we regarded as one of our best, then who are we?
Eventually, a determined mother and a social worker decided the truth was too destructive to ignore. They may have spared other children much pain and suffering as a result. But they did so not only at the expense of Sandusky, the brute hiding in plain sight, but also at the ultimate expense of Joe Paterno, Graham Spanier, Tim Curley, Mike McQueary, the Second Mile, Penn State and thousands of others invested both emotionally and financially in those extended families. They were the only adults with the opportunity who decided justice for a single victim was worth the tremor it would send through the tribe. If there is anything good that can come of the Jerry Sandusky trial, it's the question they force us to ask when confronted with the possibility of monsters in our own midst: Who am I protecting?
CBS Sports HQ Daily Newsletter
Get the best highlights and stories - yeah, just the good stuff handpicked by our team to start your day.
Please check the opt-in box to acknowledge that you would like to subscribe.
Thanks for signing up!
Keep an eye on your inbox for the latest sports news.
Sorry!
There was an error processing your subscription.
Briles was dismissed by Baylor in 2016 amid a sexual assault scandal

D'Wan Mathis had been experiencing severe headaches brought on by sinus pain

Braden Galloway and Zach Giella missed the College Football Playoff for failing a drug tes...
Bjork has been leading the athletics program at Ole Miss since 2012

A detailed look at every college football bowl game set to be played following the 2019 se...

The Virginia prospect decided between some of the top schools in the country