Jerry Sandusky will not take the stand in his sex abuse trial
ABC World News is reporting that Jerry Sandusky will not testify in his trial on over 50 charges of child sex abuse.
• 1 min read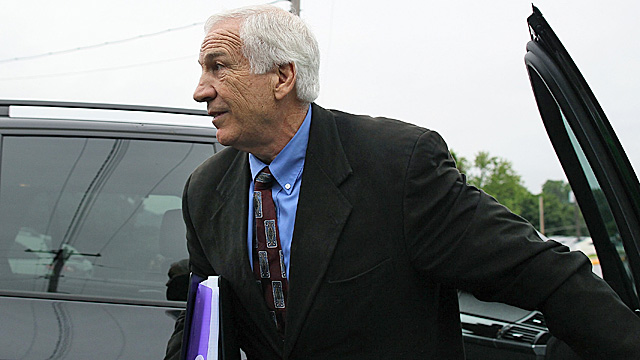 Jerry Sandusky will not testify in his trial on over 50 charges of child sex abuse, as the defense rested on Wednesday without the former Penn State defensive coordinator taking the stand.

With the examinations complete, closing arguments have been scheduled for 9 a.m. Thursday.  After the final arguments, the case will go to the jury for deliberation.

There was some speculation heading into Wednesday that Sandusky may take the stand as the defense wrapped up their presentation.  According to CBS News legal analyst Jack Ford, speaking Wednesday on "CBS This Morning," there has been some disagreement among Sandusky's lawyers as to if the former coach should testify.

Instead, the defense attempted to punch holes in the testimony of former assistant coach Mike McQueary. Dr. Jonathan Dranov, a family friend McQueary, said Wednesday that he spoke to McQueary the night he claimed to have seen Sandusky engaging in inappropriate activity in the shower.

Dranov testified that McQueary described hearing "sexual sounds" and seeing a boy in the shower and an arm reach around him and pull him out of view. This differs from McQueary's more detailed account of the story.

The morning also featured testimony from more defense character witnesses, including a couple of participants in Sandusky's youth charity, "The Second Mile." The defense sought to show the positive influence of the charity, which has been alleged by the prosecution as source for Sandusky to identify victims.

The prosecution rested their case Monday after presenting 21 witnesses, including eight who said they had been assaulted by Sandusky.

Information from AP/CBS News was used in this post

Keep up with the latest college football news from around the country. From the opening kick of the year all the way through the offseason, CBSSports.com has you covered with thisdaily newsletter. View apreview.

Get CBSSports.com College Football updates on Facebook
The movie will zero in on former Penn State coach Joe Paterno during the Jerry Sandusky sc...

Bidding for Salaam's trophy, which the auction house says was obtained legally, ends Satur...

Locksley has been the offensive coordinator at Illinois and Maryland during his coaching c...
Many NFL-eligible juniors ignore advice provided by the league and risk going undrafted each...

Snyder died in Manhattan, Kansas, on Wednesday

Locksley joined Alabama's staff in 2016