Jim McElwain signs contract extension at Colorado State
Colorado State coach Jim McElwain agreed to a contract extension that will keep him at the school until 2019.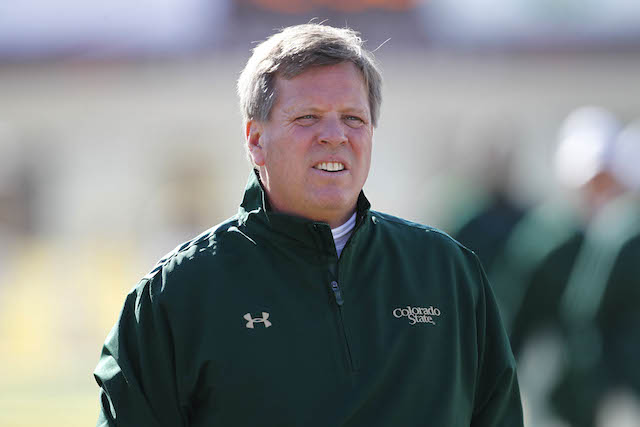 Colorado State and coach Jim McElwain have agreed to a contract extension that will keep McElwain at Colorado State through the 2019 season.
"Jim McElwain has breathed new life into our football program," said the school's interim athletic director, John Morris. "Last season's exhilarating come-from-behind victory in the New Mexico Bowl illustrated all of the positive attributes McElwain and his staff have infused in their student-athletes—the perseverance to never give up and the unique bond to support one another on every play. That was a moment that all Rams fans are extremely proud of, and it provided a glimpse of where this program is headed."
The extension also gives McElwain a raise form his original base salary of $1.35 million a year to $1.5 million. He's also eligible to earn a bonus of $150,000 based on his team's APR score.
According to the release from the school, there's an initial buyout of $7.5 million on the contract, which is the value of the contract itself (five years at $1.5 million equals $7.5 million for those of you too tired to do math). So it only makes sense that McElwain would owe the school the entire balance of his deal were he to leave tomorrow.
What's not so clear is what the buyout will be next year, or the year after that. I'm guessing it won't be nearly as high.
In his two seasons at Colorado State, McElwain has led the Rams to a 12-14 record and went 8-6 last season. He came to Colorado State after spending four seasons as the offensive coordinator at Alabama.
An assistant-by-assistant look at changes Saban made to the Tide's staff ahead of 2018

Find out when Nick Saban, Kirby Smart and the rest of the coaches will speak ahead of the...

It wasn't only the massive $75 million contract that got Fisher to depart for College Stat...
Weinke was injured when Florida State lost to Tennessee in the 1999 BCS title game

It was one of the busiest offseasons for the assistant coaching ranks

Oliver's star has already been born, but 2018 is when it will truly be recognized