Jim McElwain under gun at Florida? Yes, but not as much as Jeremy Foley
Offensive guru Jim McElwain was hired to fix Florida football. Not an easy task, yet the pressure for success may land more on Gators AD Jeremy Foley than the new football coach.
DESTIN, Florida -- The question is not Jim McElwain's to answer, but he'll try:
How did Florida's offense get this bad, this unwatchable, this dysfunctional?
"Those were really good coaches," said McElwain, the Gators' 53-year-old new head man. "They had a plan; they were organized. It was hard to overcome maybe a consistent rotation or transition in offensive philosophy.
"There are some of those things that are out of your control."
Will Muschamp tried. Three offensive coordinators in the past four years tried. Once a highly-rated quarterback, Jeff Driskel tried.
Gone now are the days when -- if nothing else -- Florida was going to be entertaining. Tim Tebow jump passes, slick NFL-ready receivers, a bruising offensive line. Points, remember those? Florida hasn't finished higher than 56th nationally in scoring since Urban Meyer's last season in 2010.
The offensive drought is chronic in Gainesville. That's why McElwain was deemed the next answer, lured away from Colorado State by Gators athletic director Jeremy Foley. McElwain will try to find the mojo many observers thought would never leave.
"... the loss of players for medical reasons, the guys that jump to the league," McElwain continued, ticking off the reasons for offensive inefficiency. "What that does is put holes in your roster."
Holes that almost seem impossible to overcome in 2015. There doesn't seem to be a difference-making quarterback on the roster. In the past 15 months, four offensive linemen have had to give up football for medical reasons. Only six scholarship O-linemen remain.
Irony of ironies: Florida lost six offensive players to the draft. The last time that happened was 1978.
"You know what that does," McElwain said, "The kids that are coming in based on sheer numbers, they're going to get some reps. Freshmen are going to take some valuable reps."
Yeah, but this isn't Kentucky basketball. Football freshmen usually aren't going to win you a championship.
The Florida forecast, then, continues to be cloudy with little chance of reign.
McElwain is at this place in his career because Nick Saban showed an interest from across the country. Fresno State was coming off a 2007 season in which it averaged 33 points with McElwain as offensive coordinator. He still can't believe Saban called to offer a job.
"I thought he got the wrong number," McElwain said.
What followed as a four-year run as Alabama's offensive coordinator during which the Tide won two national championships. McElwain had become so hot at that point, Colorado State's private jet was waiting to whisk him away moments after the 2012 BCS title game in New Orleans.
In Fort Collins, the Rams went from 4-8 to 10-3 in three years under McElwain (22-16 overall). In what might be the biggest proof of his program building, quarterback Garrett Grayson finished fifth nationally in pass efficiency. Grayson then was the third quarterback taken in the NFL Draft behind Jameis Winston and Marcus Mariota.
The new coach brings a dose of humility. He is not a son of the South getting his first big job in the SEC. McElwain is a Montana native and former Eastern Washington quarterback who spent 13 years as a Division I-AA (now FCS) assistant.
His only son, Jerrett, was severely burned as a youth. All three of his children have worked in the Alabama athletic department.
"As important as 3rd and 6 is ..." McElwain said.
He didn't have to finish the sentence. Life is too short. Foley knows this. One of the most respected athletic directors in the country is hiring his fourth football coach in 14 years. Ron Zook and Muschamp were duds. In between, Urban Meyer won two national championships.
McElwain?
"The pool of coaches that we think will win at Florida, that will fit, be successful, it's not [like] there is a million people," Foley said. "I think there is an impression out there that every time there's an opening everybody is standing in line to come to our place."
With the recent loss of Billy Donovan, Florida is replacing its football and basketball coaches in the same academic year for the first time since 1990. That year Steve Spurrier and Lon Kruger arrived. Louisiana Tech's Mike White recently arrived to replace Donovan.
"I always wished Steve Spurrier would be our coach forever," Foley said Wednesday at the SEC spring meetings. "One day, I get a phone call from him and he's leaving. That's when I really learned they're not around forever."
There may be more pressure on the AD for McElwain to work out. For all the credit Foley deserves for Donovan and Meyer, the football malaise simply cannot endure.
"You feel the pressure to fill [jobs], not just with anybody," Foley said. "I'm very confident with Coach Mac and Mike [White]. I don't think either one of those guys are going to fail."
But ...
"I didn't think Will would either."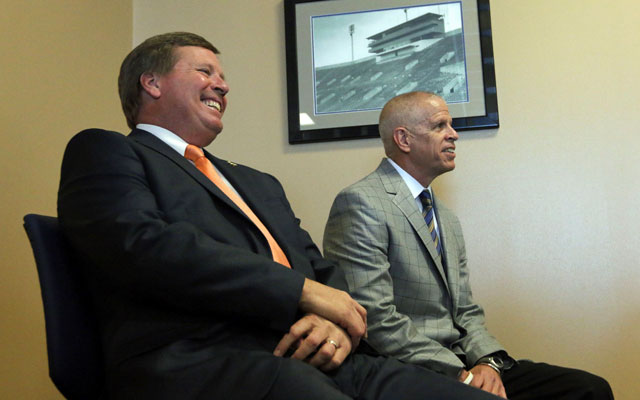 Freeman will not play in the New Mexico Bowl on Saturday

SportsLine simulated every bowl game 10,000 times for pick'em leagues and confidence pools

Grier will return to West Virginia for the 2018 season instead of entering the NFL Draft
The Chick-fil-A Peach Bowl just got spicy

Anderson had been under investigation for an incident at a bar in Cleveland County, Oklaho...

Between Arizona State and Tennessee, no one would have guessed how this coaching cycle turned...