Jim Tressel one of 19 applicants to become Akron president
After initially volunteering as an interim president, Jim Tressel has submitted his application to become the University of Akron's full-time president.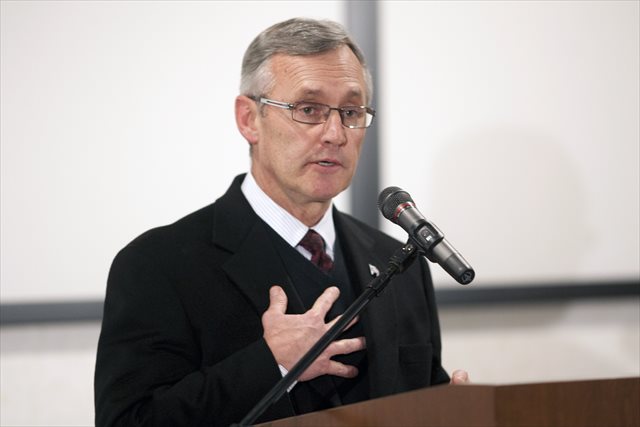 Despite the persistent rumors to the contrary, University of Akron executive vice president for student success Jim Tressel still hasn't returned to coaching. And if his decision to apply for the Akron presidency is any indication, he may not be planning a return soon.
The Cleveland Plain-Dealer reported Friday that Tressel is one of 19 candidates to have submitted an application to succeed current outgoing president Luis Proenza, who will leave the office at the end of June.
The possibilty of Tressel's interest in the Akron presidency was raised as soon as Proenza's departure timetable became public last August. But as recently as Jan. 25, the Plain-Dealer noted, Tressel had submitted a letter to the Akron Board of Trustees (PDF) asking to be named interim president following Proenza rather than take the position full-time.
A month later, however, Tressel then submitted a letter serving as his "enthusiastic application" to become Akron's next president.
"If I am selected as UA's next president," he writes, "I will do my level best to forge a great partnership with UA faculty to lead this University to a new era of excellence in the areas of fiscal stability, academic quality and completion excellence, and alumni and community pride."
Tressel is one of 19 candidates named by the school in its initial list of applicants, and the only one without a doctorate. Tressel holds a master's degree from Akron itself. (His resume brief, you may notice, reads just a little differently from the other candidates.)
But that doesn't necessarily mean Tressel should be ruled out. As Tressel's old presidential boss at Ohio State showed, fund-raising is a vital part of any university president's job description, and it's hard to imagine anyone who'd be more successful at raising funds in Ohio than Jim Tressel.
Tressel's lack of academic administrative experience compared to the rest of the candidates nonetheless means he's probably a long shot. But until the Akron Board of Trustees makes a decision, the possibility of Tressel's return to the football sidelines will seem more remote than ever.
HT: Hustle Belt
The movie will zero in on former Penn State coach Joe Paterno during the Jerry Sandusky sc...

Bidding for Salaam's trophy, which the auction house says was obtained legally, ends Satur...

Locksley has been the offensive coordinator at Illinois and Maryland during his coaching c...
Many NFL-eligible juniors ignore advice provided by the league and risk going undrafted each...

Snyder died in Manhattan, Kansas, on Wednesday

Locksley joined Alabama's staff in 2016