Jimbo Fisher carries on FSU's legacy with another stellar quarterback
Hand-picked as Bobby Bowden's successor at Florida State, it's fits that Jimbo Fisher is facing Auburn in the last BCS Championship Game.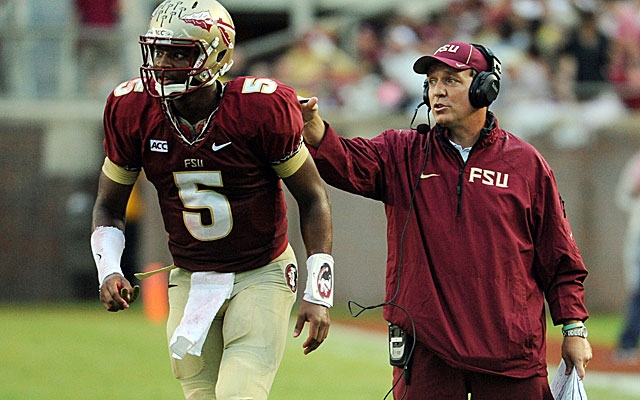 Jimbo Fisher is a quarterback guy.
Long before Jameis was famous, Florida State's coach had been either a quarterback or a quarterbacks coach for Terry Bowden for 14 years at Salem, Samford and Auburn. Lacking everything but the genes to prove it, Fisher was a de facto member of the Bowden clan.
A clan that had only one patriarch.
"Everyone asks me, 'How are you going to replace Coach [Bobby] Bowden," Fisher said late Saturday. "I said, 'I won't.' "
Yeah, but winning never gets old and somewhere St. Bobby is smiling. The man who officially replaced him four years ago has the Noles back at those saintly levels.
With, it should be noted, the best player in the country. Yeah, Jimbo Fisher is a quarterback guy.
Just like Bobby.
"The legacy that he left," Fisher said, "we're trying to carry on."
Jimbo and Terry -- one of Bobby's three coaching sons -- haven't been together for 16 years, since Auburn -- since the beginning of the BCS in 1998.
"That was where I cut my teeth in Division I football," Fisher said Saturday following Florida State's ACC title game win over Duke.
You can understand the BCS serendipity.
Fisher's former employer (Auburn) is playing his current one (Florida State) for that final BCS title.
Sixteen years after playing in the first BCS title game, FSU will play in the final one.
The architect, the patriarch -- St. Bobby -- is long gone. Fisher is older, wiser and richer himself after completing FSU's first undefeated regular season in 13 years.
Reports surfaced Saturday he had agreed to a extension that will pay him more than $4 million a year.
But the significance of the Auburn-FSU 29 days from now hasn't been lost on Ellis Johnson. He has the responsibly of stopping that Famous Jameis (Winston).
"You can lift all the weights you want," said Johnson, Auburn's defensive coordinator. "It's what the game is today. If you ain't got a quarterback, you ain't got a football team."
The final BCS matchups reflect the simplicity of Johnson's statement. The five bowls include a former Heisman favorite (Ohio State's Braxton Miller), a 1,000-yard rusher (Auburn's Nick Marshall) a former NCAA pass efficiency leader (AJ McCarron) and Winston.
The kid has outdone them all. With a game to go, Winston could break Russell Wilson's two-year-old pass-efficiency record (191.78). Going into the ACC title game, Winston had more first-half touchdown passes (25) than 105 other FBS starters.
Yeah, it's good that Jimbo is a quarterback guy but it helps that he was first a Bowden guy.
"People don't realize Dad hired him," said Terry Bowden, currently the coach at Akron. "It's the guy he personally picked for the job."
The transition from coach-in-waiting to Bobby's successor in 2010 may have been clunky at times. But this is one of those transition plans that worked.
It's been four years since Bobby Bowden, now 84, left the franchise he nurtured from a seedling. FSU is back and in good hands. Fisher's first set of seniors is 44-10 ... and counting. They're 13-0 and No. 1 again. The old days are new again as FSU goes into that final BCS champ game the most dominant program in the land.
Auburn's a good story, but Florida State is the best team. Whether you agree or not, the issue will be decided Jan. 6 in the Rose Bowl. For now, let's listen in to what the 48-year old coach told his players following Saturday's stomping of Duke.
"Get used to playing in the championship game," Fisher said.
Yep, Jimbo is a quarterback guy. He's also a throwback guy. His rookie year at Auburn in 1993, the Tigers were on probation. They also went undefeated and couldn't go to a bowl.
"We should have had half of that national championship in '93," he said.
Five years later it was over after Bowden resigned following a 1-5 start.
But quarterbacks Stan White and Patrick Nix -- hardly households names -- combined to help Terry Bowden win his first 20 games at Auburn. Former Auburn quarterback Dameyune Craig, now an assistant with the Tigers, helped recruit Winston while coaching under Fisher 2010-2012.
Jimbo remained a quarterback guy. Nick Saban took him as an offensive coordinator at LSU. In 2003, Fisher coached up a former minor-league baseball player of limited ability, Matt Mauck. Saban won his first national championship.
"He could look back from the press box and see what other coaches couldn't see," Terry Bowden said. "Jimbo is one of those guys from a football standpoint, it was not just watching the ball. He could see and understand what was going on."
Jimbo got the FSU gig, in part, because he was a quarterback guy. As Bobby's hand-picked successor, Fisher arrived in 2007 (as offensive coordinator) inheriting the FSU quarterback tradition that had mostly atrophied. Among his subjects were Christian Ponder and EJ Manuel. At times good but not always great.
Winston changed all that. His recruitment alone made the difference in this year's national championship race. Florida State got him, Alabama didn't. In his first brilliant-but-controversial season, Winston set the FBS freshman records for most passing yards and touchdown passes.
"You saw a kid mature over a season," teammate Telvin Smith said.
You also saw kid handle every question about that maturity -- given recent events -- with growing confidence. He answered every direct and indirect query Saturday about the sexual assault allegations.
Some were sycophant questions about "distractions." Credit ESPN's Heather Cox for asking three direct, probing questions of Winston on the field right after the Duke game. The only nervousness showed in FSU handlers who were anxious to get him away from microphones.
"This team is sort of, say -- villains," Winston said. "But we're out there working just as hard as everybody else."
A team that had lost 11 draft choices and 14 total who had signed pro contracts now has a 15-game winning streak. There's more to these Seminoles. They have that St. Bobby look and feel -- that old-time swagger -- about them. Dominating, complete.
FSU needs 28 points against Auburn to set the modern single-season record for points. The 10.69 points allowed per game, would be the fewest in FBS since 1996.
"We haven't gone to where we want to go yet," Fisher said. "But what I love about what we're doing right now, we're becoming a program."
A national program that is back to wiping its feet at the front door of ACC championships -- there are 14 of them now -- before proceeding on to greater things.
Terry Bowden pointed out Fisher restored FSU's quarterback mojo that had developed under Mark Richt. In 11 years as Bobby's OC Richt developed two Heisman Trophy winners (Charlie Ward and Chris Weinke).
But Richt had been gone to Georgia seven years when Fisher arrived in 2007.
Another quarterback guy has taken his place.
"Coach [Bobby] Bowden left a legacy to us as coaches," Fisher said, "and that's our job."
"All our family," Terry Bowden said, "is proud of what Jimbo has done."
All in the family? All he's missing are the genes.
Locksley joined Alabama's staff in 2016

Saban reportedly wants to hire Freeze, but there may be things keeping that from happening

Florida State-Miami will be on Oct. 6, and the Seminoles will play Clemson on Oct. 27
Weis Jr. was an offensive assistant for the Atlanta Falcons in 2017

Lott is joined by three current athletic directors and will serve a three-year term

These are the top guys every school is still chasing