Jimbo Fisher: Rule-breaking agents should be thrown in jail
Florida State coach Jimbo Fisher said Monday that agents and runners who violate rules should serve jail time.
• 1 min read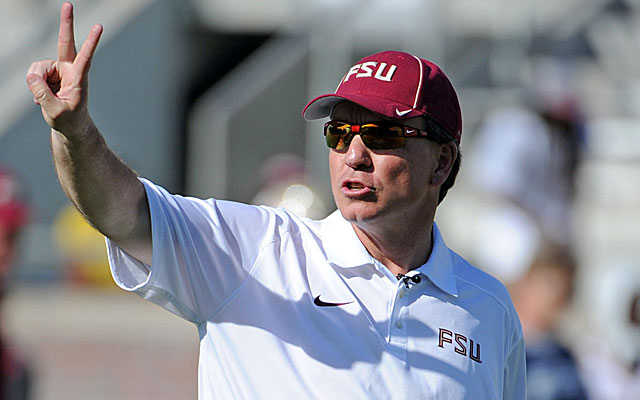 More ACC: FSU picked to win ACC | Fowler: ACC looking to shed hoops-first label 
GREENSBORO, N.C. -- Florida State coach Jimbo Fisher touched on an array of issues in college football during his time at the microphone at ACC Media Days. With Florida State sending handfuls of players to the NFL every season, it is no surprise that Fisher has an opinion on the influence of agents in college football.
Florida State takes time to educate its players on the agent process and tries to warn them of the issues that can come with runners and uncertified representatives. Coaches are rightly concerned about the prevalence of runners in college football, and Fisher thinks that all parties involved in impermissible contact should be thrown in jail.
"Here's the problem; the agent isn't the problem. It's the runners," Fisher explained. "You want me to tell you what? You get caught, you go to jail. You're never going to stop a problem until there's a punishment. It's like your kid -- if they keep doing something and you say 'don't do that,' okay so you turn your back and what does the kid do? Does it again. 
"You've got to punish these guys when you catch them. It needs to be like the RICO act; who they're tied, represented to -- it should go all the way back." 
Some states do have sports-agent laws in place already. Last year in North Carolina, agent Terry Watson was charged with 14 felony charges related to the North Carolina Uniform Athlete Act.
Florida State has had 18 players drafted in the last two seasons, and Derek Stephens, of NFL Draft Scout, has ten players targeted on the Seminoles current roster.
Locksley has been the offensive coordinator at Illinois and Maryland during his coaching c...

Bidding for Salaam's trophy, which the auction house says was obtained legally, ends Satur...

Many NFL-eligible juniors ignore advice provided by the league and risk going undrafted each...
Snyder died in Manhattan, Kansas, on Wednesday

Locksley joined Alabama's staff in 2016

Saban reportedly wants to hire Freeze, but there may be things keeping that from happening