Jimbo Fisher: Scheduling issues could cost Seminoles a White House visit
Florida State and the White House have not been able to agree on a date for the traditional national` champions' visit to the White House, Jimbo Fisher said.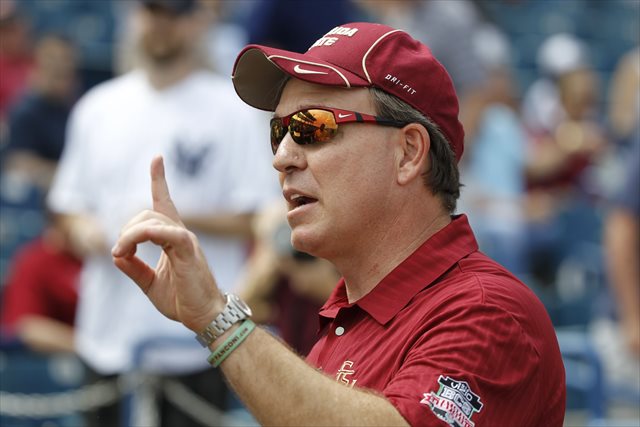 More college football: Jon Solomon | Dennis Dodd | Jeremy Fowler | Latest news
There's no more reliable photo op in all of college football than the national champions' annual visit to meet with the president at the White House.
But Jimbo Fisher told the Orlando Sentinel Friday that thanks to scheduling issues, it's a tradition in which his reigning BCS champions at Florida State might not be able to participate.
"We're trying. It looks like it's going to be hard because all the pro players are going, coaches are going on vacation," Fisher said. "We've tried to give them a thousand dates, but we couldn't get it worked out."
Per the Sentinel, 9 of the past 10 White House visits have been made by the end of March, with the only exception Auburn's 2011 June visit. The Tigers' trip was delayed due to the tornadoes that struck Alabama that spring.
If the Seminoles miss the visit, it would be a genuine shame -- but Fisher would at least have the benefit of telling his team that if they really want to go, they can always just go out and defend their championship. 
The Cowboys and Longhorns look to stay in the Big 12 title hunt on Saturday

The storied rivalry is a Top 25 matchup in 2017

Penn State hosts Michigan in its toughest test and arguably the best Big Ten game to date
Two of the top teams in the American Athletic Conference battle on Saturday

The 'Third Saturday in October' rivalry between the Vols and Tide will take place Saturday...

Here's every NCAA football game you need to watch this week; just make sure you have the r...