Jimbo: No football suspension for Jameis from crab legs incident
Florida State football coach Jimbo Fisher said he didn't consider suspending star quarterback Jameis Winston. The Heisman winner was cited for shoplifting $32 worth of crab legs last month. He was suspended by baseball coach Mike Martin and served community service.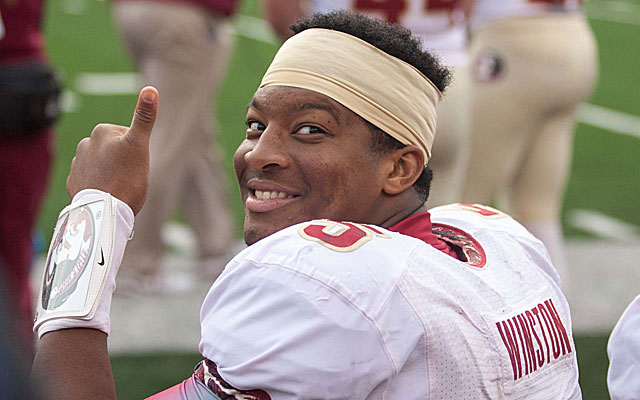 More Winston: Doyel: One suspension is enough | Police citation details released
AMELIA ISLAND, Fla. -- Heisman winner Jameis Winston will face no further punishment in football resulting from the celebrated crab legs incident, Noles coach Jimbo Fisher said Monday.
"He won't," Fisher told two reporters during the first day of the ACC spring meetings. "His punishment went through the school and through baseball."
Fisher added that he didn't consider penalizing Winston because, "He's in baseball right now." Noles baseball coach Mike Martin indefinitely suspended his closer after Winston was cited late last month for shoplifting crab legs at a local supermarket. Winston was reinstated after serving 20 hours of community service.
"If he would have been in football only, he would have been suspended from football activities only until we took care of all those things," Fisher told reporters. "To him, that's [missing baseball] just as devastating. To me too, I like baseball."
A reason for perhaps considering a football penalty: The Heisman Trophy winner is on scholarship in football only. NCAA rules limit two-sport stars such as Winston to being on scholarship in only one sport.
"They're [baseball] No. 4 in the country. He's playing right field, he's hitting, he's the closer," Fisher said. "Taking him out of three games until he got that done is no different than if he was in football."
Earlier, a source close to FSU clarified a quote that suggested Winston needed 24-hour supervision by the school. Winston's father Antonor was quoted by USA Today on Monday saying his son is "supposed to have somebody around him 24/7. He's a Heisman Trophy winner, so [he's] definitely not supposed to be by [himself]."
The source said Winston is not monitored by the school 24/7 and that it would be almost impossible to do so. Two police officers accompany Winston during baseball road trips. They're needed to monitor crowds who gather before games for autographs from Winston, who is more than accommodating.
"I'm glad I'm not playing today," Fisher said Monday. "It's not an excuse for him … Think of all the things you did when you were 18-22."
"You have to educate them, what you think should happen and how it should happen. I ask any parent this: How many of your kids are perfect? How many of your kids did something wrong that sometimes people out there didn't know? Did you throw them all away?
"Did you kick them out? They're your kids."
Winston missed three Seminole baseball games while serving his community service. Reports said upon completion of the hours he would not have a criminal record resulting from the incident.
These five teams have the best chance of being the Group of Five darling this coming year

Drevno had been running the Michigan offense for three seasons

Aaron was reportedly shot while trying to protect his girlfriend when a fight broke out at...
An assistant-by-assistant look at changes Saban made to the Tide's staff ahead of 2018

Find out when Nick Saban, Kirby Smart and the rest of the coaches will speak ahead of the...

It wasn't only the massive $75 million contract that got Fisher to depart for College Stat...