John Swofford reveals 9-game schedule format for expanded ACC
At the ACC spring meetings, commissioner John Swofford revealed details of how the schedule will work with Syracuse and Pittsburgh
• 1 min read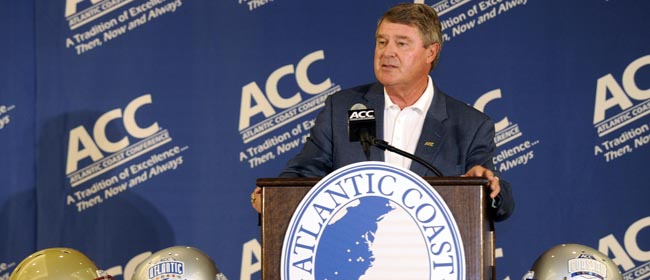 While Florida State-Big 12 rumors are dominating much of the talk surrounding the ACC spring meetings in Amelia Island, Fla., one of the most notable developments from the meetings involves the incoming members - Pittsburgh and Syracuse.
"We're ready for them to come," ACC commissioner John Swofford said of the two schools joining in 2013 or 2014. "Sooner than later is preferable. It's in the hands of Pittsburgh and Syracuse and the Big East."
Last week, Pittsburgh filed a lawsuit against the Big East to allow the
Panthers
to join the ACC on July, 1 2013 - one year earlier than the completion of the 27-month withdrawal period. Currently, the Big East is scheduled to have 12 member schools for football in 2013 not including Pittsburgh or Syracuse. Many believe that with the incoming additions to the Big East, the league will allow arrangements for an early departure.
The league previously announced the plans Pittsburgh's addition to the ACC Coastal Division (currently with Duke, Georgia Tech, Miami, North Carolina, Virginia, and Virginia Tech) while the
Orange
will join the Atlantic Division (with Boston College, Clemson, Florida State, Maryland, N.C. State, and Wake Forest).
The new 14-team ACC will play a nine-game conference schedule. In odd years - possibly beginning in 2013 - Atlantic Division teams will play five conference games at home. The Coastal Division teams will get five home conference games in even years.
For more on the ACC spring meetings,
check out Brett McMurphy's take on the Florida State-Big 12 situation from Tuesday.
Keep up with the latest college football news from around the country. From the opening kick of the year all the way through the offseason, CBSSports.com has you covered with thisdaily newsletter. View apreview.
Get CBSSports.com College Football updates on Facebook
These five teams have the best chance of being the Group of Five darling this coming year

Drevno had been running the Michigan offense for three seasons

Aaron was reportedly shot while trying to protect his girlfriend when a fight broke out at...
An assistant-by-assistant look at changes Saban made to the Tide's staff ahead of 2018

Find out when Nick Saban, Kirby Smart and the rest of the coaches will speak ahead of the...

It wasn't only the massive $75 million contract that got Fisher to depart for College Stat...