Johnny Manziel, Texas A&M ride perfect storm through Alabama, setting SEC on ear
It took a masterful performance from Johnny Manziel, timely defensive plays and a team tired of being told it didn't belong in the SEC to knock off mighty Alabama. Now the SEC might get muscled out of the national title picture.
• 5 min read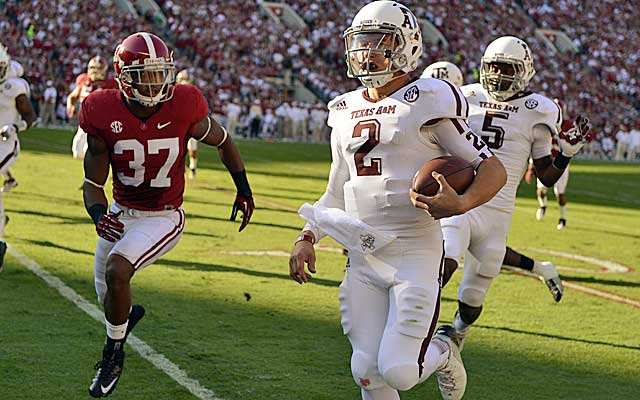 With few exceptions, Manziel was one step ahead of the Tide all day long in Tuscaloosa. (US Presswire)
TUSCALOOSA, Ala. -- The "Roll Tide" chants inside Bryant-Denny Stadium in the fourth quarter were loud enough to wake up Alabama football ghosts from Birmingham to Montgomery.
Surely Alabama was still going to win. Had to. It's science. SEC normalcy. As expected as grown men in jerseys and jeans in the stands on Saturdays.
Down with eight minutes left, no problem. AJ McCarron would orchestrate The Drive, Part Deux and the Tide defense would get a stop. This is the monster Nick Saban had created, after all.
But Texas A&M had something stronger, a potent concoction that flipped college football's most powerful league on its head for a day and left an elite defense wondering what the heck just happened.
Texas A&M 29, Alabama 24.
No huddle 1, Nick Saban 0.
More on A&M's upset
Anaylsis

---

Stories
It took a chameleon quarterback to get it done. Freshman Johnny Manziel is part unearthly skill set, part anonymous slinger (A&M freshmen can't talk to the media), part Halloween cartoon dog.
He's still scrambling right now -- all the way out of Bryant-Denny Stadium with Alabama's national championship hopes.
It took a team ready to flog anyone who says one more time that A&M isn't ready for the SEC in its first year in the league. "People doubted us," said receiver Ryan Swope, who broke off 111 yards of understatement on Saturday.
It took a team that bottled up all those second-half meltdowns under Mike Sherman last year, and got fed up with coughing up leads in recent struggles against Florida and LSU this year.
"We're a different team," said first-year coach Kevin Sumlin, the clubhouse leader for SEC coach of the year.
All at Alabama's expense. Texas A&M combined an opportunistic defense with an efficient no-huddle attack in a stunning turn of events in the SEC.
Just when it looked like A&M couldn't deliver the knockout punch (thanks in part to kicker Taylor Bertolet's missed field goal and extra point), A&M's defense forced two turnovers in the fourth, including cornerback Deshazor Everett's interception of McCarron on fourth-and-goal from the 2.
Not exactly typical Tide football.
After A&M's 20-0 first quarter (three more points than the Tide had given up in a game all season) and plenty of missed chances, Alabama still had a chance to win, preparing to suck the life out of A&M in the final minutes.
A wild third-down scramble by McCarron, stopped by corner Dustin Harris, left Alabama with one play left from the 2.
McCarron rolled to his right, threw to Kenny Bell toward the sideline and Everett jumped the route. McCarron had 201 passing yards in the fourth quarter, but he needed two more.
"Just go for it," Aggies linebacker Sean Porter recalls the message in the huddle before the play. "This is what we'll be remembered by." 
These Aggies will be remembered. Manziel is making sure of it.
Shrugging off previous second-half struggles against LSU and Florida, Manziel waited until the biggest stage to orchestrate his masterpiece. Alabama hadn't given up more than 60 yards rushing to a quarterback in almost three years, but Manziel cleared 80 in the first half.
He completed 24 of 30 passes for 253 yards and two touchdowns, along with 92 rushing yards on 16 carries. But the numbers don't fully illustrate the creativity he wielded on this day, scooting across the field to buy time until he squeezed passes into closing passing lanes.
His video-game moves on A&M's second touchdown were worth double-takes -- running into his own offensive lineman, the ball popping out of his hands for a brief second, sprinting to his left before firing to a wide-open Swope in the back of the end zone.
Alabama had trouble containing Manziel in the pocket and making him one-dimensional. When the defensive end would rush too deep on the outside, Manziel would slip to his left or right for a sizable gain. When he had time in the pocket, he delivered seamless passes through tight windows.
Alabama came with more blitzes in the second half, to some success. Somehow Manziel was sacked four times. Should have been 12, if you count arm tackles that Manziel craftily escaped.
The nation was waiting for this performance. No, really. Ask South Carolina athletics director Eric Hyman, who said he got a call from a New York friend this week saying Manziel was a primary topic on NYC sports talk radio this week.
Saban paid Manziel the ultimate respect. He called him by his number, not his name.
"The best way to defend No. 2 is when he's not out there," Saban said.
No. 2 should also get familiar with No. 78, the number of years in the Heisman Trophy's existence -- all without a freshman winner.
Defense helped the Aggies preserve a lead they never relinquished. They caused a timely T.J. Yeldon fumble to set up Manziel's 24-yard touchdown strike to Malcome Kennedy in the corner of the end zone with 9:01 left that sealed it.
The run-heavy Tide offense only rushed 14 times for 35 yards in the second half.
Alabama didn't go away quietly after the Kennedy TD. The Tide responded with a 54-yard touchdown pass to Amari Cooper with 6:09 left and forced a three-and-out to get the ball back, down 29-25 in the final five minutes. But two of the Tide's final three drives resulted in a turnover.
The early 20-0 hole was far too cavernous. This was the Aggies' night, and they'll have plenty more of these. Manziel and standout receiver Mike Evans are both freshmen.
The road for Alabama seems clear-cut: It needs at least two of the three unbeatens (Oregon, Notre Dame, Kansas State) to lose to restore title chances.
Saban is holding out hope.
"Two of the three national championship teams I coached lost a game," Saban said. "There's still a lot for this team to play for."
As for A&M? The only chant they hear is their own.
"We just tried to make a statement," Swope said. "I think it showed we can compete with any team in the country."
McElwain will coach receivers and help coordinate the offense for the Wolverines

Nathaniel Watson Jr. was involved in a car accident that injured a passenger in early Febr...

The honorable Tom Fornelli presides over the ASU vs. UM case
Arkansas State is seeking $650,000 for a canceled home game last September due to Hurricane...

Friday Five is tackling the big questions this week

Two unnamed players are being investigated for an incident at an off-campus apartment