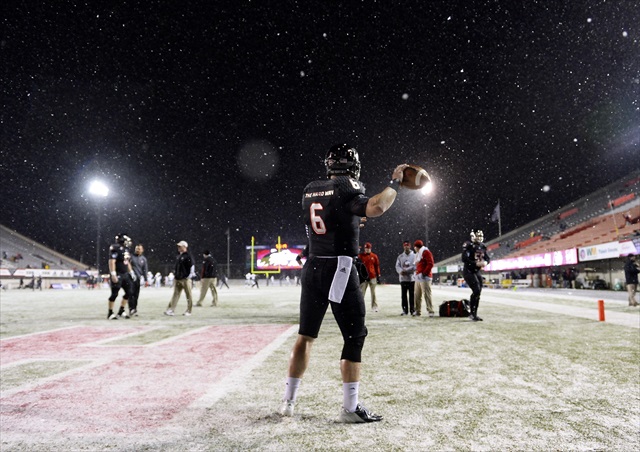 It's not certain if Jordan Lynch will be invited to New York as a Heisman finalist. But after Tuesday's Senior Night performance against Western Michigan, it's impossible to say he hasn't done just about everything necessary to put himself in position for that award.
NCAA Career Rushing Yards by QB
Player, Team
Yrs
Rush
Yards
Denard Robinson, Michigan
2009-12
723
4,495
Pat White, West Virginia
2005-08
684
4,480
Brad Smith, Missouri
2002-05
799
4,289
Jordan Lynch, N. Illinois
2010-13
618
4,178
Colin Kaepernick, Nevada
2007-10
600
4,112
Antwaan Randle El, Indiana
1998-01
857
3,895
Lynch broke the FBS single-game rushing record for a quarterback for the second time this season, gaining 321 yards on the ground in Northern Illinois 's 33-14 victory. Lynch also rushed for three touchdowns, passed for 39 yards and another touchdown (albeit on 17 attempts), and with the win led the Huskies to a perfect 12-0 season.
The previous rushing record for an FBS quarterback was 316 yards, set by Lynch himself against Central Michigan on Oct. 19.
But the single-game numbers don't represent Lynch's only entry into the college football record book Tuesday. Lynch also became only the fifth FBS quarterback to rush for 4,000 yards and pass for 5,000 yards in a career, joining Colin Kaepernick, Denard Robinson, Brad Smith and Pat White.
Will it be enough to take him to New York? That's still to be determined, but after Tuesday, another big performance in the MAC Championship Game will certainly be enough to make voters think.