Josh Whyle Stays Home With Commitment To Cincinnati
On Thursday, the staff took a big step in building this 2018 cycle when they landed 2018 Cincinnati, OH (LaSalle ) TE Josh Whyle.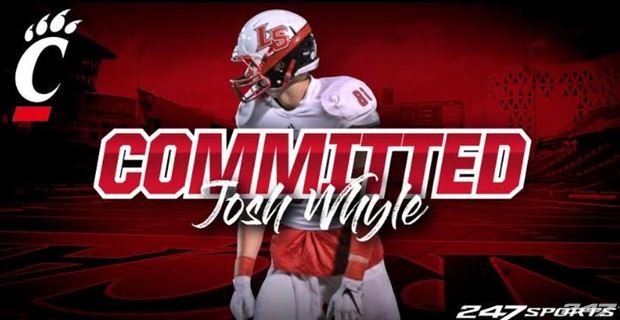 It has been made very clear for Luke Fickell and his coaching staff, the 2018 cycle has a lot of potential and they will have to capitalize in order to rebuild this Bearcat program. In order to rebuild this team, it starts on the recruiting trail, which leads several miles outwards into the rich Cincinnati High School football programs.
On Thursday, the staff took a big step in building this 2018 cycle when they landed 2018 Cincinnati, OH (LaSalle ) TE Josh Whyle. The 6-foot-6, 215-pounder pulled the trigger on his commitment following his Thursday unofficial visit.
"I loved my visit, it was like no other visit I have seen before," Whyle told the Bearcat Journal. "Cincinnati has everything, I did a full campus tour and what stands out to me are the dorms. Cincinnati cares about their guys, just look at the players room. They're luxury apartments, not dorms - everything you need is there.
"There are a lot of reasons why I committed. First of all, the coaching staff has always been honest with me. They're kind of like coaches, but in a way like friends; I can have conversations with them for hours. For example, the first time I visited Ohio State this past weekend, I walked into Urban Meyer's office and he said 'alright, let's make this quick.' That's a big difference, they make me feel important. It's also close to home, 10 minutes from my house. One of the coaches told me I could go home and eat my mom's meatloaf seven days a week. I want my parents and friends to come and see me play. Not to mention, Cincinnati has my degree. I know it will take a lot and a lot of work, but I think I have a good shot at playing early. It might be sophomore or freshman year, but I think I have a good shot at playing."
Whyle has been a priority for the Bearcats since day one. As a result, his relationship with the entire staff has gotten very strong over the last several months. However, his bond with coach Denbrock and his past success with tight ends was maybe the biggest factor.
"That was huge for me, my dream has always been to get to the NFL - that's what I want to do. Knowing that I am being coached and worked to my full potential every single day is something huge. I know Denbrock is going to work me everyday and make me the best I can be. Coach Denbrock has sent so many guys to the league, like he knows what he is doing. He's the tight end guru. Hopefully one day I am sitting there at the NFL draft."
Now that Whyle's recruitment is over with, he now be turning his attention and effort towards the recruiting trail. He has already been talking and planning with one Cincinnati 2018 commit.
"I mean Bacevich and I have already been talking since last week about who we're going to recruit and how we are going to get them. Big time prospects in Cincinnati are in for the Bearcats, just as much as we are. Knowing that I will be coming is only going to bring more talent to the Bearcats. We are going after top players across the nation. I am committing so early so I can make it the best class in the nation and I can help recruit and build this class. We are going to change it, we are going to get these local kids. Our mark will be left. Cincinnati will be a powerhouse in the next couple years, mark my words."
The main goal for Whyle on the recruiting trail is to land some of the big local fish like Aeneas Hawkins, Malik Vann and others. Most of those prospects are similar to Whyle, guys who hold major power five offers. However, the latest Bearcat commitment will use that to his advantage.
"I am going to say to these guys that I was in your position and had those major offers you had. It's not about where you go, but with who you are doing it with. It doesn't matter where you go, you're going to get NFL looks from anywhere you go. Several others programs I talked to when I told them I wanted to go to Cincinnati, respond to me in very negative ways. So guys have to know that Cincinnati will have your back."
Kelly led Oregon to a national championship appearance and is an innovator in the game

This week's AP Top 25 college football rankings remained largely unchanged

Mora went 46-30 since joining UCLA in 2012, taking the Bruins to four bowl games
There should not be too many changes to this week's college football rankings

Elsewhere, the top 12 remains the same in this week's college football rankings

Lane Kiffin turned around FAU remarkably fast and has the Owls in the C-USA title game