Juco transfer Courtney Gardner joins Oklahoma's wave of wide receiver attrition
Pending reinstatement of suspended veterans, Sooners still boast only one receiver who has caught a college pass.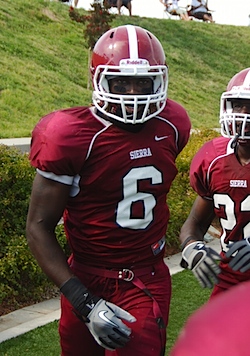 Once again, Oklahoma's incredible shrinking receiving corps is getting a little smaller: According to the Tulsa World, incoming junior college transfer Courtney Gardner won't make it to campus this fall, after all, costing the Sooners yet another likely target this fall on the heels in an ongoing wave of attrition at the position. Gardner reportedly told ESPN via text message that he didn't pass a required English class on time to enroll for the upcoming season, but expects to be able to be on campus next year for spring drills. He'll still have two years of eligibility to spend beginning in 2013.
That doesn't change the immediate facts: With or without Gardner, OU's current depth chart features exactly zero wide receivers behind junior Kenny Stills who have caught a pass in a college game. Of the five other receivers who recorded a reception in 2011, two of them (Ryan Broyles and Dejuan Miller) were claimed by graduation, and the remaining three (Jaz Reynolds, Trey Franks and Kameel Jackson) were all suspended indefinitely in May for the proverbial violation of team rules. Between them, that trio has accounted for 104 catches, 1,339 yards and six touchdowns over two years, and would have given Oklahoma the deepest set of receivers in the Big 12.
Instead, they're left with three looming question marks. Reynolds and Franks, both of whom served brief suspensions last season, remain in indefinite limbo after having their scholarships revoked over the summer; Jackson retained his scholarship for the summer, but reportedly has to earn his way back into coaches' good graces to keep it in the fall. None of the three is listed the current roster, and coach Bob Stoops said in June, "We're not counting on any of them."
In that context, Gardner's no-show is just one more step down the ladder in search of their replacements. Among revivers who are listed on the current roster, only two, Stills and senior walk-on Derrick Bradley, were on last year's roster, and Bradley has seen the field only once in his career. The rest of the corps consists entirely of new arrivals from the 2012 recruiting class – freshmen Trey Metoyer, Durron Neal, Sterling Shepard and Derrick Woods and juco transfer Lacoltan Bester – and a handful of new walk-ons. (There is also Jalen Saunders, an All-WAC target last year at Fresno State, who will be on the team this fall but won't be eligible to play until 2013 under standard NCAA transfer rules.) Of the newcomers, the most likely to succeed is Metoyer, originally a five-star signee in the class of 2011, who appears to be fully in the fold after being forced to take an academic detour through prep school. But at 6-foot-4, 215 pounds, Gardner was the most physically imposing of the lot, and the most likely to fill the third receiver role that Reynolds and Cameron Kenney before him have successfully exploited over the last two years.
The best-case scenario still involves Reynolds' reinstatement in time for the season, even if it's accompanied by a suspension for the first game or two. Franks and Jackson don't have quite the same potential, but would still be a boon to depth, or at least to the perennial cause of preserving a couple of redshirts. Otherwise, the insurance policy in their absence is getting greener all the time.
Olson has a lot of the tools offensive coordinators want in a quarterback

The Tigers have a wealth of talent at their biggest position

Pineiro received the award for stopping an attack the morning of Oct. 15, 2017
The first opening weekend lines for college football in 2018 have been posted

A year-end wrap-up of college football statistics you need to know from 2017

Stanford produces apps and Super Bowl participants