Judge holds hearing on Paterno family's NCAA lawsuit
Judge John Leete heard arguments on behalf of the NCAA that the Paternos' lawsuit should be dismissed.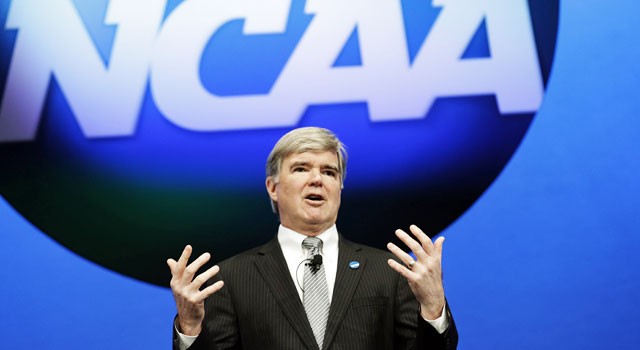 A judge heard arguments Tuesday in a lawsuit filed by former Penn State coach Joe Paterno's family attempting to reverse the NCAA's sanctions against the school resulting from the Jerry Sandusky sexual abuse case. 
Pennsylvania udge John Leete oversaw the hearing, which lasted more than three hours and during which the NCAA asked for the suit to be dismissed. Leete said he would not make a ruling Tuesday and would issue a written opinion at a later date.
The NCAA has argued that because the university has agreed to the sanctions and the suit does not include the school among its plaintiffs, it should be dismissed. It also denies colluding with investigator Louis Freeh, whose report formed most of the basis for the sanctions.
Per the Associated Press's report, "the courtroom swelled with lawyers" from both sides as the hearing's 10 a.m. start time approached.
The Paternos claim that because the NCAA did not follow its own rules in the sanctioning process, its penalties should be invalidated. They also contend that contrary to the findings of the Freeh Report, Joe Paterno was unaware of Sandusky's abuse of children in Penn State facilities and made no effort to cover his crimes up.
The AP reported Joe Paterno's Scott Paterno was present at the hearing. Among the sanctions the Paternos want overturned is the vacation of 111 wins belonging to the record of Joe Paterno, a decision that posthumously denied him the honor of being Division I's winningest coach.
Penn State confirmed Monday that it will pay out just under $60 million to settle the civil suits brought against it in the wake of the Sandusky sexual abuse scandal.
Sandusky was convicted on 45 counts of child sexual abuse in June 2012. A month later, the NCAA punished Penn State with a four-year bowl ban, a $60 million fine and heavy scholarship reductions as a result of what it saw as a failure on the part of Penn State administrators -- Joe Paterno included -- to take appropriate actions to stop Sandusky. The NCAA has since agreed to restore some of the lost scholarships beginning in 2014-2015.
The redshirt sophomore will not only decide Auburn's fate, but the landscape of the SEC

Ohio State filed for apparel rights to 'OSU' in February 2017

USC had the most votes to win the Pac-12, followed by Washington
Bookmaker.eu has odds on quarterback battles, and we have thoughts on the best bets

Michigan has few returning starters and even fewer wins over its rivals under Harbaugh entering...

Carrington was the Ducks' leading wideout in 2016 but was dismissed from the team this off...