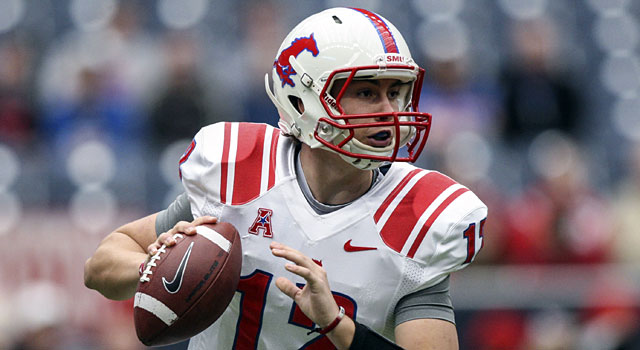 After coming to SMU in 2008, it took June Jones one season to snap the Mustangs 25-year bowl drought.  Jones had provided a similar jolt at his previous stop, the University of Hawaii. Jones, regarded as one of football's top offensive minds, led the Mustangs to four consecutive bowl games, but in 2013, SMU's first year in the AAC, they went 5-7 and missed the postseason. This week I sat down with the always interesting former NFL QB to discuss how things are shaping up as he looks to break in a new starting quarterback; his thoughts on navigating a brutal non-conference schedule after moving into a tough league and his program's latest Freak athlete.
Q: Garrett Gilbert really blossomed for you at SMU. How does the QB situation look coming out of the spring?
Jones: I thought that Neal (Burcham) did some real good things. I look at all their throws that they made from the spring and I'm gonna go through it with them. When I looked at all his throws the other day, I realized he was better than what I thought he was during the spring.
I feel really comfortable with the two kids I've got coming in, with Kolney (Cassel) and Neal. I think we're gonna be fine. I'd say Neal's ahead of them. But like I tell them, you don't make it in practice, it's who plays best in the game. That's the guy that gets the job. Sooner or later everybody's gonna get a chance.
Q: One of the guys it sounds like has created some buzz inside the program is (WR) Cedric Lancaster. What has impressed you most about him?
Jones: I'd say he's probably the most explosive kid I've had in a long, long time. He reminds of a smaller Drew Hill. Drew was about 5-10. Ced's probably 5-9, 5-8 1/2 but he is as explosive, fast and quick out of the break as any player I've had in years. He's also real tough. And why he's gonna make it, is because he works harder than anybody on the field.
We're getting another kid from his school, Shelby Walker, that's faster than him. They played in an offense that really ran the ball so they didn't have huge numbers but you knew that they could fly. That's historically how we used to do it, where we'd find guys that could flat run and then put them in space. I have an eye for those kids. Speed kills. I don't really care about how big they are.
Q:  What was your most pleasant surprise this spring?
Jones: The corners that we have. I think we have some kids that are really gonna be good players. Horace Richardson is gonna be a big-time corner for us. He can cover, play bump and run, play off,. He made a ton of plays this spring. We look like a pro secondary now. We're taller and we're faster.
Q: You guys missed a bowl game for the first time in years. What was missing from that team?
Jones: The biggest thing is we went up in our schedule. The competition was better. One of the issues here is the non-conference schedule. We almost have to go undefeated   against some pretty good football teams in the AAC to get to a bowl. It's very difficult to beat A&M. (SMU also has a road game at Baylor and faces TCU.) We're not able to compete on the kids any more that those schools are recruiting because you come to look at our facilities, we don't have an indoor facility, we don't have huge meeting rooms. We don't have the things in place that some of these schools we're going against have. So unless there's a real attachment to me or to one of the coaches, it's tough to beat them on those kids. We have to find a Ced Lancaster, a Der'ikk Thompson, a Myles Crosby--guys like that, and build them up. We have a kid like that named Jerry Saena (from American Samoa) who got off the bus August 1 last year at 6-6, 261. We just weighed him and he weighs 320. We have to develop them. If he was already 320 and could do what he can do, guess what? They're going to Alabama or Tennessee or USC.
Q: Would you like to ease up on some of your non-conference schedule?
Jones: In conference, Texas A&M was 4-4 last year. Well, we were .500 in conference play. The only difference is the non-conference schedule.
They asked me, 'What's the formula for being a BCS Buster?' I said, 'You want the formula? Get me to 4-0 in the non-conference and we'd have already had an 11 or 12-win season.' We've had opportunities to have those types of years, but it's very difficult to have that now. I didn't shy away from playing anybody in Hawaii. We played Michigan State, USC, Purdue, Oregon State. But you have to get there first, and then do those things. We're not there yet to that 11-0 or 12-win type of deal that attracts top players to your program.
Q: So how much are you pushing to throttle down schedule-wise?
Jones: I've been promoting that for six years but for whatever reason, we're not. So you do what you can do and you compete. Do we have a chance to beat those teams? Yeah, sure we do. We have a chance. But if you want to really build your program, you go a different way. Like Boise did. Like we did in Hawaii. Like Utah did. Like Northern Illinois almost did this year. You go that route to go undefeated, and then you beat one of those teams in a bowl game.
Q: You had great success with a former international shot and discus thrower-turned-lineman Margus Hunt and I hear you have another intriguing former shot putter-turned football project in (Serbian) Bo Antunovic, a former three-time all-American in track at UT-Arlington. How'd he look this spring?
Jones: I believe in two years, he'll get drafted by the NFL as an offensive lineman. In 15 days this spring, he showed us he has the chance to start for us (in 2014). He's a natural in the pass blocking part. I'm really excited about him. He's the most incredibly athlete on our team. He's a better athlete than Margus. He's more explosive than Margus and he's stronger. He's built like an offensive lineman. Margus has great skills to get off the ball and was very diligent in learning his stuff. I can tell already this kid is a natural offensive lineman.
He was about 270. Now he's about 285, but he'll be 300. He has a shot to start. [Antunovic benched 425 pounds, power cleared 405, vertical jumped 32 inches and ran a 4.86 40 in spring testing.]
Q: How'd find out about him?
Jones: Because of Margus and the success he had, I asked our track coach, 'If you find anybody that's a shot-putter and isn't gonna be an Olympian and you can tell because of his bend and his explosion, that could possibly play football, let me know. He came back with this name.
Q: I always wondered why college football coaches wouldn't venture over to check out the European junior track and field championships for potential recruits.
Jones: Yeah, well, we're doing that. We are now. We were headed to South Africa. The thing that really interested me down there was the rugby. They've been hit in the mouth. If you get some of these really big kids that can run and bend and are physical, shoot, I'll teach them how to rush the passer.