K-State's Bill Snyder rips college athletics, says schools have 'sold out'
The 74-year-old Kansas State coach, who has won 178 games in 22 seasons, says education has become a second thought.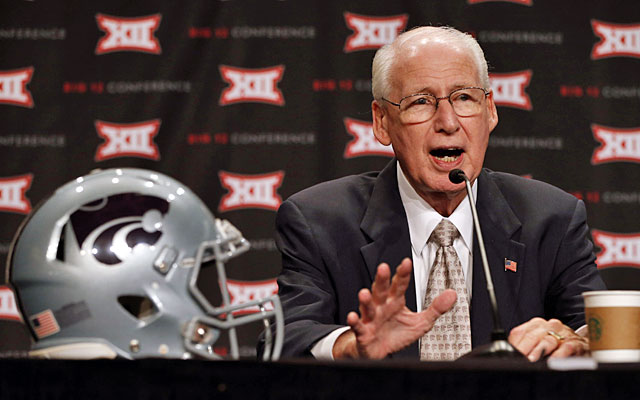 Bill Snyder was planning to talk about Kansas State's upcoming season Wednesday, but instead took the opportunity to criticize college athletics and says universities have "sold out."
According to the Associated Press, the 74-year-old Snyder said, "We're all about dollars and cents. The concept of college football no longer has any bearing on the quality of the person, the quality of students. Universities are selling themselves out."
Snyder, who has won 178 games in 22 seasons as the Wildcats coach, said education has become a second thought.
"It's no longer about education," Snyder said. "We've sold out to the cameras over there, and TV has made its way, and I don't fault TV. I don't fault whoever broadcasts games. They have to make a living and that's what they do, but athletics -- that's it. It's sold out."
The AP notes that Snyder's remarks come a day before the NCAA board of directors is expected to vote on a proposal giving college football's five biggest conferences -- including the Big 12, where Kansas State resides -- the capacity to make rules and pass legislation without the approval of the rest of Division I schools.
"Now, that's only my opinion," Snyder said. "I'm not upset with the people that promote some of that stuff because they're trying to do their thing. That's what they do. But I think we've lost sight of what college athletics is all about."
Kansas State, which opens its season against Stephen F. Austin on Aug. 30, will play Auburn three weeks later at home -- in the Bill Snyder Family Football Stadium. According to AP, the stadium recently underwent a $90 million renovation, with another $65 million in work scheduled to begin after the season.
"Everybody is building Taj Mahals," Snyder said, "and I think it sends the message -- and young people today I think are more susceptible to the downside of that message, and that it's not about education. We're saying it is, but it's really about the glitz and the glitter, and I think sometimes values get distorted that way. I hate to think a young guy would make a decision about where he's going to get an education based on what a building looks like."
Everything you need to know about the Spartans 2018 spring game

Everything you need to know about Miami's spring practice

How would a NCAA Tournament-style event play out in college football? Let's take a look
The billboard quotes ESPN's Dan Le Batard calling Kansas 'the most incompetent thing' in s...

Money has been tight at the school despite more recent success on the field

March Madness has been great, but it doesn't need to translate to the college football pos...