K-State's Snyder: College athletics 'in a bad place right now'
Veteran coach Bill Snyder of Kansas State, with new contract, humbly said college athletics is in a bad place because it has become money driven.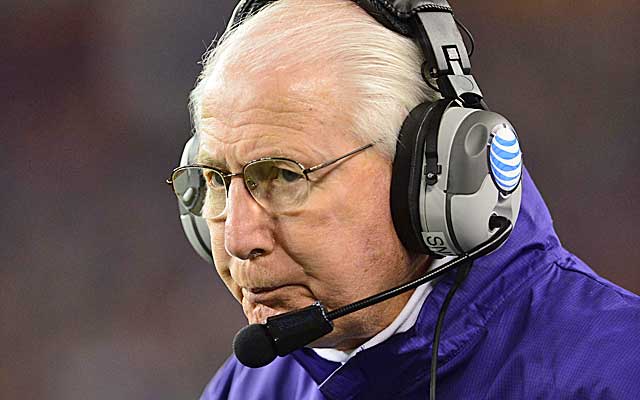 KANSAS CITY, Mo. -- Kansas State coach Bill Snyder said college athletics is "in a bad place right now" to the point that his departure from the game might "not [be] too far away." The remarks were made on a Kansas City-based sports radio station on Wednesday morning.
"College athletics, particularly football, has changed dramatically throughout my career," Snyder said on 610 Sports Radio KCSP. "I think it's in a bad place right now. It's in a bad place for a variety of reasons. We've allowed it to become money driven. We've allowed it to become TV driven. We've allowed athletic programs or football programs to mean more to a university than what the university is really supposed to be all about."
Snyder didn't specifically refer to conference realignment. But since 2010, Kansas State's conference, the Big 12, has lost four members while downsizing to 10 schools with the addition of TCU and West Virginia. Kansas State was particularly vulnerable in 2010 and again in 2011, when the Pac-12 attempted a raid of the Big 12 that could have left Snyder's school scrambling for a conference.
"The last I heard, we were educational institutions," Snyder said. "Certainly there is an education that takes place in football, and I understand all the parameters. But it's not driven by values; it's driven by dollars and cents."
Asked by a host if the current state of college athletics makes Snyder consider if he wants "to be in it much longer," the coach replied: "You're not too far away. You're absolutely right."
In January, the 73-year-old coach signed a new five-year contract worth $14.75 million. It can be argued the coach has been the most influential figure in the school's 150-year history. When he arrived in 1989, K-State had one of the worst programs in college football history. In two coaching stays at the school totaling 22 years, Snyder has won 170 games -- currently seventh among active FBS coaches -- leading the Wildcats to two Big 12 titles and 14 bowls.
"I can only speak personally," Snyder said. "I'm grossly overpaid for what I do. That's part of what creates the issue."
His success is not only responsible for upgrades in the athletic department but arguably enrollment and the national reputation of the school. The K-State athletic department is one of a handful across the country that turns a profit. Last year, ESPN.com called it the country's most profitable athletic department. In other words, Kansas State wouldn't be a Top 25 program -- and a financial success -- without Snyder's football success.
"We didn't grow up with it being the way it is right now," Snyder said during the interview, referring to college athletics as a whole. "Maybe we're just hard-pressed to accept change. We've been moving in a wrong direction, and I hope somebody can help put the brakes on at some point in time."
Snyder was then asked if he would have gotten into coaching decades ago if it existed in its current state.
"That's probably true," he said.
Snyder qualified his statement saying, "There was a feeling that's [coaching] what I would do. I always thought I would. [But] if I was growing up with how it is now, maybe I would say, 'Wait a minute. I better seek something else out.' "
K-State, picked to finish sixth last season, shared the Big 12 title with Oklahoma but earned the conference's BCS berth because of a win over the Sooners. The Wildcats were No. 1 in the BCS and on track to play for the national championship on Nov. 17 before a loss at Baylor. Nevertheless, Snyder was voted AP Big 12 coach of the year and Bobby Dodd National Coach of the Year. In 2011, he was CBSSports.com's National Coach of the Year.
Snyder would not reveal how close he is to retiring -- again. He first retired after the 2005 season, only to return to K-State three years later.
"I don't know [how much I have left]," he said. "It remains to be seen. If I'm healthy enough … The most significant thing is whether I'm being productive or not. If I feel like I'm not being productive here, I certainly wouldn't stay in this position."
Snyder will be 78 when his current contract expires.
Everything you need to know to watch and pick the Boca Raton Bowl on Tuesday

College football recruiting begins earlier than normal with a National Signing Day in Dece...

Getting Leavitt back was obviously high on Cristobal's list of priorities
Cristobal's first game at Oregon ended the same way Chip Kelly's did

Conner Manning and the Panthers dominated the Hilltoppers in the Cure Bowl

You can only go to the well so often before it dries up