Kansas State strengthens BCS case with win over Oklahoma State
Kansas State produced arguably the most impressive performance among the top-four unbeaten teams -- and the Wildcats didn't even play very well. And they lost Heisman hopeful Collin Klein to what appears to be concussion-like symptoms.
• 4 min read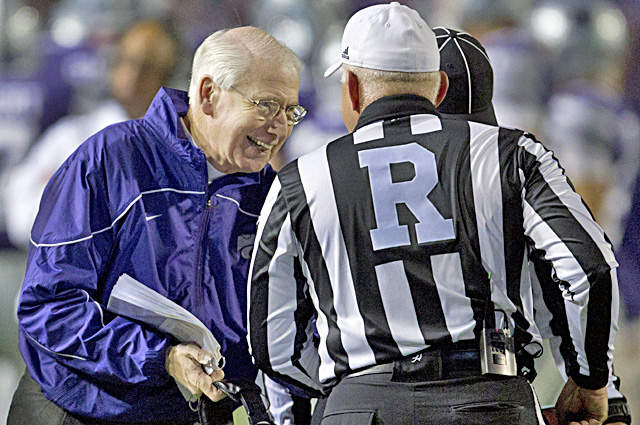 Coach Bill Snyder says putting Collin Klein back in the game 'wasn't the right thing to do.'
(AP)
MANHATTAN, Kan. – And now a nice message from coach Bill Snyder (in hand-written letter form, of course).
We here at Kansas State are enjoying the Bowl Championship Series race. Boy, that Oregon offense is fun to watch. Notre Dame, they stop the run better than almost anybody. Nick Saban has a fierce team in Alabama.
But if you ever make it to Manhattan, peer into Bill Snyder Family Football Stadium for our next home game. We do the little things. We do them well. And, hey, we're winning a little bit because of it. We didn't play very well against a good Oklahoma State team, we lost our Heisman-contending quarterback for most of the second half – and we still won 44-30. It's all about mistake-free football over here, sound football and solid special teams.

So come watch what might be the best team in America play some ball.
Sincerely, The Purple Boss.
Snyder would never say this. But maybe somebody should say it for him.
Kansas State keeps strengthening its case to become nation's best team. The Alabama steamroll hit the brakes a bit in Death Valley. The invincible shine wore off, at least for a night. Still, no doubt Alabama has a firm grip on the BCS mantle
Notre Dame got deducted several BCS style points for taking Pitt to triple overtime. And Oregon laid 730 yards on USC, but still gave up 615 in a 62-51 win.  
Meanwhile, Kansas State by far played the quietest game among the top-four undefeated teams.
And that's just the way the Wildcats seem to like it.
"We have our own identity," said wide receiver Tyler Lockett, who returned a kickoff 100 yards in the second quarter. "We don't want to settle."
The title hopes could vaporize if Collin Klein has to miss time, starting with Saturday's road game at TCU. Klein left the game early the third quarter with what appeared to be concussion-like symptoms.
Klein left around the 10-minute after a 1-yard touchdown run and never returned. While backup Daniel Sams manned the offense, Klein watched from the sidelines without a helmet and a trainer nearby. Though it'd only be speculation at this point, it seems the Wildcats are just being cautious.
Snyder did not update Klein's status in his post-game interview other than to say returning him to the game "wasn't the right thing to do." Kansas State typically doesn't divulge injury information.
"We'll have to wait and see," Snyder said.
The injury could have happened on his second-to-last play, a 10-yard run, as he took a shot from several Cowboys when trying to stretch into the end zone by the sideline. He scored on a goal-line sneak the following play.
Klein was a steady 16-of-22 passing for 245 passing, 64 rushing yards and a rushing score.
With KSU up 38-17 when Klein left, the offense managed six points and 130 yards on the final five drives. Sams, a redshirt freshman, is an impressive athlete but is no sure thing as a passer.
Snyder said Kansas State was probably just trying to escape with a win in the fourth quarter against a Cowboys offense that managed 417 yards.
Klein was reduced to cheerleader, as he told the team "don't quit" from the sidelines, Lockett said.
"I think he's going to be able to play, but we just don't know yet," Lockett said.
With or without Klein, Kansas State was clearly the No. 3 attraction on a loaded night of college football. Most of the national columnists were at Alabama-LSU or Oregon-USC.
Wildcats players walked to the interview in black blazers with a gray Wildcat insignia stitched into the pocket, answered questions and went on their way. After his press conference, Snyder signed a few autographs for fans outside of his office, then walked quietly out of the football facility.
There's substance in KSU's ho-hum nature. On a night the secondary gave up several long drives and the vaunted running game wasn't as sharp, the Wildcats still managed a kickoff return score and a pick-six from Allen Chapman, who had three interceptions on the night.
The Wildcats forced five turnovers and held the ball for nearly 38 minutes on offense.
Mistake-free football is how the Wildcats could find themselves 12-0. They are plus-21 in turnover margin and are in the national top five in penalties (only two for 13 yards Saturday night).
This is the way Snyder's always taught football, adhering to his "16 goals": commitment, unselfishness unity, improve, be tough, self-discipline, great effort, enthusiasm. eliminate mistakes, never give up, expect to win, no self-limitations, don't accept losing, consistency, leadership, responsibility.
Snyder hasn't changed much, even if the game around him is changing.
"So much is made of it," said Snyder about the BCS race. "I could hardly find Fox or CNN. Everything is football all day long. If we were having a world war, it'd probably still be all football."
It's all about football in Manhattan right now. Pretty soon, others might join the party.
Kelly led Oregon to a national championship appearance and is an innovator in the game

This week's AP Top 25 college football rankings remained largely unchanged

Mora went 46-30 since joining UCLA in 2012, taking the Bruins to four bowl games
There should not be too many changes to this week's college football rankings

Elsewhere, the top 12 remains the same in this week's college football rankings

Lane Kiffin turned around FAU remarkably fast and has the Owls in the C-USA title game