Kansas State unveils statue of Bill Snyder outside stadium
Kansas State coach Bill Snyder now has a statue outside the stadium that bears his own name.
• 1 min read
In college football, we sometimes like to say that a coach has left his fingerprints on a program. In the case of Kansas State, two-time head coach Bill Snyder is the program. As part of a dedication to the new West Stadium Center at Bill Snyder Family Stadium, the school unveiled a statue of the legendary head coach. 
The statue stands 11 1/2 feet tall, is construed of bronze and granite and weighs 1,800 pounds. According to the school release, Sharon Snyder and their five children were all consulted and took part in the process.  
"Coach Snyder is one of the most legendary head coaches in the history of college football and has transformed K-State Athletics, Kansas State University, the Manhattan community and the college football landscape with his tremendous leadership," Kansas State athletic director John Currie said. "We appreciate the terrific work of Spencer Schubert and Sharon's behind-the-scenes efforts on the project as we deservingly recognize one of the greatest football coaches of all time."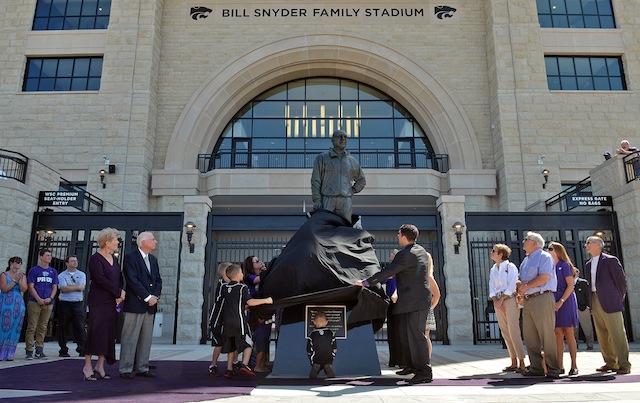 (via Kansas State Athletics)
One cool aspect of the renovations is Bill Snyder's willingness to share the X's and O's behind some of Kansas State's most memorable plays. Kansas State writer Kellis Robinett shared a photo during a tour for the media on Thursday.
For the sake of history, Bill Snyder decided to share some of his plays with the public. Very nice wall art pic.twitter.com/DPzgRwSNdb

— Kellis Robinett (@KellisRobinett) August 29, 2013
Kansas State opens the 2013 season against North Dakota State on Friday night. 
Expert picks for the top games during Week 8 of the 2017 NCAA football season

Leach wants a rally outside Texas Tech's stadium for $2.5 million he believes he is owed

It's the beginning of the end for a number of teams with College Football Playoff hopes
Every season has early surprises, but which ones are most capable of finishing the job?

Our computer model simulated every Week 8 college football game 10,000 times with surprising...

The bye weeks means there's more time for Smart to hit the recruiting trail