Kansas State wacked in Waco, shaking up BCS title picture clear to South Bend
Baylor beats No. 1 in the BCS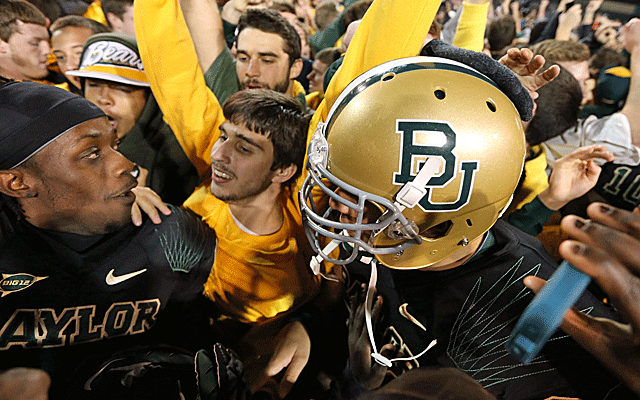 Let the BCS madness ensue.
(US Presswire)
WACO, Texas – Phil Bennett was fired up, maybe too fired up this soon after the night's second earth-shaking upset. For most of this season Bennett's Baylor defense has been infamous for being the worst in the country. It was a well-deserved dishonor. You might have heard: Earlier this season the Bears scored 63 at West Virginia -- and lost.
More on BCS
Related links
That's pretty much how it has gone for a unit which on an average day was giving up 520 yards per game – 124th and last among FBS schools. So Baylor's defensive coordinator wasn't going to let the moment pass. For nine weeks, his D had been made fun of, his job security had been questioned. For almost 35 years, Bennett, 56, has waited for this moment. He's been a lifer as an assistant coach. So when an upset in central Texas woke the echoes from northern Indiana to Tuscaloosa, Bennett couldn't resist.
"Alabama," he said in an unguarded moment following Baylor's 52-24 shocker over No. 2 Kansas State, "we would have beat them tonight."
We'll never know, of course, because Baylor is still fighting for bowl eligibility. Bama? Well, they're back in the fight. Along with Notre Dame. It was Saturday's late-season reshuffling of the BCS standings that left Kansas State and Oregon crushed and guys like Bennett feeling like they were the kings of the world.
"That's why Texas A&M is doing well in that league," Bennett said of the SEC. "[Those teams] don't face anything like us."
"Us" being Baylor's Big 12-leading offense – second nationally -- which stunned K-State enough to allow Bennett's defense to apply the sleeper hold. The Bears did what no team had done to the Wildcats this season. They gut-punched K-State early and didn't let up. Former Heisman favorite Collin Klein threw three interceptions, half the team's turnover total for the season coming into the game. There was a goal line stand by Baylor mixed in there.
"I encouraged them," Bennett said of his defense. "There are few times in life you get to do this."
Familiarity had a lot to do with it. For three years, from 1999-2001, Bennett was Bill Snyder's defensive coordinator at K-State.
"I know how they think," Bennett said. "Still, the problem is a lot of teams take themselves out of it. On pre-snap [reads by the offense], it was comical watching them against Texas Tech and Miami and West Virginia. Those teams were beat before the ball was snapped."
Not against Baylor.
Who saw this coming except maybe Baylor's embattled defensive coordinator? In his 13th job since 1979, Bennett devised a scheme effective enough to stop the nation's No. 8 scoring team. At the same time it pumped some pride into a unit that can wear their letterman jackets again without fear of being identified.
It was at that ninth stop at Kansas State in 1999 that Bennett lost his wife. Nancy went out jogging one morning, was struck by lightning and killed. Bennett was left to raise two young children. It's been four jobs, 13 years and lots of heartache since then.
In some small way, Saturday renewed a team and a man.
"I would have preferred it be anybody else," Bennett said of beating Snyder, "but we've been through the grinder this year. We fought the fight."
Now there is also some small ownership in the national championship race.  Bennett is friends with Notre Dame's Brian Kelly from their days coaching against each other in the Big East (Pittsburgh vs. Cincinnati).
The Irish, everyone's dismissed and barely discussed BCS No. 3 now controls its own destiny for it first national championship in a quarter century. There might be a few woops down in Tuscaloosa too where national titles hopes that seemed dead a week ago, now have new life. Who cares that it's a back door Bama would be sneaking through for a second consecutive season?
A lot of folks because even if the Tide lose down the stretch, there were six SEC teams behind Alabama in the BCS standings going into Saturday. If Notre Dame doesn't seal the deal next week against USC, then it's entirely possible that the SEC would be assured of its seventh consecutive BCS title with two teams (again) in the championship game. 
As of now, Notre Dame and Alabama should be 1-2 when the latest BCS standings are released Sunday night.
There hasn't been this much late-season upheaval since 2007 when BCS No. 2 West Virginia (to Pittsburgh) and No. 1 Missouri (to Oklahoma) lost on the last day of the season. That allowed LSU and Ohio State to sneak into the title game.
Saturday also marked the first time since that year the BCS No. 1 had lost in consecutive weeks this late -- Kansas State on Saturday, Alabama last week.
Not that it matters for the Tide at the moment. 
K-State was undone, in part, by Nick Football, or whatever comic-book nickname you want to attach to Baylor quarterback Nick Florence. He's the guy who replaced Robert Griffin III. He's also the guy who also had to replace RGIII while playing with the nation's worst defense.
On Saturday, he threw for 238 yards and two touchdowns against a team that looked, at times, like it had tired of playing football so hard for so long.
"They took the fight to us," K-State coach Bill Snyder said.
"We matched up really well," Florence said. "I mean, if you don't believe then get out the lockerroom."
Florence was supported by Lache Seastrunk, a once famous and infamous Oregon transfer, who ran for a career-high 185 yards. Translated, that's also the most since he left Eugene with more controversy than playing time. It was over Seastrunk's talents that Oregon allegedly paid talent scout Willie Lyles $25,000 for a questionable recruiting guide.
"Wow! Wow! Wow!" Seastrunk said. "It's Upset Saturday in college football."
Upset doesn't describe what they're feeling in Columbus at the moment. Ohio State, now 11-0, would be in line to play for a national championship if its administration had been forward-thinking enough to take its bowl ban last season.
Instead, Baylor, 5-5, is closer to a bowl than those Bucks. Bennett's idea was to somehow make Klein one-dimensional. Although he had accounted for more than 70 touchdowns since the beginning of 2011, Klein couldn't rally the Wildcats with his arm. Once it became 38-24 midway through the third quarter, Bennett knew that Klein's best plays – the quarterback draw and quarterback power – would stay in the playbook. K-State had to throw.
The school sent a cute little tin of band-aids this week as a Heisman promotion for Klein – and his toughness. There weren't enough bandages anywhere left to stop the bleeding for K-State.
On the other sideline Baylor defensive tackle Suleiman Masumbuko couldn't get off the field. Fans had rushed the field following their school's first win over a No. 1 (even if it was only in the BCS). Masumbuko was relegated to being a delighted bystander. A curious reporter wandered up and asked who would have predicted the following: A team that had scored 63 in a loss would also score 52 and beat No. 1 in the BCS by four touchdowns.
"Somebody needs to get a hold of that guy," Masumbuko said, "and ask when the world is going to end."
Young was injured during Miami's Orange Bowl loss to Wisconsin

The movie will zero in on former Penn State coach Joe Paterno during the Jerry Sandusky sc...

Bidding for Salaam's trophy, which the auction house says was obtained legally, ends Satur...
Locksley has been the offensive coordinator at Illinois and Maryland during his coaching c...

Many NFL-eligible juniors ignore advice provided by the league and risk going undrafted each...

Snyder died in Manhattan, Kansas, on Wednesday