Kansas State's Bill Snyder coy about Collin Klein injury
K-State, though, does use industry standard concussion testing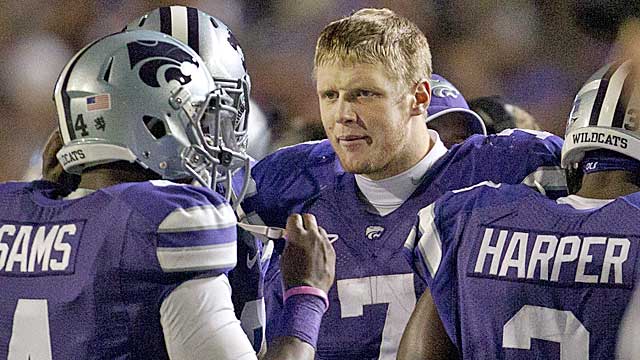 Bill Snyder is hopeful Klein can play at TCU on Saturday (AP)
Bill Snyder was coy Monday morning on one of college football's hottest topics.
Will his quarterback Collin Klein play Saturday at TCU?
"Hope so," Kansas State's coach said on the Big 12 coaches conference call. "I hope they all play."
Klein was injured in the third quarter on Saturday night against Oklahoma State. The nature of the injury remains a mystery. Snyder was asked about Klein walking the sidelines without a helmet, leading to speculation the quarterback could have suffered a concussion.
"He's had his helmet off before; maybe they're uncomfortable," Snyder said.
How concussions are treated has changed dramatically in the last couple of decades. Snyder admitted on the call to what sounded like baseline testing, a commonly used way to diagnose concussions. Baseline testing requires athletes with possible head injuries to take a series of tests. The results of those tests are compared to a series of baseline results taken when the player wasn't injured.
Baseline testing is not mandated yet by the NCAA. Kansas State is listed as a client using the ImPACT system, considered the gold standard in the industry. ImPACT is a computer-assisted process that tests verbal, visual and cognitive results. It takes 20-30 minutes.
If Klein has a head injury, he would have been tested after the game, not during. 
"In today's environment, there is an awful lot of attention paid to [head injuries]," Snyder said. "There is certain verbal testing that they do. Also, they do some precondition testing."
Two Big 12 coaches spoke about the modern-day changes in dealing with concussions.
"It's totally changed," Kansas coach Charlie Weis said. "Twenty years ago, where if a guy got banged up and was woozy he'd go,  'Whoa, what happened?' and three plays later he'd be back in. They've put much greater emphasis on player safety."
Oklahoma's Bob Stoops, who was a star defensive back at Iowa: "I knocked myself out playing I don't know how many times. I got busted up in the Purdue game. I knocked a guy out. I was out. Two, three series later, I get an interception, I don't remember it. As long as you could count fingers." 
Schiano would have made $4.4 million in Year 1 with annual raises as part of a six-year de...

Dykes spent this season as an offensive analyst at TCU

The "Wyoming Wild Man" notched six tackles for loss as a junior in 2017
Zaycoven Henderson was charged with aggravated assault with a deadly weapon

Patterson is a former No. 1 recruit in the country

Baker Mayfield and two Sooner teammates made the first team