#Karma has been good to Wisconsin after Bielema left
The Wisconsin Badgers could be BCS bound again, which shows Jen Bielema's #karma tweet actually hit Arkansas and Bret Bielema.
• 4 min read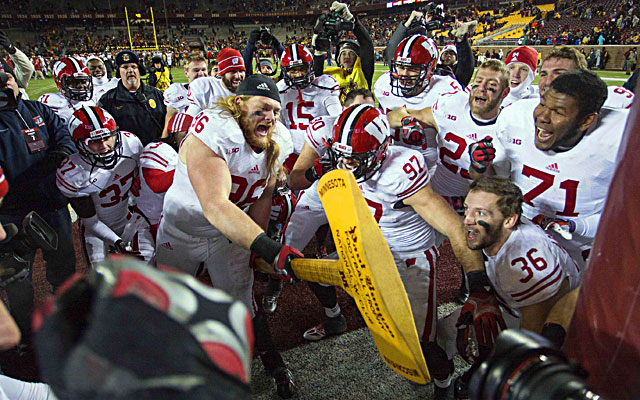 MINNEAPOLIS -- How's that #karma working out?
Wisconsin has won six straight. It hasn't allowed a touchdown against its last three Big Ten opponents. The Badgers are one of the best two-loss teams in the country and can still make a BCS bowl after Saturday's 20-7 slugfest over surging Minnesota in the ferocious Minneapolis cold.
"I'd put this team up against the three BCS teams," said senior linebacker Chris Borland, referencing Wisconsin's back-to-back-to-back Rose Bowl trips.
The man who led the Badgers to those Rose Bowls, Bret Bielema, could have been comfortably B1G every year, living on the top shelf of the country's third-to-fifth-best conference.
He chose a year of SEC purgatory instead, dropping eight straight since his wife Jen tweeted "#karma" after Wisconsin lost to Arizona State in a bizarre, official-botched ending as the Badgers tried to spot the ball for a field goal attempt.
The tweet posted at 2:18 a.m. on Sept. 15, when Bielema was 3-0 against soft non-conference competition. #Karma raised questions about bitterness between Bielema and Wisconsin athletic director Barry Alvarez, who didn't always satisfy Bielema's salary requests for assistant coaches.
Since then, 8 Ls.
Not that Bielema was wrong to leave for the big pay and the zealous SEC subculture, but he left a unique place that keeps rolling under ascending coach Gary Andersen.
Wisconsin doesn't change. It's about beards and girth and 20-7 wins and players named Wozniak and DeCicco and Abbrederis. As the SEC cannibalizes itself, Wisconsin lives in the Big Ten top three or four almost every year.
Andersen made subtle changes to the program such as walk-through routines and a 3-4 scheme but preserved Wisconsin's identity. Don't mess too much with a place that's won at least nine games in all but one year since 2004.
"It's been a good marriage," said Borland of Wisconsin tradition with Andersen's touches.
The slugfest between Minnesota-Wisconsin was an example. The game was straight-up ugly at times. Not quite Florida-Georgia Southern ugly, but the kind of ugly that makes you a bit uncomfortable every time an average quarterback overthrows a tight end.
But that's the point. That's what Wisconsin does. It grinds you down over and over and over with a potent running game and suffocates you on defense. Minnesota's physical defense loaded up the box and the Badgers still got 197 yards on the ground.
Wisconsin has played as many of these games as Alvarez has red sweaters in his closet (136 or so).
This team has an identity, which masks average quarterback play. Let James White and Melvin Gordon split 35 carries, go deep to Jared Abbrederis on occasion and the defense handles the rest. Borland's two forced fumbles on Saturday cancelled any chances of Minnesota breaking the 10-year losing streak in the Paul Bunyan Axe game.
Wisconsin was up for a fight, too. The Gophers stood in the way as the Badgers tried to fulfill the ceremonial goalpost axing, firing up Andersen when a police officer put a finger in his face.
"When you're at 9 wins you're really, really close to becoming a great football team," Andersen said. "I'm not so sure they are not a great football team right now."
Bielema is galaxies away from that feeling. Borland, arguably the Big Ten's best defender, still texts with Bielema, the guy who gave an under-recruited linebacker from Ohio a shot to start in the Big Ten.
He's not bitter Bielema left and hopes he has success, but it's clear the team has moved on.
"They are implementing an entire overhaul of the program, so it will take time, but I expect them to have success," Borland said.
Wisconsin doesn't need time. It's not as good as Ohio State, but the Badgers might be Ohio State's great red hope. If Wisconsin and Michigan State win next week, that could give Ohio State two potential top-15 wins if it beats the Spartans in the Big Ten championship game. Wisconsin provides a rare Big Ten strength of schedule boost.
Oregon losing to Arizona helps the cause of Wisconsin, which could find itself in the Orange Bowl as an at-large. If Ohio State somehow slides into the national title game, the Big Ten could pick Wisconsin or Michigan State for the Rose Bowl.
Maybe if Wisconsin hadn't tried to center the ball in Tempe, it wouldn't be fighting for top-10 positioning. But #karma has a way of working itself out.
Wisconsin knows this.
"I like our chances against anyone," White said.
Lane Kiffin turned around FAU remarkably fast and has the Owls in the C-USA title game

NCAA football scoreboard, highlights and updates from the biggest Week 12 games

The junior injured his finger diving for the pylon late in the first quarter of the loss to...
Projecting the changes in the new AP Top 25 poll college football rankings after Week 12

There's only one true Turnover Chain in college football, and it belongs to The U

The 72-yard punt return was perfectly executed by the Trojans