Kelly backtracks, calls Michigan-Notre Dame 'great rivalry'
Two days after downplaying the importance of the Michigan-Notre Dame series, Brian Kelly said it was 'a great and historic rivalry.'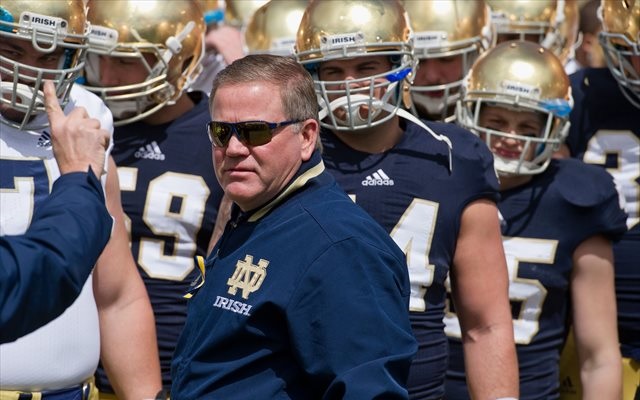 Two days ago, Brian Kelly told reporters that he didn't see Michigan as a "historic" or "traditional" rival for Notre Dame .
Tuesday, Kelly's tune had changed -- and in fact, on the topic of whether the rivalry was "historic" or not, he had completed a 180-degree turn.
"It's a great and historical rivalry that we'll be playing this Saturday," Kelly told reporters this go-round, per the Associated Press. "So let's get that out of the way right away so we don't have to answer any more questions about this rivalry," 
"We're excited about the game, excited about playing it. This will be decided by the players on the field and the preparation that goes along with it. So we can stick to that and dispense the nonsense."
Of course, there wouldn't have been any need to steer reporters away from the "nonsense" if Kelly hadn't originally decided to downplay the tradition and importance of the series between the Wolverines and Irish, one that has endured a handful of hiatuses but also dates to 1887 -- and one that Brady Hoke has accused the Irish of "chickening out" of in order to continue playing the likes of Purdue and Michigan State.
That barb may have more than a little to do with Kelly's comments Sunday, but at least Kelly is now acknowledging the obvious -- that however many times it has or hasn't been played, Michigan-Notre Dame is a rivalry that has mattered, and mattered immensely, to fans and players on both sides. 
Cristobal's first game at Oregon ended the same way Chip Kelly's did

Conner Manning and the Panthers dominated the Hilltoppers in the Cure Bowl

You can only go to the well so often before it dries up
The Trojans beat LSU earlier in the year and now have their first 11-win season as a FBS t...

Saban has never been a fan of the early signing period and made it clear that hasn't chang...

Paul Tyson is a three-star quarterback prospect for the 2019 recruiting class