Kelly: Michigan isn't a 'historic, traditional' rival for Notre Dame
Brian Kelly doesn't seem too shaken up about losing the Michigan series, but does he doth protest too much?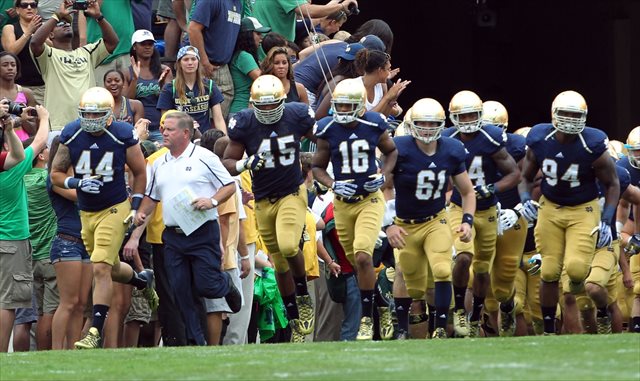 Brian Kelly isn't shedding any tears over the future interruption of Notre Dame's annual series with Michigan, apparently.
"I really haven't seen it as one of those historic, traditional Notre Dame rivalries," Kelly said on a Sunday conference call, per the Chicago Tribune. "I've seen it as just one of those great football games that Notre Dame has played."
It won't be a great game that the Irish necessarily will play going forward, though; there are no games between the two Midwestern powers scheduled beyond next year's meeting in South Bend. 2015 will mark the first time since 2001 the series won't be played, part of the fallout of Notre Dame's scheduling agreement with the ACC.
Despite that agreement, though, the Irish intend to continue their series with Michigan State and Purdue, decisions that led Brady Hoke to say in May that the Irish are "chickening out" of the rivalry. 
"Everybody knows the challenges we have as an independent when it comes to scheduling," Kelly said. "We're a team that a lot of people want to play, including Michigan, obviously, or Brady wouldn't comment in that regard."
But of course, if the Michigan -Notre Dame series wasn't awfully important to fans of both teams, it's fair to assume Kelly wouldn't be commenting himself on how unimportant it is. While he's right that hiatuses are nothing new for this series -- the two teams have played "only" 40 times, and didn't meet at all between 1944 and 1977 -- it's more than a bit of a stretch to claim a series that dates to 1887 isn't "historical," that a series featuring the No. 1 and No. 2 teams on the FBS all-time winning percentage ranking somehow lacks "tradition."
In other words: forgive me for thinking that Kelly may doth protest the series' unimportance a bit too much. And forgive virtually everyone for hoping that -- as Kelly, to his credit, did promise -- the two sides eventually make an effort to get each other back on the schedule.
Saban isn't going to win Alabama's special election, but the Crimson Tide coach got some l...

The Tigers are going worldwide for their next punter

Led by Heisman Trophy winner Baker Mayfield, the Big 12 finished with seven first-team sel...
Schiano would have made $4.4 million in Year 1 with annual raises as part of a six-year de...

Dykes spent this season as an offensive analyst at TCU

The 'Wyoming Wild Man' notched six tackles for loss as a junior in 2017