Kelly: Redshirt freshman Everett Golson wins Notre Dame's quarterback derby
Word of the decision "slipped through a crack" this morning, and is already "common knowledge" among the team ahead of the announcement. Based on the initial reports coming out of preseason camp, most of them probably assumed as much already.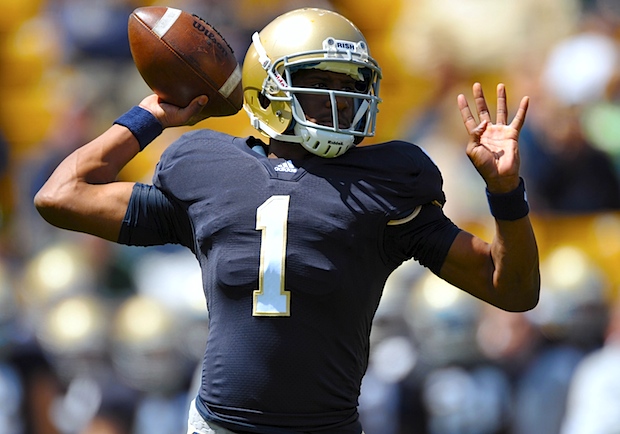 For eight months, the quarterback quandary at Notre Dame has ranked among the most persistent mysteries of the 2012 season. But the answer is no surprise: As expected, one of the most high-profile jobs in college football now belongs to redshirt freshman Everett Golson, who was formally introduced as the starter for the Irish's Sept. 1 opener against Navy in Dublin, Ireland, after Thursday's practice.
"Everett is the starter. If things go the way were planning it, he'd play the whole game," said coach Brian Kelly. "I don't think you go in any year and think, boy, I want to make a change at halftime. You want to be able to stick with a guy and build continuity."
Word of the decision "slipped through a crack" this morning, according to the Chicago Tribune, and was already "common knowledge" among the team before Kelly's announcement. Based on the initial reports coming out of preseason camp, most of them probably assumed as much already.
Even if you believe his official measurements (6-foot, 185 pounds, according to the school), Golson is no one's idea of a prototype. He will certainly do in a pinch, though, for the segments of the fan base desperate for a viable counterpoint to Rees, and many of them saw all they needed to see during Golson's star turn in the spring game – an 11-of-15, 120-yard, two-touchdown effort that defied his earthbound reputation and gave him a decided leg up with fans going into the summer. His potential as a running threat brings a dimension to the offense that Irish fans haven't seen since Tony Rice in the heyday of the Lou Holtz era. In fact, based on what he's seen so far in practice, Rice has been Golson's biggest fan.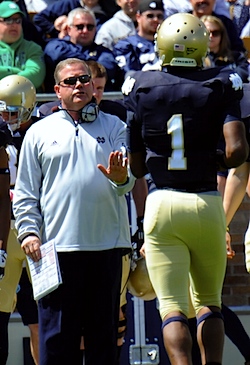 Of course, there's a reason the old chestnut about the backup quarterback being the most popular player on the team is such an enduring cliché: It's not too difficult to convince true believers you're a star-in-waiting before you've taken a snap in an actual game. Aside from his inexperience, the most obvious question about Golson is his size, both in terms of a) Remaining in one piece over the course of a full season, and b) Completing passes while surrounded by redwood-sized linemen in the pocket. Not that Brian Kelly doesn't know how to exploit a guy with wheels, but his version of the spread has always been and remains a pass-first system; Golson is his starting quarterback because Kelly expects him to complete passes from the pocket on a regular basis. If Golson's arm is too far behind the curve, his ability as a runner will buy him an occasional cameo in the "Wildcat" role and not much else.
As he acknowledged, Kelly can be quick with the hook. Last year's opening day starter, Dayne Crist, lasted exactly two quarters into an eventual loss against South Florida before being permanently yanked in favor of Tommy Rees at the half; Crist subsequently spent the rest of the season on the bench and decided in December to transfer to Kansas, reuniting him with the coach who recruited him to South Bend, Charlie Weis, for his final season of eligibility. (The only preseason quarterback competition in Weis' tenure, in 2007, also ended in a quick benching for opening day starter Demetrius Jones, who ceded the job to true freshman Jimmy Clausen and left the team a few days later.) Meanwhile, Rees started the rest of the season, pushing his career record as a starter to a more-than-respectable 12-4, all as an underclassman.
Still, Rees led just two touchdown drives in Notre Dame's last three games, by which point his general inconsistency had already divided the fan base into pro- and anti-Rees factions. The ranks of the latter swelled significantly following his uninspiring turn in the spring game. Off the field, Rees was arrested along with linebacker Carlo Calabrese in May for allegedly attempting to flee police while intoxicated at a party; both were subsequently suspended for the first game. Since last November, Rees has lost the confidence of much of the fan base, lost his safety blanket, NFL-bound wide receiver Michael Floyd, and lost his status at the top of the depth chart.
At the same time, though Golson, sophomore Andrew Hendrix and blue-chip freshman Gunner Kiel are all more touted athletes than Rees, no other Irish quarterback on the roster has started a college game – aside from relief appearances by Hendrix in the last two games, none of them has taken a significant snap. If for whatever reason Golson doesn't stick, there may be hope for Turnover Tommy yet. But no one right now, least of all Brian Kelly, is betting on it.
Rutgers' offensive line challenged a local curling club to a match

These five teams have the best chance of being the Group of Five darling this coming year

Drevno had been running the Michigan offense for three seasons
Aaron was reportedly shot while trying to protect his girlfriend when a fight broke out at...

An assistant-by-assistant look at changes Saban made to the Tide's staff ahead of 2018

Find out when Nick Saban, Kirby Smart and the rest of the coaches will speak ahead of the...