Kelly's interview with Eagles indicates high standards for Irish
Notre Dame coach Brian Kelly's interview with the Philadelphia Eagles isn't about money.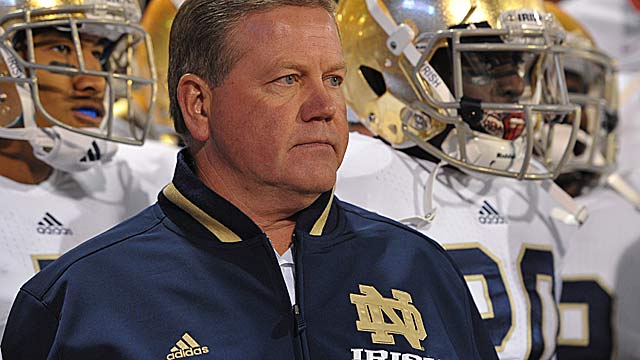 There's more certainty that Kelly can get himself to the NFL than keep Notre Dame at its current level.
(Getty Images)
It's never about money at Notre Dame -- as in: How much do we need to spend? Not when it comes to protecting, enhancing, promoting the school's Holy Grail.
Football.
You saw it again Monday night. ND was pummeled, blitzed, pounded and blown out, but you saw it.
The game is always in the frontal lobes of fans, administrators and networks. Twenty years ago the school made history breaking away from the College Football Association for a still-lucrative, stand-alone deal with NBC. You want to know how lucrative? Texas basically tried the same thing and still finds itself struggling for traction with the Longhorn Network.
More on Irish's Kelly
Column

Related links
More college football coverage
"Every year when we're done we talk about whatever the program needs to position itself," AD Jack Swarbrick said this week. "It's been reflected in staff hires and equipment and all kinds of things. We go through a laundry list."
It's especially never about money at Notre Dame, not when it comes to retaining football coaches. That's why it's not even close being about money when Brian Kelly reportedly interviewed with the Eagles.
Charlie Weis got a restructured 10-year deal six games into his first season in 2005. A reasonable person can debate the wisdom of that extension but it shows that, when motivated, Notre Dame can slug it out with the NFL. That's who then-AD Kevin White was competing with when Weis' agent Bob LaMonte picked up the phone midway through a 9-3 first season.
So don't interpret Kelly's interview with Philadelphia as a "money grab." At all. He is/was going to get paid.
This is why a national coach of the year struck quickly: The bar has been set for him and his program. There is no going back. Win 12, at least, each season. Ten wins won't be acceptable, probably not after this season. Not for Kelly, not for long. Notre Dame isn't the only place where that's the case. Mack Brown's Longhorns won nine in 2012 and legions are still asking what's wrong.
At these football factories, if coaches aren't competing against ghosts -- Rockne, Leahy, Parseghian, Holtz, etc. -- they're competing against their own accomplishments.
And at the moment, there is more certainty that Kelly can get himself to the next level (NFL) than he can keep Notre Dame at its current level. Is this past season a spike on a flat line or the beginning of another glorious ND run?
By interviewing with the Eagles, Kelly already has answered that question. 
Swarbrick basically promised a raise and extension for his coach when talking to reporters on Sunday.
Question: When you sit down with Brian after the season is a raise and extension on the table?
Answer: "Everything that goes into the program is on the table when we have those discussions."
Everything. Is Brian Kelly worth $4 million a year for the next 10 years? Right now, he might be. It's not an issue if he keeps winning.
In one sense it was a bit disrespectful that Kelly may have talked to the Eagles. The corpse is barely cold from Monday night's stomping by Alabama. But NFL openings don't stay that way for long and Kelly may never be more marketable. So, in another sense, why not?
This is not to say he won't remain in South Bend for years developing championship teams. But it's going to be more than difficult to live up to 2012. In case you haven't noticed, the SEC has hijacked the game, locking up the crystal football in a safety deposit box.
Kelly owes it to himself and his family to inquire about an opportunity that might never be there again. Weis won 10 games and went to BCS bowls in his first two seasons. Three years later he was fired.
Ty Willingham won 10 in 2002 and was gone two years later.
That has to be the number that is swirling around in Kelly's mind right now: Is it going to be OK to win 10 next season after going to the BCS title game?
At Notre Dame, probably not.
Not unless 10 is followed up by 12. And the Irish keep taking national championship shots. History shows that 2012 most likely will be that spike rather than the start of something big. ND hasn't won 10 in back-to-back seasons since 1993 and only three times in its history.
Sure, in the 1940s teams didn't even play 10 games, but it's a different world in 2013. Alabama is the anomaly with its sustained success. It's hard to stay good. Kelly knows that.
The agreement with the ACC might help. The Irish are now "kind of" pregnant with an ACC scheduling agreement. That might one day lead to full membership in football. The ACC championship alone might be enough to boost the Irish into football's coming final four.
For now, Kelly's wandering eye is a referendum on ND's ability to stay good. Now he knows how far the Irish have to come to even challenge Bama, if they ever challenge Bama.
Win 12 again in 2013? Not likely. Kelly now knows how many shamrocks had to be picked, how many things had to go right, how many prayers had to be said, how lucky his team had to be to get to No. 1. It won six games by nine points or less. It survived overtimes with Stanford and Pittsburgh. It intercepted five Michigan passes and won by a touchdown.
Will the magic be sustained -- because that's what it's going to have to take? The defensive line --perhaps the strong point of the team -- was pushed around Monday night. The playoff era is going to make it easier to get in the championship hunt  --  four teams vs. two -- but harder to win. For everyone.
Winning 10 at Notre Dame probably won't be enough, pretty much from now on for Brian Kelly. Ask Weis or Willingham. The bar has been set.
But in the NFL, Kelly also knows that 10 wins gets you into the playoffs -- pretty much every year. 
CBS Sports HQ Daily Newsletter
Get the best highlights and stories - yeah, just the good stuff handpicked by our team to start your day.
Please check the opt-in box to acknowledge that you would like to subscribe.
Thanks for signing up!
Keep an eye on your inbox for the latest sports news.
Sorry!
There was an error processing your subscription.
Taking a close, detailed and opinionated look at the AAC as the college football season ap...

When you ask their peers, these are the coaches that either get too much -- or not enough --...

Outside linebacker Chris Allen will miss the season after sustaining a knee injury
Quintez Cephus is instead focusing on a legal case for "unspecified" charges from an April...

This is the second ACL injury for White in as many years

Davis is accused of breaking one of his ex-girlfriend's ribs and sending a threatening tex...