Kentucky suspends three for team rules violation
The Wildcats' upset odds vs. Georgia just got even longer as two starters and a key backup have been suspended.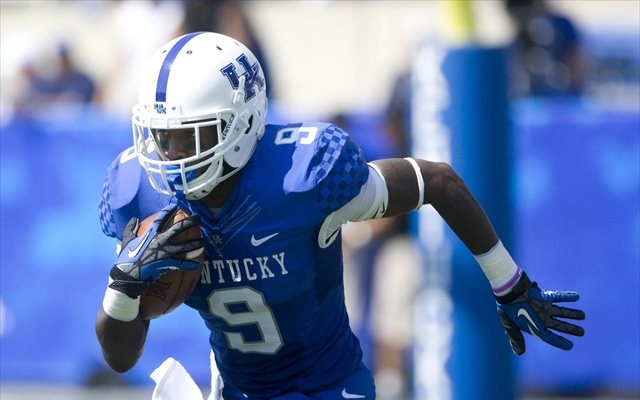 Kentucky's chances of snapping the Wildcats' 14-game SEC losing streak at Georgia Saturday were never good. And now they might be even worse.
A Kentucky spokesman confirmed the suspension of three members of the Wildcats' playing rotation due to a violation of team rules, the Courier-Journal reported Friday. Starting cornerback Cody Quinn and freshman defensive end Jason Hatcher have each been suspended for one game, while starting wideout Demarco Robinson has been suspended indefinitely.
Quinn and Hatchers have each appeared in eight games, with Quinn notching three passes broken up and Hatcher one sack on the year. Junior Nate Willis is also out with a knee injury, leaving the Wildcats thin at corner.
But Robinson might still be the biggest loss; the junior wideout is the team's fourth-leading receiver, with 20 catches for 213 yards and 2 touchdowns. 
Robinson's suspension is also particularly damaging given that the Wildcats' fifth-leading receiver, Alex Montgomery, is out for the season with an ACL tear suffered during a touchdown celebration vs. Alabama State earlier this month.
Per the Courier-Journal, "more suspensions were rumored Thursday" but Quinn, Robinson and Hatcher are the only players officially suspended as of now.
Georgia is currently a 24.5-point home favorite over the Wildcats, whose last SEC win came against Tennessee in their 2011 season finale.
These Jayhawks got a tremendous surprise they weren't expecting

Jovon Durante announced on Twitter he's headed to FAU

From Week 1 through the title game, everything runs through Atlanta this season
A concert is a nice way to break up preseason camp

Mills was arguably Georgia Tech's most important player coming into the season

Hugh Freeze's phone records reportedly show another troubling pattern for Ole Miss