Kessler outshines Carr in Fresno's second straight bowl struggle
The Fresno St. defense played as expected. The Fresno St. offense did not, with Derek Carr looking far from the Heisman candidate he was in the regular season.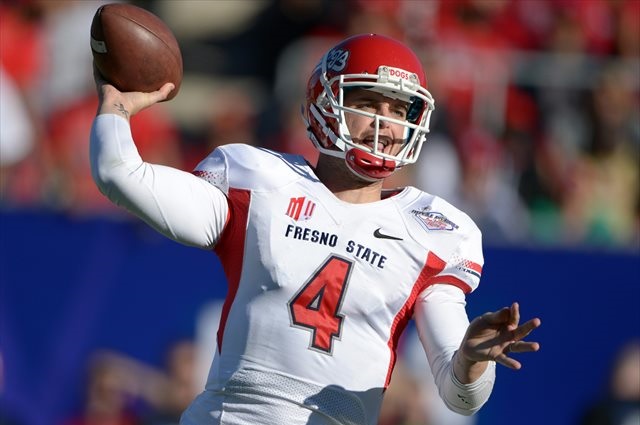 After the BCS bowl-denying meltdown against San Jose State's David Fales a few weeks ago, everyone knew that Fresno State was coming into the Royal Purple Las Vegas Bowl without much in the way of defense. But what everyone thought was that they'd also come in with a major advantage in several other departments -- in coaching continuity, in Mountain West-vs-Pac-12 shoulder-chips, and most notably in the quarterback matchup.
USC 's Cody Kessler had improved dramatically over the second half of the season, but Derek Carr was a fringe Heisman candidate, a future first-round draft pick, a stats machine, a Mountain West champion. At least Fresno had that going for them, right?
Not so much. Kessler comprehensively outplayed Carr on Saturday, leading the Trojans to a 45-20 win that arguably wasn't even as close as that lopsided final margin. With the help of a rejuvenated Marqise Lee (7 catches, 118 yards, 2 TDs), Kessler went 22-of-31 for 344 yards and four touchdowns, both career highs. Carr was 29-of-54 for 217 yards, 2 touchdowns and a backbreaking pick. The 4.0 yards per attempt was Carr's worst single-game mark of the season by more than a full yard.
But even beyond the numbers, Kessler looked calm and confident -- Fresno's secondary can have that effect, unfortunately for the Bulldogs -- while Carr simply never appeared comfortable. Whether shuffling his feet in the face of pressure, mistiming throws (as in the case of the errant pass toward Davante Adams in the end zone for his pick, one that ended any real hope of a Fresno comeback) or just plain missing, Carr didn't look like the quarterback that had made Frenso's offense such a juggernaut for most of the season. (It's also worth noting that he didn't get much help from the drop-happy Bulldog wideouts.)
If Carr shoulders a healthy amount of blame, the Trojans, defensive coordinator Clancy Pendergast and interim-interim head coach Clay Helton deserve a healthy amount of credit. Still, what must trouble Bulldog fans and Tim DeRuyter is that the program is 2-for-2 in winning 9 or more games since Pat Hill's departure, 2-for-2 in going to bowls, 2-for-2 in claiming at least a share of the Mountain West title ... and 2-for-2 in stunning bowl failures.
In 2012, Fresno was blasted 43-10 by a 6-6 SMU squad as Carr threw a pair of fourth-quarter pick-6s and the Bulldogs turned the ball over four times. Saturday offered Fresno a much tougher opponent, but also one on its third head coach of the season ... and the Bulldogs were outgained by 230 yards, had no scoring drive longer than 53 yards, and had Kessler's only mistake of the day (a third quarter pick-6 of his own) to thank for the blowout not being any worse.
Bowl games aren't the be-all, end-all for any coach or program. But DeRuyter's inability to maintain his team's regular season success into the postseason is nonetheless going to nag at him and Bulldog fans until his next chance to prove it won't be a long-term trend.
And as for Carr, he'll be in the NFL and very well-paid in the near future -- but Saturday couldn't have done a thing to help his stock, either.
The Tide, as usual, are dominating everything already

Jim McElwain won't rule out Luke Del Rio, Feleipe Franks or Malik Zaire as the starter

The three rule changes for 2017 are focused on player safety
There are new names to learn every season, and here are five to keep an eye on from the Big...

Can the Big Ten produce a champion capable of scoring points in the College Football Playoff...

Taking a close, detailed and opinionated look at the Big Ten a week before the start of the...