Kevin Sumlin believes A&M-Texas game will happen 'eventually'
The ongoing 'will they or won't they' saga between the Aggies and Longhorns gets another update as Kevin Sumlin says he feels it'll happen ... someday.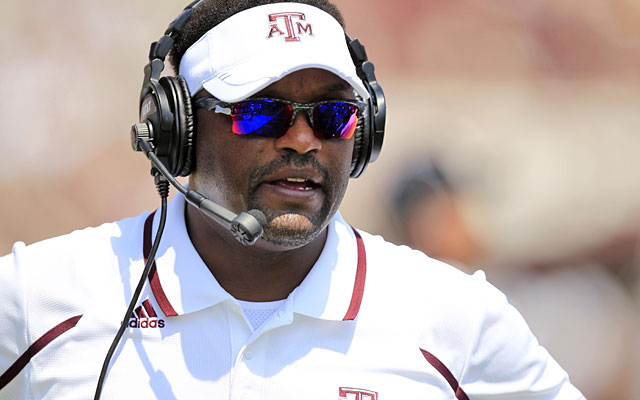 More SEC: SEC on CBS matchups | Coaches weigh FCS opponents
It's worth taking a moment to remember exactly what we're talking about when we're talking about Texas vs. Texas A&M. It's a rivalry that spanned 117 years and 118 meetings (the teams played each other twice a year in the early days), that's mentioned in both team's fight songs, that kinda-sorta defined college football's Thanksgiving, that until its dissolution qualified as one of the most bitter and best rivalries in the sport.
So, yeah, it's not without reason that monitoring the public positions of the principals involved has become its own long-running will-they-or-won't-they drama, college football's answer to Ross and Rachel. In today's episode, brought to you by Brett McMurphy: Kevin Sumlin is optimistic!
Texas A&M's Kevin Sumlin on future games w/Texas: "Eventually I think it will happen"

— Brett McMurphy (@McMurphyESPN) May 27, 2014
The good news for fans of the rivalry: with Sumlin sounding positive about the possibility and Charlie Strong officially endorsing its renewal in March, coaches on both sides of the fence appear willing to make the game happen. The bad news is that Sumlin and Strong won't have nearly as much say as their respective bosses, and neither new Texas athletic director Steve Patterson -- who has repeatedly downplayed the possibility of scheduling the Aggies -- or A&M associate AD Jason Cook make it sound like there's any momentum for playing the game at the administrative level. 
Hope springs eternal, since Texas qualifies as the most natural opponent for A&M in its quest to fulfill the SEC's incoming "power 5" nonconference scheduling requirement (though it's had little trouble finding such opponents so far), and the game would arguably give Strong and Co.'s recruiting efforts a useful shot in the arm (though the Aggies' efforts on the trail would also likely get the same boost).
The bottom line is that it's not likely to happen soon. But as long there's a chance it happens ever, it's worth holding out hope.
Antonio Callaway and Jordan Scarlett are two of the nine players under investigation

The SEC released its 2018 schedule in full Tuesday afternoon, and it's dripping with intri...

The 2021 Chick-fil-A Kickoff Game will feature Louisville and Ole Miss
The Fornelli 50 ranks teams based on nothing but their performance in 2017

Penn State better have its eyes wide open with a trip to Iowa City on deck this weekend

Ohio safety Javon Hagan has a rather unique personal tradition during games