Key Tennessee LB likely to return this week
One of Tennessee's best players "should" return to the field for this week's game against Chattanooga, according to Vols coach Jeremy Pruitt.
One of Tennessee's best players "should" return to the field for this week's game against Chattanooga, according to Vols coach Jeremy Pruitt.
Pruitt said during his weekly Monday afternoon press conference that senior inside linebacker Daniel Bituli — the team's leading tackler each of the past two seasons — could return this week after missing the season's first two games with.
The 6-foot-3, 252-pound Bituli — a veteran who lines up Tennessee's front seven — was forced to the sideline because of an arthroscopic procedure to "clean up" an unspecified knee issue.
Pruitt said there's no doubt a healthy Bituli would help Tennessee's defense, but he cautioned against suggestions that Bituli's return would be a silver bullet curing everything that ails these Vols.
There was hope that the Congo native could return for last week's game against BYU, but he came up just short and was forced to watch the 29-26, double-overtime loss in street clothes.
"Hopefully Daniel will be able to take some reps this week," Pruitt said from Tennessee's Ray and Lucy Hand Digital Studio. "Like I said, he was close last week. And, you know, Daniel had a really good spring, and he was having a really good fall camp, but when he comes back, because he's missed 16 days of practice, it ain't gonna be just like. You know, where he left off. It's gonna take a little bit to get him back going and make sure he's in the right shape and condition. You can't just walk out there from not practicing and start practicing every day like you hadn't missed anything.
"But we should be able to get him back some this week."
The loss of Bituli was evident in Tennessee's shocking, season-opening loss to Georgia State on Aug. 31. Tennessee had just four healthy scholarship inside linebackers for that game, and one of them — sophomore Jeremy Banks — had moved over from running back 10 days earlier. The Vols struggled to get lined up against Georgia State's unique offense, and they looked shockingly worn down in an ugly season half.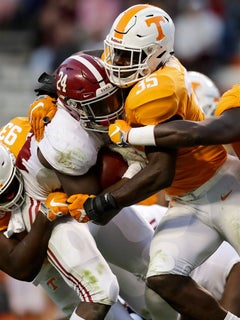 Saturday's loss to BYU was different, though. The Vols held the Cougars — a team with better players than Georgia State — to just 225 yards of total offense and 13 points until a bad bust on the back end of the defense resulted in a 64-yard pass that led to a game-tying field goal with 1 second left.
BYU's only touchdown in regulation came on a very short field after a costly interception from Tennessee quarterback Jarrett Guarantano deep in his own territory early in the third quarter.
The script flipped in overtime, though. Tennessee's defense looked tired, and BYU ran right through it on several occasions, especially on Ty'Son Williams' walk-off, 5-yard touchdown in the second extra period.
"Defensively, there on third-and-5 right there, they ran the ball, we called a call that you think is good for the run on third-and-5," Pruitt said moments after the game. "We got a guy that's got the back. They don't block him and we don't put a hand on (the running back). So guy runs for, I don't know, 18 yards for a touchdown there. Then they got a couple on us, little (run-pass options) there in the second half. We missed a few fits and probably had some linebackers and defensive backs that got tired in the game. Especially inside linebackers. We have very few guys at that position. Jeremy Banks moved over there, but still is a little bit away from knowing what to do.
"So we went with Will Ignont the entire game because he knows what to do."
Pruitt on Monday didn't deny how badly the Vols needed Bituli back on the field. His response to a question about creating more inside linebacker depth was characteristically blunt.
"There's nobody else, aight," he said. "Saturday we dressed two scholarship tailbacks that were gonna be able to play, and I guess four inside linebackers. We're very thin at certain positions. We've been that way.
"If we hit a couple of injuries there, we've had to bounce guys back and forth just to give us an opportunity."
CBS Sports HQ Daily Newsletter
Get the best highlights and stories - yeah, just the good stuff handpicked by our team to start your day.
Please check the opt-in box to acknowledge that you would like to subscribe.
Thanks for signing up!
Keep an eye on your inbox for the latest sports news.
Sorry!
There was an error processing your subscription.
Tedford has been leading his alma mater successfully since 2017

The Pac-12's mediocrity has become a running joke, but the Utes can help change all of that

Gatewood was the backup to Bo Nix for Auburn to start the 2019 season
It's time to #TrustTheProcess and finish strong

A possible College Football Playoff spot is on the line with the Utes facing the Ducks

The Midshipmen are paying homage to their successful history with these uniforms
Oklahoma leaned on its rushing attack to win a key rivalry game on Saturday night

No. 11 Florida closed out its regular season with an emphatic victory over rival Florida State...

Live scores, highlights and updates from the Hawaii vs. Army West Point football game