Keys to the Game: Nebraska vs. UCLA
Nebraska makes a rare trip out West to take on an improved UCLA squad looking to grab a big win in Jim Mora's home debut.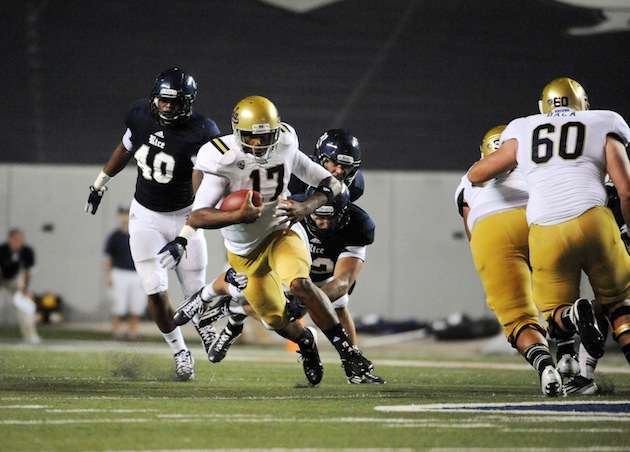 Brett Hundley continue to have success on the ground against the Blackshirts? (US Presswire)

UCLA WILL WIN IF: The home debut for Jim Mora is the Bruins' first real test of the 2012 season as a very solid, ranked team visits the Rose Bowl. The defense has its task laid out for it in containing dual-threat quarterback Taylor Martinez, who helped power the Cornhuskers to 632 yards of total offense in the opener using, for a change, his arm. He's obviously a gifted runner that will force the front seven to keep contain but it's the talented secondary who will have to keep the receivers under wraps for four quarters and prevent any big plays.
On offense, Brett Hundley showed he's a dynamic threat behind center and he'll need to keep things up against the Blackshirts, especially by getting the ball out quickly to playmakers on the outside to help open up the running game powered by Johnathan Franklin. In order to get the win, it wil be up to UCLA to grind it out on both sides of the ball and keep mental errors to a minimum.

NEBRASKA WILL WIN IF: The running game is a big part of what the Cornhuskers do on offense and they are likely to be without star tailback Rex Burkhead after he suffered an injury against Southern Miss. Sophomore Ameer Abdullah and freshman Imani Cross filled in well last game but will have to shoulder the load against a very solid front for UCLA. Martinez had his best game as a Nebraska signal-caller but faces a different test this week against a team that currently leads the country in sacks after one game. If the offense can continue to play mistake free and lean on their defense to play close to their potential, this should be an easy win for Nebraska. If Martinez or others start to turn the ball over or the Blackshirts allow a few big plays, the Cornhuskers might be in for a long afternoon.
X-FACTOR: Rex Burkhead. One of the top running backs in the country, his presence or absence will be understandably big for Nebraska's offense. Although they did just fine without him last week, the caliber of opponent is turned up a notch for this road contest. It doesn't appear that he will be able to go which will force several underclassmen to step up big time to take the pressure of the quarterback. Should Burkhead be able to go, it's a nice safety valve for Bo Pelini to have knowing he can get three or four hard-nosed yards every time he calls Burkhead's number.
Florida's roster got a boost on Tuesday with the return of several key members of the prog...

Tom Hutton joins the ranks of former Aussie rules footballers joining the college football...

The freshman is already on Heisman lists after throwing the walk-off score in the national...
These seven teams should make the most noise down the homestretch towards signing day

Air Force was forced to cancel 11 athletic events because of the 69-hour government shutdo...

Olson has a lot of the tools offensive coordinators want in a quarterback