Keys to the Game: No. 2 USC at Syracuse
Orange host Trojans in East Rutherford, New Jersey.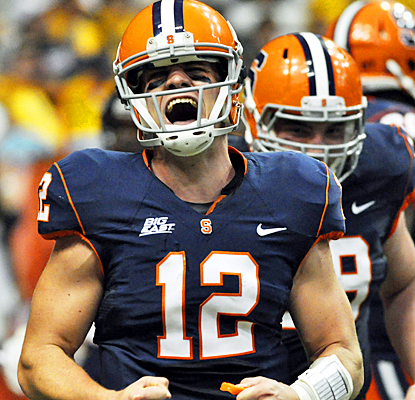 No. 2 USC at Syracuse, 3:30 p.m. ET on Saturday. ABC (regional).

USC WILL WIN IF: It can contain Syracuse quarterback Ryan Nassib and knock the fast-paced Orange offense off its rhythm. Offensive coordinator Nathaniel Hackett, son of former USC head coach Paul Hackett, installed a no-huddle attack in the offseason and even sprinkled in a few read option looks. It was a hit against Northwestern last week, producing 596 yards (including 470 by Nassib) and 41 points in a one-point loss. USC's defense is a bit more stout than Northwestern's, however, and has the personnel to disrupt Syracuse's game plan. Of course, even if USC fails to stop the Orange, it can always outscore them with its calvacade of offensive weaponry. It's a nice luxury to have.

SYRACUSE WILL WIN IF: Matt Barkley has his one of his worst games and Nassib has his best game. The Trojans are highly dependent on Barkley to execute their sophisticated pro-style offense. When he isn't clicking, the offense tends to be sluggish and mistake prone. The Syracuse defense is very familiar with USC's scheme, but it doesn't have the personnel to contain the likes of wide receivers Marqise Lee and Robert Woods. A series of USC mistakes early in the game could embolden the Orange to play the Trojans tough. Then it will be up to Nassib to take advantage.
X-FACTOR: Silas Redd. A few months after leaving Penn State to play football on the other side of the country, the junior tailback returns to his home region to play in front of friends and family. Trojans coach Lane Kiffin is looking to kick-start the ground game after it produced just 81 yards last week against Hawaii. Redd could serve as the catalyst in that department for the Trojans.  
Locksley has been the offensive coordinator at Illinois and Maryland during his coaching c...

Bidding for Salaam's trophy, which the auction house says was obtained legally, ends Satur...

Many NFL-eligible juniors ignore advice provided by the league and risk going undrafted each...
Snyder died in Manhattan, Kansas, on Wednesday

Locksley joined Alabama's staff in 2016

Saban reportedly wants to hire Freeze, but there may be things keeping that from happening