Keys to the Game: No. 25 BYU at Utah
Utah won 54-10 last season in the "Holy War" but it looks like BYU is the much stronger team coming into this season's meeting.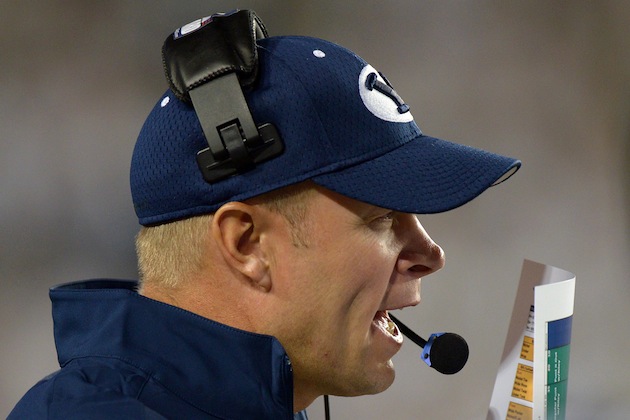 BYU WILL WIN IF … The Cougars get pressure on the Utes' offensive line and shut down the running lanes for John White IV. With Utah quarterback Jordan Wynn's career over, it's up to senior Jon Hays or true freshman Travis Wilson to run the offense that stalled out frequently in the loss to Utah State last week. The Cougars have looked sharp on defense in their first two contests and are fourth in the country in sacks early in the season. This is a rivalry game. Things tend to not go the way coaches want so sound defense with an offense that is mostly balanced should be able to power BYU to victory in the "Holy War" after a disappointing 54-10 home loss last year.

UTAH WILL WIN IF … It gets any production out of the quarterback spot. There are some weapons on the outside, like DeVonte Christopher who can stretch the field, but that's useless if the signal-caller can't get them the ball. White is one of the top backs out West but even he's not good enough to overcome when teams load the box against the Utes. That's undoubtedly what BYU will try as neither Hays nor Wilson has shown to be consistent throwing the ball (the young freshman has just three passes to his name). The defense can be suffocating at times with tackle Star Lotulelei manning the inside but it can't win the game by itself.
X-FACTOR: You wonder if Kyle Whittingham just says forget about it and goes full-time with Wilson at quarterback. Hays went 6-3 last season once Wynn got hurt, but Wilson, the dual-threat from California, has given the offense an added dimension when he's in the game. He threw for a touchdown in a loss last week but has seemed a little frantic when he drops back, and that might be why the staff is trying to put him in the right situations. With the Cougars ranked in the Top 25 and looking like the much better team through the first two weeks, perhaps it's time for the team to go full-time with Wilson and see if he gives them the best shot to win this game.
Saban isn't going to win Alabama's special election, but the Crimson Tide coach got some l...

The Tigers are going worldwide for their next punter

Led by Heisman Trophy winner Baker Mayfield, the Big 12 finished with seven first-team sel...
Schiano would have made $4.4 million in Year 1 with annual raises as part of a six-year de...

Dykes spent this season as an offensive analyst at TCU

The 'Wyoming Wild Man' notched six tackles for loss as a junior in 2017