Keys to the Game: Wyoming at Texas
Breaking down the match-up between the Longhorns and Cowboys.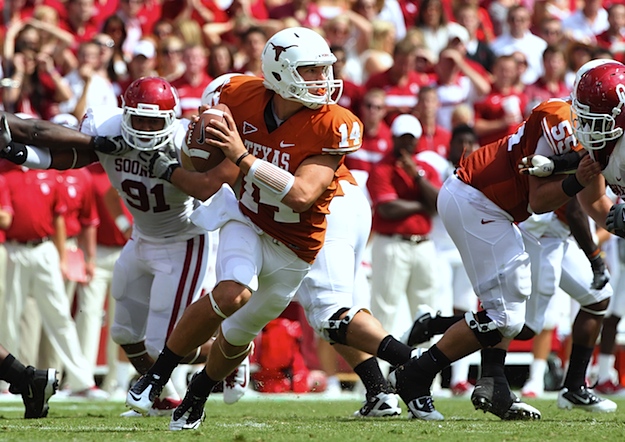 TEXAS WILL WIN IF… Look, the point spread on this game is 28.5 points. So there is no point in spinning out some one-in-a-million scenario in which Texas doesn't win here. But Longhorn fans will still be on edge over the progress (or lack thereof) in the ongoing quarterback duel between co-incumbents Case McCoy and David Ash, whose development from year one to year two could be the difference between a serious run at the Big 12 championship and a date in the Buffalo Wild Wings Bowl. Ash goes in as the de facto starter, and given the tremendous depth in the UT backfield, he may not be asked to do very much to retain that title going into week two.
Obviously Wyoming's defense is not going to present the toughest test, but if Ash – or McCoy – is going to be the guy for a serious Big 12 contender, it's one he'll be expected to pass with flying colors.

WYOMING WILL WIN IF… Change "win" there to "cover the spread," and we're in business: In three years under head coach Dave Christensen, Wyoming is 12-3 against the line as a road underdog. And unlike Texas, the Cowboys have no doubts about their quarterback, sophomore Brett Smith, who started every game in 2011 and was voted Freshman of the Yearin the Mountain West Conference. If he avoids turnovers, and UT keeps the reins tight on its own uncertain passing game, it could take all day for the Longhorns to slam the door.
X-FACTOR. Quarterbacks notwithstanding, Texas fans are just as eager to see what they have in freshman Johnathan Gray, the most hyped running back in the 2012 recruiting class, and shouldn't have to wait long to find out: Wyoming's defense was gashed for at least 300 yards rushing on five different occasions last year, not including big days on the ground by Weber State (282 yards), Colorado State (285) and Temple (267). Even if Gray is stuck behind sophomores Malcolm Brown and Joe Bergeron in the rotation, there should be no shortage of opportunities once the score starts to get out of hand.
Occidental College was reportedly down to 35 healthy players for the 2017 season

Midway through the season, we make some (more educated) predictions for the rest of the ye...

Babe Ruth supporting the Fighting Irish is one of the best photos of the week
Could two teams from the same conference make it into the College Football Playoff?

Given the schedule and recent performance, can anyone in the SEC stop Alabama?

SportsLine's Barrett Sallee has gone 29-14 against the spread the last two weeks and loves...