Kickin' back with Cincinnati coach Tommy Tuberville
Son of the South and SEC veteran talks about life above the Mason-Dixon line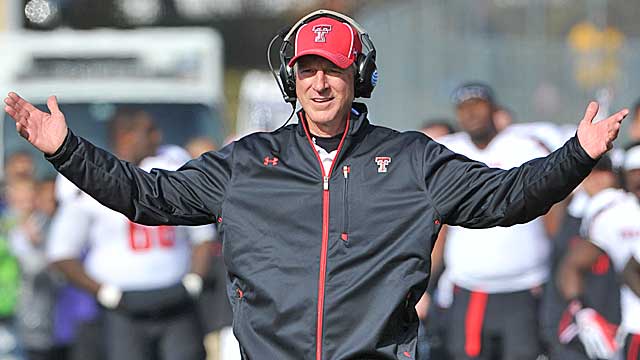 CINCINNATI -- Tommy Tuberville became one of the most compelling stories of the offseason.
Why would a native of the South who has spent most of his career in the SEC, leave a BCS-conference school (Texas Tech) for Cincinnati? As surprising as Bret Bielema's move to Arkansas was, at least he was going to the SEC, not the American Athletic Conference.
I recently spent almost an hour in Tuberville's office talking everything from conference realignment to the guy who replaced him at Texas Tech. The Bearcats may be dropping down a notch from Big East to the American, but they won't lack for headlines.  
Tuberville on his 33-year old Texas Tech replacement Kliff Kingsbury: "He'll do good. He's a Mike Leach guy and he'll throw it around. At 39, I got my first head coaching job. At 33, I was an assistant. You think you know everything in the world until you get a job. You don't realize the changes you have to make.
"You go from a guy down in the weight room talking to players having meeting with players, having your own group of 12 to 14 guys. All of the sudden you've got all of them. Jimmy Johnson told me this, 'You're a head coach. Nobody's your buddy anymore. You're going to look at them the same but they're going to look at you different.'
"Being 33, most of the guys are your age or older. It's going to be tough. It's a perfect fit for them, native son, played for Leach. Not that I didn't have support but I didn't have 100 percent support. It just wasn't going to happen."
On Cincinnati and realignment: "There's success here. Obviously they've been consistent. Right now what we don't know is the unknown. In the Big 12, Nebraska and Colorado leave [in 2010], we're thinking, 'Now what are we going to do?' For a couple of years we all kind of looked around every day going, 'Is there going to be a Big 12? Are we going to the Pac-12 which I thought was going to happen. Are we going to the WAC? Are we going to be independent?'
"At Tech we didn't know. For about 48 hours at one time, we were going to the Pac-12, I thought. I thought it was done. … Then the next year A&M gets pissed and they're gone. And Missouri takes the money and runs. Now what are we going to do? We can't be the Big Eight.
"They [Big 12] made a great choice in (inviting) TCU. Gary's (Patterson) a good coach. Then from left field here comes West Virginia and we're all going, 'What?' Football's not bad [for travel] but in basketball and all the other sports you're going, 'What is West Virginia thinking?' "
In general on conference championship game: "We (Big 12 coaches) were all for the championship game for one reason -- you've got two winners. I sat and listened to coach [Bill] Snyder talk one day for a long time talk about that: 'Hey, we made a living our first time around here at Kansas State. We really enjoyed winning the North (Division). It was huge for us. Even though we might not win it all, we won the North.'"
On the new job: "This kind of reminds me of Miami other than we're not a private school. We're in the city, a lot of good teams around us. That's how Miami made it. We were able to evaluate a lot of kids. Have a team like Michigan fly down there, they look at a kid who can run and jump and they take him. Us at Miami, we knew he could run and jump but he's not athletic and he's not as good as what you think. He's just a specimen looking guy."
"That's how you make it in city schools. You've got to do a good job of evaluating. Cincinnati is not going to make a living getting kids from Dallas, Texas. We survived at Auburn because of one thing -- (recruiting) Atlanta."
On how he met his wife in 1989 in New Orleans during Sugar Bowl preparations with Miami: "I grew up in the South and had never been down to Bourbon Street. We ended up at Pat O'Brien's, piano bar. We go in and he's (assistant Ed Orgeron) sitting at a table with a bunch of girls around. Most of us were single.
"I got talking to some of the girls. We got our picture taken. I talked to Suzanne about 30-40 minutes. She was there for a convention with Newhouse newspapers. She was working out in Boise or something … She knew nothing about college football.
"I gave her my card. She was thinking about moving to Atlanta … From that day, a week before New Year's, she called me 15 minutes before the first day of two-a-days the next year -- eight months. At first I didn't know who it was. She said, 'I told you I was moving to Atlanta. If you ever get up here, I'll take you out to eat.'
"We started dating and two years later we were married. I gave out one too many business cards."
On a possible breakaway from the NCAA by the top football powers: "There's got to be a mixture. There can't be an Ohio State-Michigan every week. There's got to be some kind of parity."
On the coming playoff and selection committee: "No. 1, I hope they use the common sense and go by rankings. The coach's poll is not going to count, but I hope they use it because as coaches we do know something about it.
"Somebody's going to be left out. You're going to have that No. 5 and No. 6 complaining now. But I think we can get a lot closer to having a true national champion with four teams."
"I don't think they'll ever go to eight teams. I was in I-AA playoffs at Arkansas State and that's a survival contest. You got to remember, we only played through two playoff games one year we were beat up. It's not just the game. You've got to practice to get ready for the game and you've got to practice through finals. It was hard.
"If you went to eight or 16 teams you'd be jumping into that part. I've never been for paying players, but if they go to eight or 16 I'd be for paying players. Then you're going to look at buying insurance for guys. I don't want to play that game."
Mayfield has also taken an important side in the Katy Perry-Taylor Swift feud

There are seven SEC teams in this week's college football rankings, but Alabama is not No....

For the first time, we have a tie for the top spot in the CBS Sports 130
Mayfield has passed last year's Heisman winner, Lamar Jackson

Georgia-Tennessee has been picked as the SEC Game of the Week

A look back at the weekend that was in college football