Kirk Ferentz, art collector, is the proud new owner of 'Stanzi'
Iowa's head coach and his wife bid on a stirring tribute to the Hawkeyes' former starting quarterback.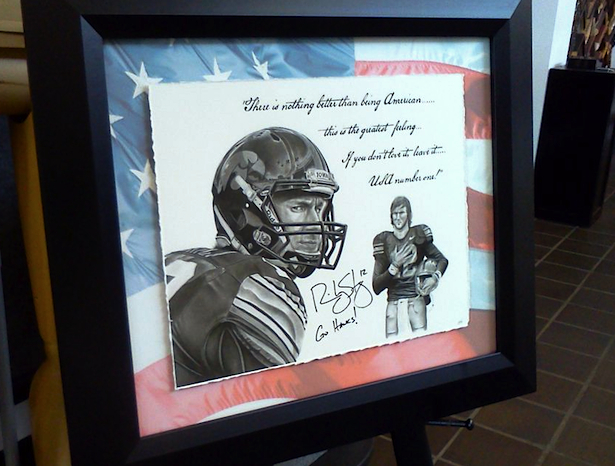 On Jan. 5, 2010, Ricky Stanzi took the stage following Iowa's 24-14 Orange Bowl win over Georgia Tech as just another scruffy, humble college quarterback. He left the stage as an American hero:
Iowa fans immediately celebrated the Americanzi's patriotic triumph over regional condescension via t-shirts, Halloween costumes, heroic Photoshops and at least three affectionate musical tributes on YouTube. One of the latter was made by Iowa City resident Sean Thompson, an artist who sells Hawkeye-inspired pieces on the website IowaHawkArt.com, to chronicle the painstaking creation of his portrait, "Stanzi."
Those 100-plus hours of work literally paid off on Thursday, when Iowa coach Kirk Ferentz and his wife submitted the winning bid for a framed, autographed print of "Stanzi" – complete with Orange Bowl quote, fighter jets reflected in Stanzi's helmet and stars-and-stripes border – at a charity auction to benefit the University of Iowa Children's Hospital. In fact, according to the artist, it paid off twice: When Mary Ferentz realized she had outbid a family friend, she commissioned Thompson to produce another print so that both of their homes could be forever graced by the artistic embodiment of Ricky Stanzi's nationalist zeal. (Via e-mail, Thompson said his work has also found its way into the collections of former Hawkeyes Tyler Sash, Shonn Greene and Rob Houghtlin, who kicked the game-winning field goal to lift No. 1 Iowa over No. 2 Michigan in 1985.) He would not disclose the amount of the winning bid for "Stanzi," but given Ferentz's salary, the children should all be able to watch Iowa games this fall from their new PlayStation Vitas.
All coaches feel an enduring bond with a few of their former quarterbacks; how many of them have that bond framed over the kitchen table, or gazing down intrepidly upon the master stairway? And when can we expect a Kincade-esque ode to Stanzi's rousing denunciation of "communists" and "hippies" on campus? Finally, the Ferentz Gallery has found its niche.
- - -
Hat tip: @marcmorehouse.
The award is becoming an afterthought and I want to change that

Barrett Sallee is 16-8 on best bets and has locked in his picks for these three bowls

Permanent coach Matt Luke got big news late Thursday night
Freeman will not play in the New Mexico Bowl on Saturday

SportsLine simulated every bowl game 10,000 times for pick'em leagues and confidence pools

Grier will return to West Virginia for the 2018 season instead of entering the NFL Draft