Kliff Kingsbury creating unusual buzz at Texas Tech
The Red Raiders coach pays attention to every detail and his life isn't as cool as he's portrayed. But his methods have Texas Tech buzzing this spring.
• 3 min read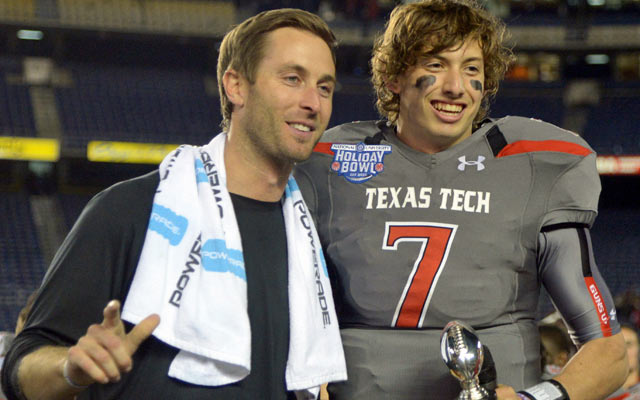 More: Latest Texas Tech coverage | Eye on College Football
Kliff Kingsbury can't just watch one episode of Breaking Bad on Apple TV. He must "bang out as many episodes as I can," preferably five or six at a time.
Texas Tech's coach can't take just notes when watching football video in his office. He must use three different colored pens -- blue or black for run or pass, depending on the day, and red for mental notes.
The purveyor of all things college cool doesn't buy suits in Lubbock. There's "a guy that comes from out of town" to produce his skinny-everything look. That guy is Yaneev Benami with Elevee out of Los Angeles.
Who knew cool had to be this much work. Kingsbury gets to Tech's football office at 4:30 a.m. so he can scheme before administrative duties dominate the day.
Kingsbury admits to having at least a mild case of OCD. All details must be right -- and he is getting a lot right.
"If I get locked into something, I attack it pretty thoroughly," said Kingsbury, 34, who says 'attack' a lot. "The majority of my existence is football. The vast majority of my life is spent watching Apple TV or working."
The result of Kingsbury's methods is an organically grown buzz surrounding Tech football not designed for teams coming off 8-5 records. Tech on Tuesday announced the selling of 34,100 season tickets, breaking the previous school record of 32,227 sold in 2010.
The season is nearly five months away.
More than 10,000 fans reportedly showed up for a recent scrimmage in Midland, and 4,000 students flooded the middle of campus the night Kingsbury got hired in December 2012, according to AD Kirby Hocutt.
Results for Saturday's Red and Black Spring Game should be promising (Kingsbury said he's not playing in the game).
Any time an AD says his coach "knows how to connect with the millennial athlete," you know this is a unique coaching situation.
"There's no denying that a significant, if not all of [the season ticket sales], are attributed to the excitement surrounding what excitement Kliff has generated here," Hocutt said. "The whole environment around Texas Tech is contagious."
Some explanations are tangible. Kingsbury was a decorated Tech quarterback under Mike Leach who came to Tech with the cachet of grooming Johnny Manziel for a Heisman performance while Texas A&M's offensive coordinator.
The Ray Bans and V-Necks strengthen the persona.
But in many ways Kingsbury feels like he's still learning to be a head coach, leaning on seasoned assistants daily and understanding that, not too long ago, he was a business management major with no plans to coach.
"I told myself when I got in, I'd make sure I stayed true to myself," Kingsbury said. "I try to be myself in all regards. I try not to put on a militant persona around players."
It's not that parts of his image aren't carefully crafted; Killer tie-and-pocket-square combos and immaculate hair parts take work. But it's not part of a stage, Kingsbury said -- "It's about respect for the game" and the opponent.
He seems to like when others don't respect his game, like when Tech, losers of its last five Big 12 games, was picked by many (yes, we're guilty) to lose to Arizona State in the Holiday Bowl. Quarterback Davis Webb's four touchdowns helped Tech zoom past the Sun Devils 37-23.
"We rallied around each other when people were saying we would get blown out," Kingsbury said. "We determined what we could be if we played together."
Most things in Kingsbury's life are calculated but his long-term goals are rather singular: Win a Big 12 title.
"I don't plan on leaving until that gets done," Kingsbury said.
Locksley has been the offensive coordinator at Illinois and Maryland during his coaching c...

Bidding for Salaam's trophy, which the auction house says was obtained legally, ends Satur...

Many NFL-eligible juniors ignore advice provided by the league and risk going undrafted each...
Snyder died in Manhattan, Kansas, on Wednesday

Locksley joined Alabama's staff in 2016

Saban reportedly wants to hire Freeze, but there may be things keeping that from happening