Landry Jones' last ride: In 2012, Oklahoma's prolific senior still has everything to prove
Getting to know the Sooners' senior quarterback for the last time.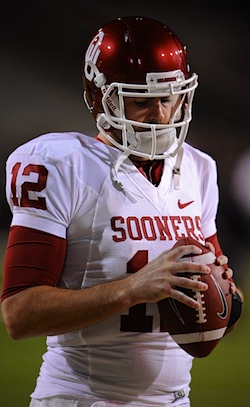 There was a certain air of familiarity Monday when Landry Jones took his turn with reporters during the Big 12's preseason media rounds, as well there should have been. Jones is a fifth-year senior beginning his fourth year as the centerpiece of one of the most productive offenses in the country, at one of its most high-profile programs. At this point, he's fielded every possible question from every reporter in every venue in the conference, guys who have watched him grow from an anonymous freshman to a married man with a near-certain future in the NFL. The only new questions were almost all about his wedding. At this point, there's just not that much left for Landry Jones to say that hasn't been said, and then repeated ad nauseam.
And still, as much as we've seen and heard from Jones since 2009, on the field he begins his final season at Oklahoma as something of an enigma – the same guy who watched his stock plummet last fall from Heisman frontrunner to inadvertent comic relief in the span of a few weeks; who has more touchdown passes than anyone in OU history but only one in his last four games. Jones has spent time as both the celebrated face of the No. 1 team in the nation and one of the scapegoats when the same team fell further in the polls than any preseason favorite in the last 45 years. He has accumulated more evidence on which to judge him as a player than almost anyone else in college football, yet the verdict remains curiously dependent on the eye of the beholder.
Consider that Jones has started 37 games, during which he's led Oklahoma to a Big 12 championship and a BCS win and smashed every relevant school passing record set by predecessor Sam Bradford. Based on the record books and the trophy cases, the only thing Bradford did in two seasons as the Sooners' starting quarterback that Jones hasn't done is win a certain hunk of bronze. When Bradford won the Heisman as a redshirt sophomore in 2008, he passed for 4,720 yards for a team that won the Big 12 championship, finished 12-2 and landed at No. 5 in the final polls; as a redshirt sophomore in 2010, Jones passed for 4,718 yards for a team that won the Big 12 championship, finished 12-2 and landed at No. 6 in the final polls. Last year, Jones set another OU record by throwing for 343 yards per game.
But where Bradford won a Heisman and went with the No. 1 overall pick in the draft – even after spending virtually all of his final college season on the bench – Jones has yet to see his name on so much as the All-Big 12 team. When league coaches were polled last week for their preseason all-conference picks, they went with a quarterback who's yet to attempt a pass against a Big 12 defense, West Virginia's Geno Smith. After watching Jones take virtually every snap for Oklahoma over the last two-and-a-half years, scouts advised him to spend another season on campus.
Depending on what you see in Jones, that could qualify as an honest, sober appraisal or a shameless dis. And like almost anything else, what you see in Jones depends largely on what you want to see.
Again, there's obviously no denying his numbers: In 2011, he hung at least 350 yards passing on seven different opponents, including thorough carpet-bombings of Missouri (448 yards, 3 TDs), Texas (367 yards, 5 TDs) and Kansas State (505 yards, 5 TDs). In 2010, he dropped 300 with multiple touchdowns on nine different opponents, three of them before halftime. Both Oklahoma as a team and Jones as an individual have finished among the top five nationally in passing and total offense both years.
But that place clearly owes something to his abundant opportunities, and not just against the instantly flammable secondaries that populate the bottom half of the conference. Oklahoma's up-tempo system consistently gets off more snaps than any other offense in college football (the Sooners led the nation in plays per game in 2010 and 2011), and Jones put the ball in the air last year more often than all but three other quarterbacks. (Though OU's run:pass ratio was slightly more pass-oriented in 2011 than in past seasons, a significant percentage of Jones' attempts are of the bubble-screen/"long handoff" variety.) In pass efficiency terms, Jones was nowhere near the elite.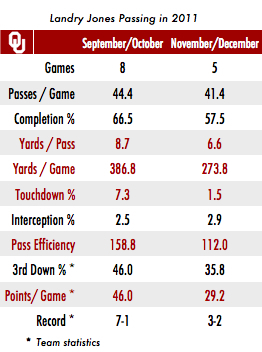 Last year was a case study in both extremes, especially after Jones' lost his ultra-reliable, go-to target, Ryan Broyles, to a torn ACL on Nov. 5. At that point, the Sooners were 7-1, ranked sixth in the BCS standings and still had a BCS championship squarely in their sights. They had just emphatically ended Kansas State's undefeated season with a 58-17 rout in Manhattan, a few weeks after eviscerating Texas, 55-17, in one of the most impressive performances of the season. Jones remained a fixture on Heisman lists as the steady, veteran captain of an offense averaging 46 points per game, and was still holding his own in the top 10 of most mock drafts.
By Dec. 5, Oklahoma had dropped two of its last three games to close the regular season, Jones had gone an entire month without a touchdown pass and both team and quarterback alike had just been embarrassed in a 44-10 rout at the hands of Oklahoma State. (By the time OU finally found the end zone in the fourth quarter, Jones had been pulled for sophomore backup Blake Bell.) That night in Stillwater was arguably the worst of Jones' career, but by then, his slide on draft boards in favor of Matt Barkley and fast-rising Robert Griffin III was already well underway.
He didn't do anything to reverse the tide in a 16-of-25, 161-yard performance in the Sooners' Insight Bowl win over Iowa. Even with Barkley's decision to return to USC, Jones was probably looking at a late first-round projection, at best — a multimillion-dollar tumble from where he'd been sitting a few weeks before. Monday, coach Bob Stoops explicitly defended his quarterback and put the late slide on the rest of the offense. ("[Everybody said] Landry struggled. No he didn't. The offense struggled. He had more dropped passes in the last three games maybe ... we couldn't even keep track of how many. … And so to me it's more of an issue of the offense and the offense around him than it is him.") But critics who cast Jones as just another big, competent guy in an up-tempo system designed to exploit a defensively challenged conference had another eight months to reinforce the message before Jones' next chance at a rebuttal.
When that chance finally comes against UTEP on Sept. 1, it will almost certainly be without two of last year's most productive receivers, veterans Jaz Reynolds and Trey Franks, who were among four players suspended indefinitely in May for a violation of team rules. But it will be with his best returning target, junior Kenny Stills, and his best tailback, senior Dominique Whaley (recently cleared to practice after missing the stretch run last year with a broken ankle) and four of five starters back on the offensive line. The Sooners will be overwhelming favorites to win the Big 12 and strong contenders to reassert themselves nationally after last year's late fade. You know, the usual.
And as usual, high expectations hinge to a large extent on more consistency from a relatively middle-of-the-pack defense – which, yeah, would represent a crucial step forward. That takes the offense's championship credentials for granted, though, when the running game and Jones' consistency against the tallest hurdles on the schedule are far from givens in the face of a slate that still features five teams (Kansas State, Baylor, West Virginia, Oklahoma State and TCU) that finished last year in the top 20 of the final polls, plus (by the way) Texas and Notre Dame. In this offense, the numbers are going to be there at the end of the season. But the bigger goal — and the answer to Jones' place in a long line of great Sooner quarterbacks — is going to hinge much more on where the team is than anything it says on the stat sheet.
Schiano would have made $4.4 million in Year 1 with annual raises as part of a six-year de...

Dykes spent this season as an offensive analyst at TCU

The "Wyoming Wild Man" notched six tackles for loss as a junior in 2017
Zaycoven Henderson was charged with aggravated assault with a deadly weapon

Patterson is a former No. 1 recruit in the country

Baker Mayfield and two Sooner teammates made the first team